Duke Surgery's 7th Annual Research Day will be held on April 26, 2023.
Great Hall, Trent Semans Building
To recognize the research accomplishments of our trainees and to foster further accomplishments, the Department of Surgery is sponsoring its 7th Annual Research Day on Wednesday, April 26, 2023 in the Great Hall, Trent Semans Building.
All fellows, residents, and students engaged in clinical or basic/translational research through the Department of Surgery are encouraged to participate and will be excused from clinical responsibilities.
The presenter of the best talk in each category will receive a conference travel award.
Agenda
Click HERE to view the complete agenda!
Abstracts
Deadline
Abstracts should be submitted by Sunday, February 12, 2023.
Eligibility
Abstracts may be submitted by trainees in the Department of Surgery, including fellows (MD or PhD), residents, and graduate, medical, and undergraduate students. The presenting author should be first author on the abstract, and the author list should state the trainee status and name of the division. It is expected that the first author is a trainee, and they will be expected to present if they are selected as a podium presenter.
Abstracts can cover basic/translational or clinical research and should state the most applicable category after the title. Trainees may only submit one abstract per category (basic/translational or clinical). Research should be relatively recent but may have already been presented and/or published within the past year. Trainees must be available to attend Research Day on April 26, 2023.
The abstract submission file should include two pages: 1) a title page and 2) the abstract plus figures or tables. Please use 11-point font and include 1" margins in your file. Submit the title page and abstract in the same file for tracking purposes.
Title Page
The title page should list the following information:
Abstract title
Clinical or basic/translational research
Submitter's name
Submitter's current title (fellow, resident, etc.)
Division
All authors with full names and degrees if available
Abstract
The abstract should be divided into the following sections:
Background & Hypothesis
Methods & Results
Conclusions
Previous Research Day Winners
Basic Research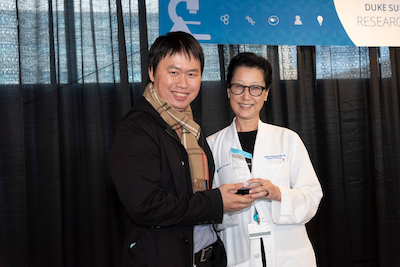 Trastuzumab/Pertuzumab combination therapy stimulates anti-tumor responses through complement-dependent cytotoxicity and phagocytosis
Li-Chung Tsao, PhD
Mentor: Herbert Kim Lyerly, MD, PhD
Clinical Research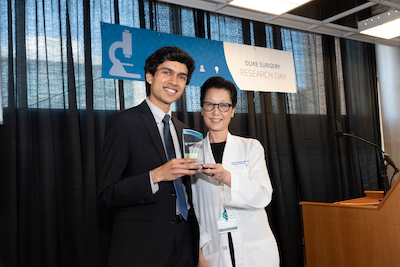 Machine Learning for Improved Size Matching in Lung Transplantation


Neel K. Prabhu


Mentor: Matthew G. Hartwig, MD
Basic Research
Inducing tolerance of HLA-mismatched Kidney Transplants Following Donor Derived Apoptotic Cell Infusion in Non-Human Primates
Chloe Nobuhara, Brian Shaw, Irma Hussain, Angil Danghi, Miriam Manook, Jeffrey Ord, Dimitrios Moris, Robin Schmitz, Kyha Williams, Xunrong Luo, Allan Kirk
Clinical Research
Machine Learning for Urodynamic Detection of Detrusor Overactivity
K. Tyler Hobbs, MD; Nathaniel Choe, Leonid Aksenov, MD; Lourdes Reyes; Wilkins Aquino, PhD; Jonathan C. Routh, MD, MPH; James A. Hokanson, PhD
Basic Research

Targeting S1P1 Internalization Avoids T cell Sequestration and Provides a Novel Immunotherapeutic Approach to Intracranial Tumors
Cosette DeChant, Pakawat Chongsathidkiet, Lindsey Rein, Alem Kahsai, Xiuyu Cui, Michelle Yang, Daniel Wilkinson, Robert Lefkowitz, and Peter Fecci.
Damage- and Pathogen-Associated Molecular Patterns Play Differential Roles in Late Mortality After Critical Illness
John Eppensteiner, Jean Kwun, Uwe Scheuermann, Andrew Barbas, Alexander T. Limkakeng, Eric Elster, Allan D. Kirk, Jaewoo Lee.
Clinical Research

A Mixed Method Implementation Analysis Assessing Barriers and Facilitators to Improving Safety Culture in a Pediatric Perioperative unit in Guatemala City
Isabelle Sico, Bria E. Johnston, Mónica Orozco, Angie Aguilar-González, Sindy Mendez Soveranis, Astrid Tello, Caroline Doherty, David Boyd, Joy Noel Baumgartner, Jennifer Headley, Kelsey Landrum, Randall Lou-Meda, and Henry E. Rice.
Basic Research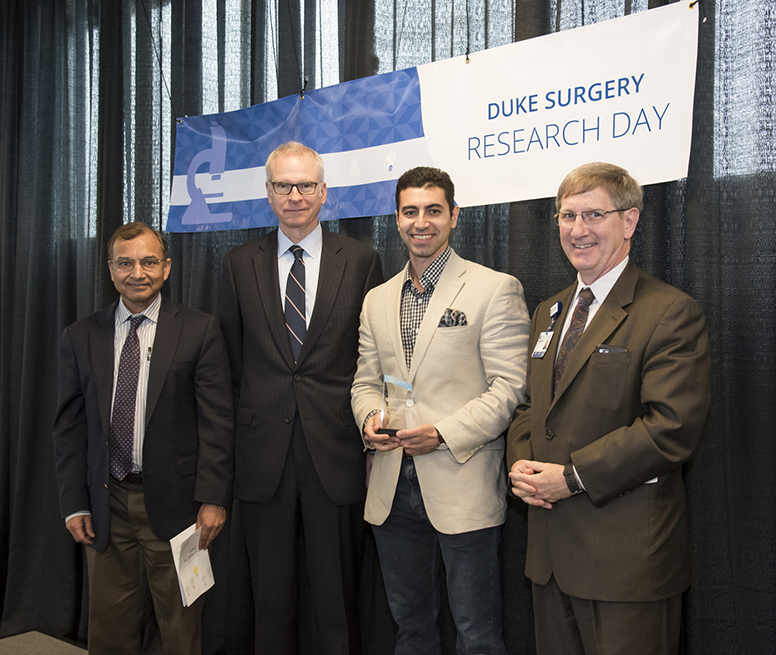 Implantable Oxygen Platform for Continuous, Real-Time Detection of Vascular Perfusion and Ischemia
Mohamed Ibrahim, Ryan Schweller, Mahmoud Mohamed, David Powers, and Bruce Klitzman
Clinical Research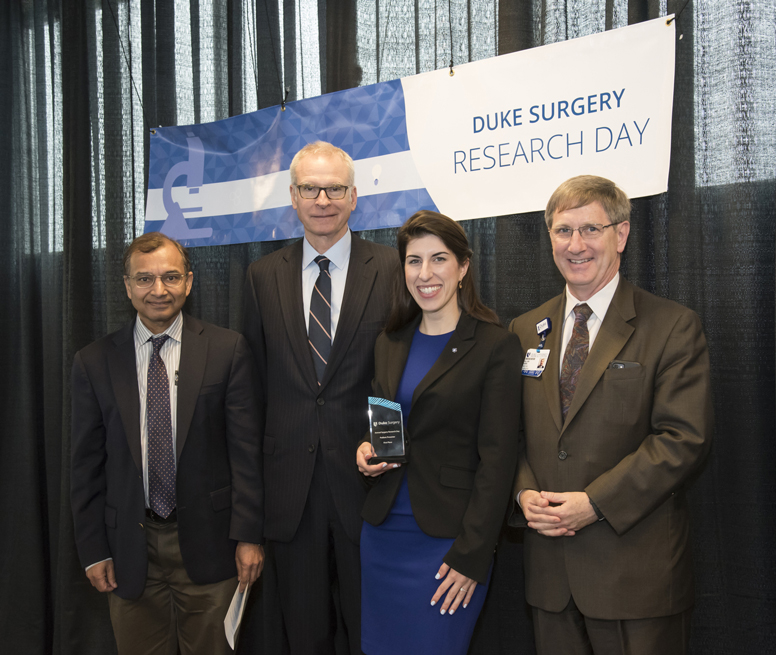 Just a Nudge: Applying Behavioral Incentives to Engage Residents in Quality Improvement Education
Ashley Wietsma, Eugene Cone, Johnathan Bergman, Tannaz Moin, Arlene Fink, Jonathan Routh, B. Price Kerfoot, and Charles Scales Jr.
Basic Research

Low-Dose Exposure to a Polycyclic Aromatic Hydrocarbon (PAH) Mixture Promotes Breast Cancer Cell Proliferation: A Model Using Creosote-Contaminated Sediment from a Superfund Site
Larisa M. Gearhart-Serna, John B. Davis, Scott J. Sauer, Nishad Jayasundara, Richard Di Giulio, and Gayathri R. Devi
Lymphoid Isolation as an Adjuvant Maneuver for Belatacept-Based Immunotherapy
Michael Mulvihill, Kannan Samy, Robert Patrick Davis, Francis Leopardi, Brad Collins, and Allan D. Kirk
Clinical Research

The Impact of Targeted HER-2 Therapy on Breast Reconstruction Outcomes: A Propensity-Matched Analysis
Ronnie L. Shammas, Eugenia H. Cho, Adam D. Glener, Luke P. Poveromo, Lily R. Mundy, Rachel A. Greenup, Kimberly L. Blackwell, and Scott T. Hollenbeck
Basic Research

Oncolytic Poliovirus Activates Antigen-Presenting Cells and Promotes Anti-Cancer Cytolytic Responses in Vitro
Michael Brown, Eda K. Holl, David Boczkowski, Darell D. Bigner, Matthias Gromeier, and Smita K. Nair
Clinical Research
Rethinking the Current AJCC Staging System for Medullary Thyroid Cancer: An Analysis of 3315 Patients
Mohamed Adam, Samantha Thomas, Sanziana Roman, and Julie A. Sosa