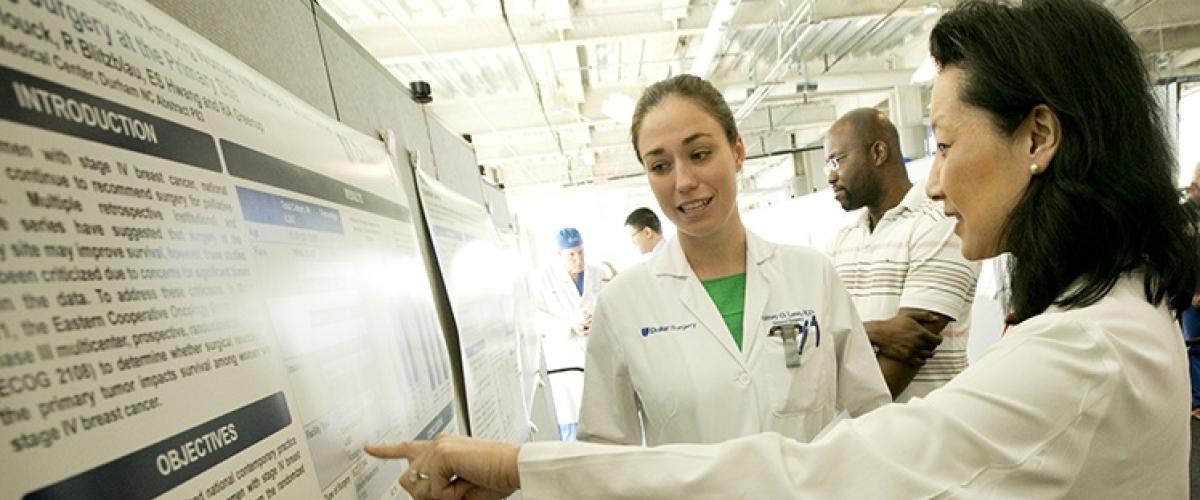 The Duke Department of Surgery is committed to excellence, innovation, and leadership in meeting the health care needs of the people we serve while fostering the very best medical education and biomedical research.
Experience and Expertise
Trainees at Duke benefit from exposure to a wide range of surgical procedures in our high-volume operating rooms. Each year, Duke surgeons perform more than 66,000 procedures ranging from common procedures to highly specialized procedures.
In the past year, over 450 organs were transplanted at Duke, including heart, lung, kidney, liver pancreas, intestine, thymus, and hand transplants. Duke also provides comprehensive surgical services for more routine procedures, including over 1,000 cholecystectomies and 500 appendectomies per year. Duke has more than 100 operating rooms at three different hospitals each equipped with advanced imaging capabilities not available elsewhere.
Many of our faculty are considered world-renowned experts in their fields. The knowledge they share with our trainees cannot be gleaned from any medical textbook.
Cutting-Edge Training Facilities
Duke students, residents, and fellows take advantage of state-of-the-art training and research facilities, including the Surgical Education and Activities Lab (SEAL), where residents, fellows, medical students, and faculty train on simulation equipment in a risk-free environment.
World-Renowned Training and Patient Care
Duke is widely recognized as of the top medical centers in the country and is one of the top 10 hospitals and medical schools in the country, as chosen by U.S. News & World Report.
Life in the Triangle
Duke is located in Durham, North Carolina, in the area known as the Research Triangle. The area is rich in business, technology, and culture. Learn more about the Triangle. 
Watch Aerial Drone Footage of Duke's Beautiful Campus