We think you will find everything you need for an enriching life and training experience in and around Durham, North Carolina — our home. It combines the best of a big city and a small town: friendly people, plenty of job opportunities and things to do, and affordability.
Watch one of our residents explain why Durham is such a great place to live:
Opportunities Abound
Durham is part of what is called the Research Triangle. With Duke University, the University of North Carolina at Chapel Hill, and North Carolina State University as the anchors, the Triangle is a hub for research and businesses focused on health, science, and technology.
That means there are plenty of job opportunities for your spouses too. The area is home to companies, such as IBM, GlaxoSmithKline, Fidelity, RTI International, Red Hat, SAS, and many more internationally known employers.
Affordable
With a population of about 251,800, Durham is larger than Winston-Salem, NC (239,300) yet smaller than Greensboro (282,600). It is comparable in size to the U.S. cities of Laredo, Texas (252,300); Fort Wayne, Indiana (254,300); Irvine, California (248,500); and Norfolk, Virginia (245,400), according to the U.S. Census Bureau.
The cost of living in Durham is 0.3% below the national average, with a median household income of $49,160 and a median home price of $180,500. Of the cities of comparable size, Durham's cost of living is better in total than Fort Wayne, Norfolk, and Reno, and slightly more than Laredo's.
Eat and Play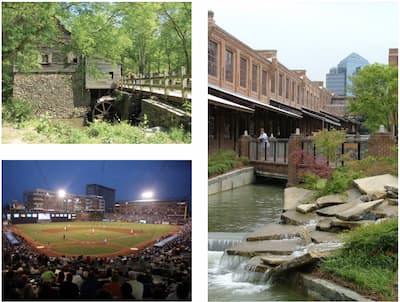 Duke and Durham have something for everyone when it comes to entertainment.
If you like great food, there are few places more recognized for great eating than Durham. In recent years, the city has been praised by Gourmet and Bon Appétit magazines as well as The New York Times. Durham has also developed a robust microbrew and microdistillery culture, including Ponysaurus, Bull City Ciderworks, and the Durham Distillery—all easily accessible from downtown.
For theater mavens and concert fans, few venues in the country compare to the Durham Performing Arts Center (DPAC). DPAC draws the top touring Broadway shows and nationally known music acts. To provide even more entertainment and cultural enrichment, Duke Performances brings acclaimed music and dance artists to its venues on campus. 
In addition to Duke's rich sports culture—including 12 national championship teams in a variety of sports—you can take in a Durham Bulls minor-league baseball game in the summer or head to Raleigh to watch the Hurricanes play hockey in the winter.
Easy to Get To—and Easy to Get Away
Raleigh-Durham International (RDU) airport is less than 30 minutes from Duke. RDU averages 126 daily departures to 41 destinations, including non-stops to New York, Atlanta, London, and Paris.
The city is in the Piedmont region of North Carolina, near the middle of the state. It takes about 30 minutes to get to Raleigh and 15 minutes to get to Chapel Hill.
While we think Durham has plenty to offer, it is easy to visit the mountains and the beach. Asheville, Boone, and the Appalachian Mountains are about three and a half hours away by car, while the Atlantic Ocean and North Carolina's serene beaches are three hours east.
Learn more about Durham: