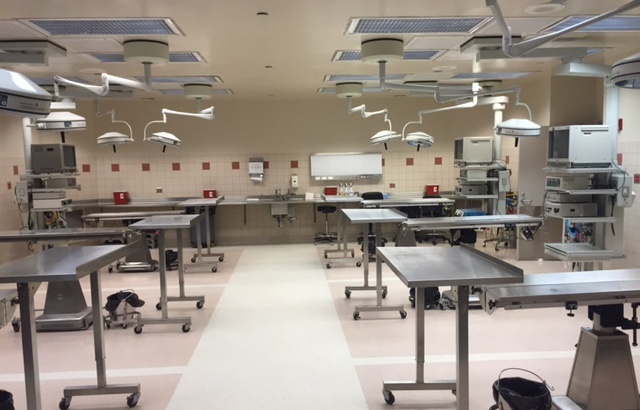 Surgical Teaching and Research Facilities Available Through the Duke Animal Care and Use Program
A key component of the Duke Animal Care and Use Program is the Surgical Pavilion that consists of four operating rooms as well as rooms for surgical preparation, anesthetic monitoring, post-operative recovery, and surgical instrument processing. This facility provides resources for teaching and research endeavors and is supplied with state-of-the-art equipment and information technology.
The Central Teaching Laboratory is used for training with live laboratory animals as well as human or animal cadaver specimens. This operating room has six surgical bays and is ideal for teaching students in the various medical training programs as well as practicing physicians. 
Four other operating rooms in the pavilion provide resources for the surgical research and training needs of Duke investigators. Surgical and anesthetic technical support is available from the Division of Laboratory Animal Resources. The facility is approximately 4,500 square feet.
Duke University's Animal Care and Use Program is fully accredited by the Association for the Assessment and Accreditation of Laboratory Animal Care, International (AAALAC). Duke is also registered as a research facility with the US Department of Agriculture in accordance with the Animal Welfare Act and all amendments and holds a Category 1 Assurance with the Public Health Service (through the NIH's Office of Laboratory Animal Welfare).