The Raleigh-Durham-Chapel Hill area of North Carolina is also called the Research Triangle because of its proximity to three major research universities—Duke, the University of North Carolina at Chapel Hill, and North Carolina State University—as well as being a hub for technology and biotech companies.
The area has developed into a center for culture, too, with world-class restaurants and entertainment. At the same time, the Triangle maintains a reasonable cost of living compared to other cities. From Forbes to USA Today, the Raleigh-Durham area consistently lands on the major top 10 lists of best places in the country to visit, live, and do business.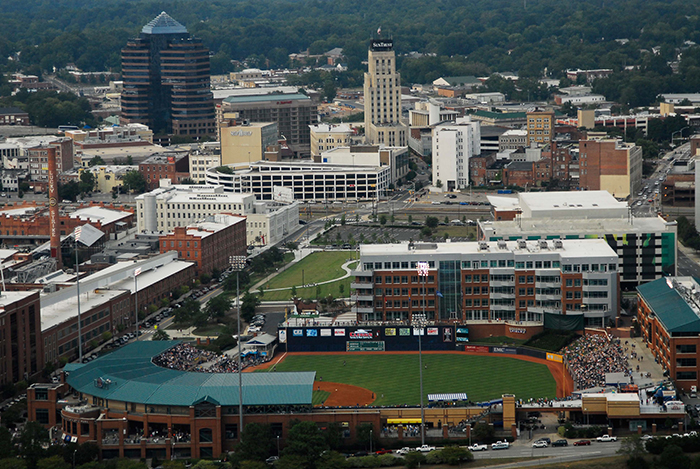 Located halfway between the stunning Blue Ridge Mountains and the spotless beaches of the Outer Banks, Durham is the fourth largest municipality in North Carolina. Visitors come to Durham for its sports teams, eclectic restaurants, and diverse culture; residents live here for its reasonable cost of living, strong sense of community, and agreeable weather. 
Durham has the charm of a Southern college town with the amenities of a larger city. Durham Performing Arts Center (DPAC) attracts national touring artists and Broadway shows. The annual Full Frame Documentary Film Festival brings together people from all over the world to showcase the work of new and established filmmakers. And Duke Performances brings in world-class musicians every season.  
Durham's multicultural food scene has been praised by Gourmet and Bon Appétit magazines as well as The New York Times.
Sports fans will revel in the achievements of our Blue Devils in basketball, lacrosse and more. The Durham Bulls offer family-friendly baseball experiences throughout the summer. With more than 60 parks, an extensive network of running and biking trails, and several major waterways, the city offers abundant activities for outdoors enthusiasts.
Access to and from Durham is convenient, as the RDU airport just 12 miles outside the city.
Visit the Duke in Durham website to learn why Durham is such a great place to live.