2017 Master Surgeon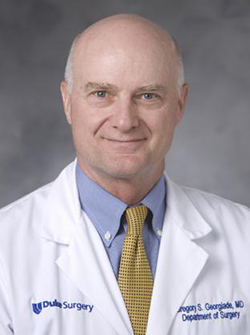 Gregory S. Georgiade, MD, was born at Duke Hospital on November 16, 1947. He attended preparatory school in Connecticut and subsequently attended the University of North Carolina in Chapel Hill. Dr. Georgiade was a competitive swimmer in college at UNC; he graduated with a Bachelor of Science in chemistry in 1970. He matriculated at Duke University Medical School and, with a select group of exemplary students, graduated in three years. Dr. Georgiade is the son of the late Dr. Nicholas Georgiade, an international leader in plastic surgery and the Chief of the Division from 1975–1985. Dr. David Sabiston recruited Greg to the General Surgery training program as an intern in 1973, and Greg completed his categorical general surgery residency in 1978. That year, he began his fellowship in plastic surgery at Duke. During his residency, he assisted in Duke's first microvascular free flap transfer. After Dr. Georgiade's graduation from plastic surgery training in 1980, Dr. Sabiston appointed him to the Surgery faculty.
Dr. Georgiade is a self-proclaimed Duke "Lifer." He grew up on campus and has been loyal and faithful to Duke ever since. He spent his undergraduate summers working as a scrub assistant in the operating room, and in the years since, has familiarized himself with the operational organization of the hospital. While he seemingly followed in his father's footsteps, Greg blazed his own path, starting as both a true general surgeon as well as a plastic surgeon. Throughout his tenure, he has been known for his meticulous technical abilities in a broad array of surgical fields, including oncologic and reconstructive breast cancer surgery, general surgery, trauma surgery, maxillofacial surgery, and cleft lip and palate surgery, a breadth that makes him unique in the modern era of plastic surgery.
Dr. Georgiade has trained scores of residents in general and plastic surgery; he sought to arm them with the technical skill as well as the mental fortitude to save and improve lives even under adversity. Dr. Georgiade always remained a general and trauma surgeon; in the early 1980s, along with Dr. Joseph Moylan, he researched the benefits of transporting trauma patients by air. In 1985, he helped establish Duke Life Flight—the first hospital-based transport service in North Carolina. He remains the Medical Director of that program. Further accentuating his grasp of hospital operations, Dr. Georgiade has led numerous other critical hospital systems, including perioperative services and the Duke Transfer Center. His intimate knowledge of hospital workings has made him a valuable confidante to the health system's highest-level leadership. He led the creation of the Duke Aesthetic Center in 1998, and he has served as the Vice-Chairman for Finance for the Department of Surgery since 2004. In 2011, he finally did follow in his father's footsteps when he was named Chief of the Division of Plastic, Maxillofacial, and Oral Surgery. He rose to the rank of Professor of Surgery.
Dr. Georgiade has authored over 80 publications in major journals and over 50 chapters. He has edited four major textbooks of plastic surgery, including Georgiade Plastic, Maxillofacial, and Reconstructive Surgery.
By virtue of his exceptional contributions to Duke Surgery, Dr. Gregory S. Georgiade is recognized as a true Master Surgeon. This honor is bestowed to establish a living memory of an individual who has embodied the ideals of Duke Surgery, with the expectation that reflection on this illustrious career will serve as a guidepost for those aspiring to a life in the art of science of surgery.