2015 Master Surgeon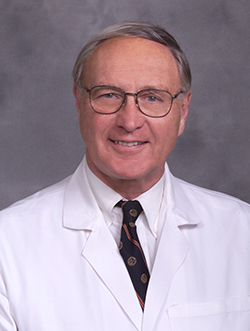 Walter G. Wolfe, MD, was born in Corry, Pennsylvania, in 1937. He received his undergraduate degree from Denison University in 1959, and his medical degree from Temple University in 1963. Dr. Wolfe did his internship at Philadelphia General Hospital followed by residency in General and Thoracic Surgery at Duke University Hospital. In the course of his residency, he did a two-year research fellowship at the University of California's San Francisco Cardiovascular Research Institute. At this time he made significant contributions with J. B. West, one of the fathers of pulmonary physiology. Recognized as an immense talent by the Duke's Chair of Surgery, Dr. David C. Sabiston, Jr., Dr. Wolfe was appointed Assistant Professor in General and Thoracic Surgery at Duke in 1972.
During his time at Duke, Dr. Wolfe established himself as an exceptional clinical surgeon. The go-to attending for complex thoracic and cardiac cases, he was known for exceptional pre-operative judgment and decisive intraoperative skill. He was a member of the Society of Clinical Surgery, was board certified in both surgery and thoracic surgery, and was the proud owner of the last permanent certificates awarded in these disciplines. A fierce advocate for resident education, he served as Program Director for the thoracic residency program and as founding member and President of the Sabiston Society.
Academically, Dr. Wolfe published over 180 peer-reviewed publications, 85 book chapters, and 3 books. His contributions were both broad and deep, with publications in the areas of basic pulmonary physiology and ventricular function, and clinical topics such as pulmonary embolism, aortic dissection, outcomes in valve and coronary surgery, the role of adjuvant therapy in esophageal cancer surgery, and the surgical treatment of pancreatitis. Dr. Wolfe's contributions to the surgical treatment of pulmonary embolism, both acute and chronic, were authoritative and lasting in their clinical impact. Perhaps his most important contribution was his demonstration that the aortic valve could be preserved by re-suspension when made insufficient in acute Type 1 aortic dissections. This finding allowed an untold number of patients to avoid the hazards of prosthetic valve replacement in this setting. Dr. Wolfe was a member of many professional associations including the American Surgical Association, American Association for Thoracic Surgery, and the Society of Thoracic Surgeons. Administratively, he served at the Durham VA Medical Center as Chief of Cardiothoracic Surgery and Chief of Surgical Services. During his time on the active faculty, Dr. Wolfe in many ways served as the clinical and moral compass of the Department of Surgery, and as an important link between multiple decades of Duke-trained residents. Dr. Wolfe achieved the rank of Professor of Surgery and Professor of Biomedical Engineering.
By virtue of his exceptional contributions to Duke Surgery, Dr. Walter G. Wolfe is recognized as a true Master Surgeon. This honor is bestowed to establish a living memory of an individual who has embodied the ideals of Duke Surgery, with the expectation that reflection on this illustrious career will serve as a guidepost for those aspiring to a life in the art and science of surgery.