2020 Master Surgeon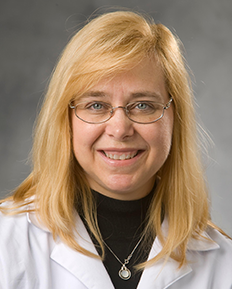 Debra Lynn Clausing Sudan, MD, was born in Ephrata, Penn., in 1963. Her parents noted that as a child, she was very focused, and when starting a project, she always saw it through to completion. Consistent with this early characterization, she graduated as valedictorian from Miamisburg High School in Miamisburg, Ohio, and from Muskingum College with a Bachelor's of Science in chemistry, as salutatorian, summa cum laude. She received her MD in 1989 from Wright State University in Dayton, Ohio (Alpha Omega Alpha), and she stayed in Dayton to complete her residency in General Surgery in 1994. She also completed a research fellowship at New York University during her residency. In 1996, she moved to Omaha, Neb., where she completed a fellowship in abdominal organ transplant surgery, and she was asked to stay on the faculty at the University of Nebraska Medical Center. In keeping with her exceptional talent and drive, she rapidly rose to the rank of Professor of Surgery, serving as the director of the living donor liver transplant program and the intestinal rehabilitation program. In 2008, Dr. Sudan was recruited to Duke University as a tenured Professor of Surgery.
Dr. Sudan definitively established herself as a superb technical surgeon, courageously but thoughtfully gravitating to the most difficult cases: complex liver transplants, living liver donation, split liver transplants, and liver transplantation in critically ill children. An early pioneer in bowel transplantation, Dr. Sudan gained national recognition as a leader in the holistic care of people with short gut syndrome, and she attained one of the largest personal series of intestinal and multivisceral transplants nationally. Dr. Sudan pioneered numerous techniques improving the approach to these cases, including the introduction of a safer technique for combined liver, small bowel, and pancreas transplantation, which has been adopted worldwide, and the conceptual introduction of targeting lower immunosuppression levels, improving the survival of these patients and dramatically reducing their immunological complications. She led the development of isolated small bowel transplantation and gained federal funding for innovations in small bowel preservation. Importantly, she translated her insights into the care of these highly complex patients into generalizable concepts for the systematic improvement of transplant program quality, taking a leading role in the initial use of the national Transplant Quality Improvement Program. She gained national reputation as a talented clinical trialist and thought leader in transplant program management, holding numerous governing positions in the Organ Procurement and Transplantation Network/United Network for Organ Sharing and serving as President of the Intestinal Transplant Association. As a strong voice and influencer in the field of complex organ transplantation, Dr. Sudan published over 200 articles and book chapters and delivered over 150 invited lectures. She led the Duke Division of Abdominal Transplantation through its largest expansion, creating a perennial top 10 program in volume and outcomes, bringing the "gift of life" to over 1000 Duke patients, while maintaining an active, externally funded research program to advance better clinical outcomes for patients undergoing intestinal transplantation.
By virtue of her exceptional contributions to Duke Surgery and the field of transplant and intestinal surgery, Dr. Debra Lynn Clausing Sudan is recognized as a true Master Surgeon. This honor is bestowed to establish a living memory of an individual who has exemplified the ideals of Duke Surgery, with the expectation that reflection on this illustrious career will serve as a guidepost for those aspiring to a life in the art and science of surgery.