The Akwari Society honors its namesake by embodying Service to the surgical profession in the form of excellence in bench and clinical research, Service to learners at all levels in teaching, mentoring, sponsorship, and advocacy, and first and foremost, Service to individuals in caring for patients.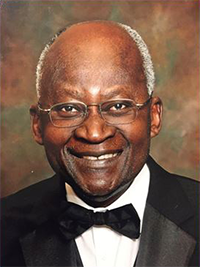 Onyekwere E. Akwari, MD, was the first African-American surgeon on the faculty of Duke University. He was a compassionate physician, a dedicated mentor, and a champion for women and underrepresented racial and ethnic groups in the field of medicine.
He received his medical degree from the University of Southern California School of Medicine in 1970 and joined the general surgery training program at the Mayo Clinic. His research focused on the neural and hormonal regulation of gastrointestinal motility.
During a six-month hiatus from Mayo, he designed an Emergency Medicine Residency Program for Martin Luther King Jr./Drew Medical Center for the Southeast Health Region of Los Angeles County. Dr. Akwari joined the Duke faculty in 1978 and forged the way for many Black academic surgeons after him — both at Duke and across the country.
In 1989, he organized the first national meeting of the Society of Black Academic Surgeons, which was held at Duke University. Dr. Akwari died in 2019.