About
Established in 2022, The Akwari Society honors the legacy of Dr. Onyekwere Emmanuel Akwari, the first Black surgeon at Duke. The Society's foundation is built upon placing humanity at the center of surgical practice.
Read the 2023 Winning Entry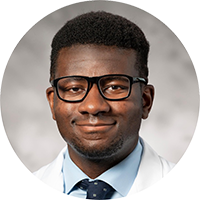 General Surgery Resident Dr. Kevin Ig-Izevbekhai was honored as the winner of the inaugural essay contest, in which he shares, "Insofar as we are accountable for the patient in front of us, we illustrate the unmistakably human image of the surgeon."
Dates and Deadlines
Submissions open: Thursday, April 13, 2023
Submissions close: Sunday, May 21, 2023 at 11:59 p.m.
Applicants notified of decision: June 9, 2023
Eligibility
The first 2023 Essay Contest is open to all current learners of all years and programs in the Department of Surgery, including residents, clinical fellows, postdoctoral fellows, and postdoctoral associates.
Essay Requirements and Submission Process
Format: 1,000 word limit
Essay Prompt (select one of these three topics):
A. The impact of human values in my surgery training
B. How I have seen the role of human values in surgical practice
C. How I want to impact surgical sciences with human values
Award
The winner of the 2023 Essay Competition will receive:
A travel award of $500 to attend a scientific meeting
A commemorative plaque
The winning essay will be featured on the Department of Surgery website and in the department newsletter
Submit Your Essay
Submissions for the 2023 Essay Contest are now closed. Keep an eye out for news and announcements about the 2024 Essay Contest.