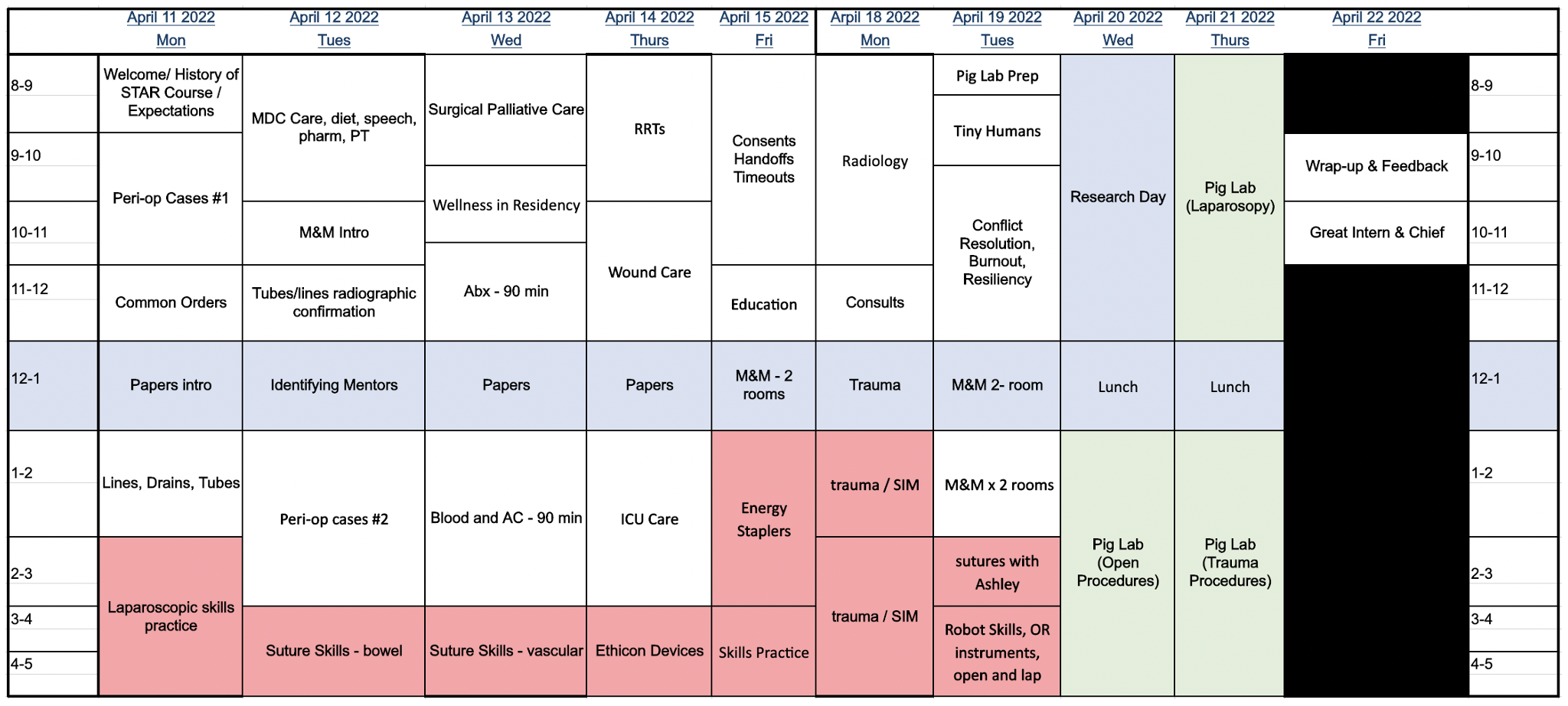 One objective of the STAR course is to distill and reaffirm what students will need to survive the month of July (and beyond) as a surgical intern. Not all pragmatic skills and concepts needed to take care of patients are taught during medical school. For example, interns typically place orders, return nursing pages, and respond to emergencies.
During STAR, short (1-2 hour) didactic classes are designed to be highly interactive, demanding that students make decisions about what they want to do and how they would actually execute these plans. Whether managing the floor, staffing the SICU, or in the OR, students will emerge from these sessions better prepared to take care of patients with both confidence and competence.
Sessions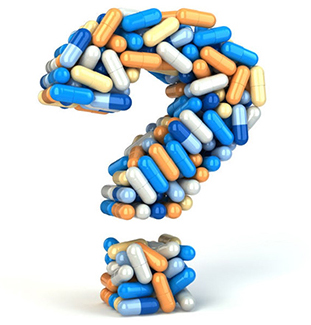 How should students approach the treatment of intra-abdominal sepsis? Bacteremia? Fungemia? What are effective oral regimens for common enteric flora?
We address the practical utilization of antibiotics in this session to provide useful guidelines for internship.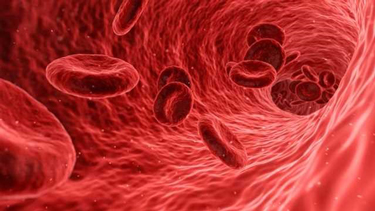 As the population ages and becomes increasingly ill, more and more patients are on anticoagulants. How should a surgery resident manage thee medications? How long should patients be off of them prior to surgery? How might they be reversed in the setting of trauma? When should the medications be restarted?
This session covers topics related to anticoagulation, an increasingly tested concept on the surgery in-service training exam and one with daily applicability on the wards.
One of the new and important duties usually first relegated to interns is receiving and responding to pages regarding patient and nursing concerns. In the STAR course, Duke partners with Southern Illinois University, which provides a program utilizing real nurses to page students with common conditions. Students are required to gather information, make a preliminary diagnosis, and present a plan of action over the phone, simulating the experience of being an intern. They are provided specific feedback about their performance and are graded against their cohort nationally. Numerous studies have demonstrated the benefits of this program (1-3).
Boehler ML, Schwind CJ, Markwell SJ, Minter RM. Mock Pages Are a Valid Construct for Assessment of Clinical Decision Making and Interprofessional Communication. Annals of Surgery, 2016; Epub 2016 (prior to print) Jan 15.
Schwind, CJ, Boehler, ML, Markwell, SJ, Williams, RG, Brenner, MJ. Use of Simulated Pages to Prepare Medical Students for Internship and Improve Patient Safety. Academic Medicine , 2011, 86 (1): 77-84
Frischknecht AC, Boehler ML, Schwind CJ, Brunsvold ME, Gruppen LD, Brenner MJ, Hauge LS. How prepared are your interns to take calls? Results of a multi-institutional study of simulated pages to prepare medical students for surgery internship. The American Journal of Surgery 2014; 208(2): 307-315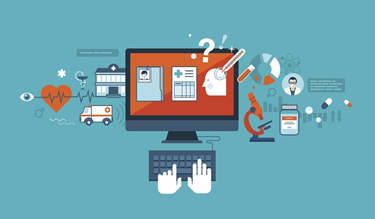 Most medical students will not have practiced entering orders for analgesia. What is a reasonable pain regimen for a patient post-operatively? What are important considerations when starting a heparin infusion? 
In this session, current surgery interns give tips and tricks about how to place commons orders, and highlight pitfalls and common errors in order entry.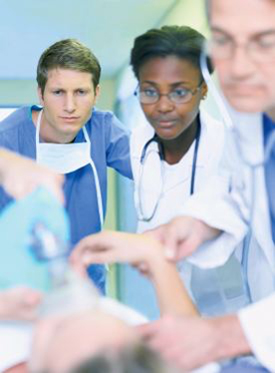 Sudden changes in clinical status may prompt evaluation of a patient by a rapid response team (RRT). Surgical interns will be expected to be assist in diagnosis and initial management of emergencies among surgical patients.
In this session, a chief resident provides advice on how to approach an RRT generally before going through common clinical scenarios. 
Interns are typically responsible for teaching and evaluating 3rd and 4th year medical students rotating on service, a duty for which most students have received little, if any, instruction. Making time to teach on a busy service is a challenging but fundamental part of the job. 
This session introduces core pedagogical principles and includes an opportunity to practice some of these strategies prior to starting on wards.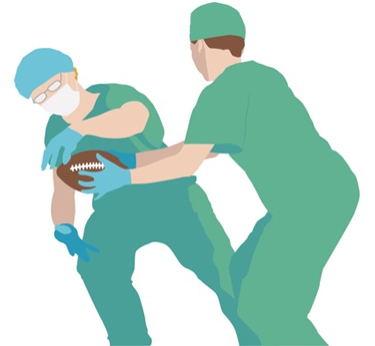 Consents, handoffs, and timeouts are three critical elements of surgical care but are rarely emphasized in medical school. Interns frequently consent patients, lead timeouts in the OR, and hand off patients to other interns and residents.
In this interactive session, interns and residents take students through examples of each before providing cases for guided practice.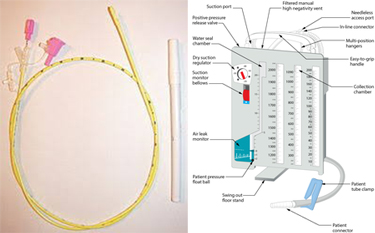 In this highly applicable session, a review of surgical and percutaneous drains will be provided. Additionally, relevant details about management of dysfunctioning tubes, associated order sets, and radiographic confirmation will be reviewed.
Routine and complex wound care are important parts of most interns' jobs. In this session, wound care specialists come to discuss various strategies for managing complex wounds and problematic stomas, as well as instructions on stoma site placement and care. The session is punctuated by the opportunity to see and handle many of the most common wound care supplies in use. 
Optimal patient care requires the coordination of multiple allied health care professionals working together. In this session, professionals from multiple disciplines and divisions come to talk about their specific roles and how to utilize their skills to help take care of your patients.
These highly interactive sessions break the class down into small groups. In each group, a faculty member and resident go through American College of Surgeons-sponsored cases that highlight the perioperative management and intraoperative decision-making that will be required of students as they transition into their new role as a resident.
The scenarios are designed both to impart core knowledge as well as facilitate critical decision-making that impacts patient care. In combination, these elements will help to develop mental algorithms that will enable students to practice safe surgery and perioperative care.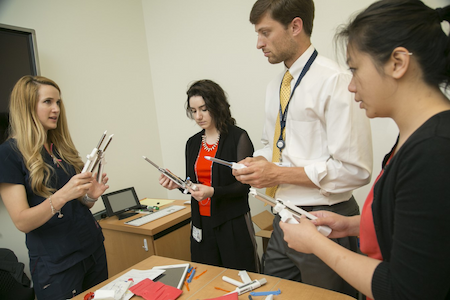 What suture is ideal for closing fascia? For bowel? What is the difference between nylon and silk suture? What color staple load should be used an on appendectomy versus a sleeve gastrectomy?
It is imperative to gain a working understanding of the common material resources available. We have industry representatives discuss these differences, bringing in various samples in order to understand the benefits and drawbacks of each and get practice using them in a low-stress simulated environment.