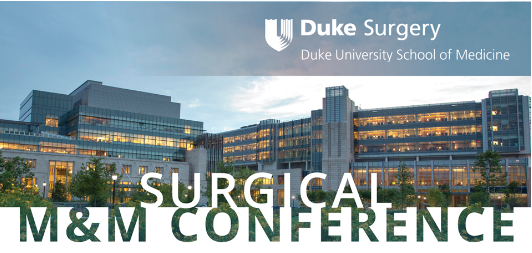 M&M Conference occurs on Wednesdays from 6:45 - 7:45am EST  
Join us in Duke North 2002 Lecture Hall or virtually via Zoom
M&M should be attended by Duke Faculty, Fellows, Residents, and APPs only
Purpose
In keeping with our ongoing commitment and dedication to patient safety, high-quality healthcare, and process development, a variety of activities are designed to facilitate improvement and enhance a culture of safety. Morbidity and Mortality (M&M) conferences are designed to provide a time for clinical members of the department to gather and confidentially discuss ways to improve all aspects based on actual episodes of patient care. M&M also aims to promote professionalism, ethical integrity, and transparency in assessing medical errors, complications, and unanticipated outcomes as well as provide educational content for residents and students.  M&M should be attended by current Duke Faculty, Fellows, Residents, and APPs only.
How to Attend
Surgical M&M Conference is held in Duke North Room 2002 Lecture Hall and remotely via Zoom. Weekly email announcements are typically sent on Mondays at 9:30am with Zoom link information and conference details.  To receive these weekly emails as well as upcoming event announcements, please email surgerygrandrounds@dm.duke.edu. M&M should be attended by current Duke Faculty, Fellows, Residents, and APPs only.
RSS Global Learning Objectives
Review and discuss new advances in general surgery
Present and discuss case studies, protocols, treatment guidelines and surgical/pathology reports appropriate to General Surgery practice
Review and discuss clinical findings and other evidence from pertinent literature
RSS Accreditation
In support of improving patient care, the Duke University Health System Department of Clinical Education and Professional Development is accredited by the Accreditation Council for Continuing Medical Education (ACCME), the Accreditation Council for Pharmacy Education (ACPE), and the American Nurses Credentialing Center (ANCC) to provide continuing education for the health care team.