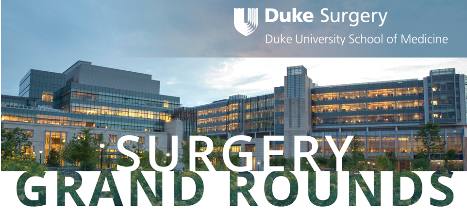 Surgery Grand Rounds occurs on Wednesday mornings from 8:00 - 9:00am EST
Join us in Duke North 2002 Lecture Hall or virtually via Zoom
Due to Covid-19, masks and social distancing are required in DN2002 and limited to 100 person capacity until further notice.
Purpose
The mission for Surgery Grand Rounds is to provide an educational format that has a broad appeal to Duke faculty, residents, staff, and students. Grand Rounds consists of a broad range of topics that are presented by local, regional, and international speakers on clinical education, research science, developments in technology, and also addresses other related issues that may affect our current and future surgeons.  Physicians who attend Surgery Grand Rounds are eligible to receive CME credit.
How to Attend
Surgery Grand Rounds are held in Duke North Room 2002 Lecture Hall and remotely via Zoom. Weekly email announcements are typically sent on Mondays at 9:30am with Zoom link information, calendar invitation, and speaker details.  To receive these weekly emails as well as upcoming event announcements, please email surgerygrandrounds@dm.duke.edu  
On-Demand Viewing
Access previously recorded Surgery Grand Rounds and virtual Chief Talks by logging in to our media library linked below. These recordings are only available to current Duke faculty, staff, and trainees with a valid Duke NetID. No credit will be offered for on-demand viewing past 3:00pm ET on the day of recording. 
Highlights
Endowed Lectureships
Association of Women Surgeons
AWS Grand Rounds serves as an opportunity to bring together medical students, residents, and faculty to catalyze an important shift in the culture of medicine and address implicit bias and microaggressions. The keynote speech and workshops aim to help attendees gain a common understanding of the challenges posed to women surgeons and of avenues to propose, implement, and revise strategies to address these challenges together as a Duke community.
Chief Talks
Chief Talks consists of exit presentations given by Chief Residents from the General Surgery and Cardiothoracic residency programs. Each Resident will give a 15-20 minute presentation followed by a 10 minute Q&A session.  
2022-2023 Chief Residents:
| | | |
| --- | --- | --- |
| David Becerra, MD | Norma Farrow, MD | Oliver Jawitz, MD |
| Karenia Landa, MD | Vignesh Raman, MD | Christopher Reed, MD |
| Robin Schmitz, MD | Julie Doberne, MD | |
| James Meza, MD | Michael Mulvihill, MD |   |
Upcoming Speakers
Date

Speaker

September 7, 2022 

Lisa Pickett, MD
Assistant Professor of Surgery and Medicine
Chief Medical Officer
Duke University Hospital 

John Dailey
Chief of Police
Duke University Police Department
 

 September 14, 2022

Marie A. Bernard, MD
Chief Officer for Scientific Workforce Diversity
NIH Institute: Office of the Director

 

September 21, 2022

 

Jashodeep Datta, MD
Assistant Professor of Clinical
Division of Surgical Oncology
University of Miami Health System

 

October 5, 2022

Judd W. Moul, MD, FACS
James H. Semans, MD Professor of Surgery
Professor of Anesthesiology (Secondary)
Division of Urologic Surgery 
Duke Cancer Institute

October 26, 2022

Nhu Thao Nguyen Galvan, MD
Assistant Professor of Surgery
Division of Abdominal Transplantation
Baylor College of Medicine

November 2, 2022

Nicholas D. Andersen, MD
Pediatric Cardiac Surgeon
Co-Director, Single Ventricle Care and Research Program 
Duke Children's Pediatric and Congenital Heart Center
Division of Cardiovascular and Thoracic Surgery 
Duke University Medical Center

 

November 9, 2022

 

Omaida C. Velazquez, MD
Chair, DeWitt Daughtry Family Department of Surgery  
University Of Miami Miller School of Medicine
Surgeon-in-chief for UHealth & Jackson Health Systems

November 30, 2022

Heidi Yeh, MD
Surgical Director   
Pediatric Transplant Program
Massachusetts General Hospital

 

December 7, 2022

 

Lenworth Jacobs, MD, MPH, DSc (Hon), FACS, FWACS (Hon)
Professor of Surgery
Professor of Traumatology and Emergency Medicine
University of Connecticut
Founder, Stop the Bleed 

December 14, 2022

Robert A. Guyton, MD
Distinguished Charles Ross Hatcher, Jr.,
Professor of Surgery
Director, Cardiothoracic Research Lab (CTRL) 
Division of Cardiothoracic Surgery, Emory
Chief of Cardiothoracic Surgery, Emory
University Hospital Midtown

January 4, 2023

Richard E. Moon, MD
Professor of Anesthesiology
Medical Director, Hyberbaric Center
Professor of Medicine
Duke University 

January 11, 2023

Margaret "Gretchen" Schwarze, MD
Morgridge Endowed Professor of Vascular Surgery
University of Wisconsin- Madison

January 18, 2023

John A. Rogers, PhD
Professor of McCormick School of Engineering
Dermatology and Neurological Surgery
Feinberg School of Medicine
Northwestern University

February 1, 2023

Catherine de Vries, MD
Professor of Surgery (Urology)
Associate Professor of Family Health
University of Utah School of Medicine

February 8, 2023

Bradley H. Collins, MD, FACS
Associate Professor of Surgery
Duke Transplant Center
Department of Surgery
Duke University School of Medicine

February 15, 2023

Bret Mettler, MD
Chief, Pediatric Cardiac Surgery
Co-Director, Blalock-Taussig-Thomas Pediatric and Congenital Heart Center
Associate Professor of Surgery
Johns Hopkins Medicine
RSS Global Learning Objectives
Review and discuss new advances in general surgery
Present and discuss case studies, protocols, treatment guidelines and surgical/pathology reports appropriate to General Surgery practice
Review and discuss clinical findings and other evidence from pertinent literature
RSS Accreditation
In support of improving patient care, the Duke University Health System Department of Clinical Education and Professional Development is accredited by the Accreditation Council for Continuing Medical Education (ACCME), the Accreditation Council for Pharmacy Education (ACPE), and the American Nurses Credentialing Center (ANCC) to provide continuing education for the health care team.