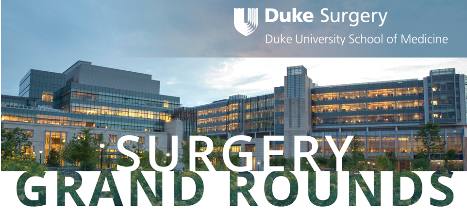 Surgery Grand Rounds occurs on Wednesday mornings from 8:00 - 9:00 am EST
Join us in Duke North 2002 Lecture Hall or virtually via Zoom
Purpose
The mission for Surgery Grand Rounds is to provide an educational format that has a broad appeal to current Duke faculty, residents, staff, and students. Grand Rounds consists of a broad range of topics that are presented by local, regional, and international speakers on clinical education, research science, developments in technology, and also addresses other related issues that may affect our current and future surgeons.  Physicians who attend Surgery Grand Rounds are eligible to receive CME credit.
How to Attend
Surgery Grand Rounds are held in Duke North Room 2002 Lecture Hall and remotely via Zoom. Weekly email announcements are typically sent on Mondays at 9:30am with Zoom link information, calendar invitation, and speaker details.  If you have an active Duke email address and would like to receive these weekly emails as well as upcoming event announcements, please email surgerygrandrounds@dm.duke.edu  
On-Demand Viewing
Access previously recorded Surgery Grand Rounds and virtual Chief Talks by logging in to our media library linked below. These recordings are only available to current Duke faculty, staff, and trainees with a valid Duke NetID. No credit will be offered for on-demand viewing past 3:00pm ET on the day of recording. 
To view older archives prior to September 2023, please contact us at surgerygrandrounds@duke.dm.edu. Please include the speaker, date, or title that you wish to view. 
To View The Enduring Content from the October 4th Surgery Grand Rounds on Professionalism with Drs. Ross and Jamie Ungerleider.
Highlights
Endowed Lectureships
Association of Women Surgeons
AWS Grand Rounds serves as an opportunity to bring together medical students, residents, and faculty to catalyze an important shift in the culture of medicine and address implicit bias and microaggressions. The keynote speech and workshops aim to help attendees gain a common understanding of the challenges posed to women surgeons and of avenues to propose, implement, and revise strategies to address these challenges together as a Duke community.
Chief Talks
Chief Talks consists of exit presentations given by Chief Residents from the General Surgery and Cardiothoracic residency programs. Each Resident will give a 15-20 minute presentation followed by a 10 minute Q&A session.  
2023-2024 Chief Residents:
| | | |
| --- | --- | --- |
| Sarah Jane Commander, MD | Mariya Samoylova, MD | Adam Shoffner, MD |
| Konstantinos Economopoulos, MD | Brian Shaw, MD | Muath Bishawi, MD |
| Samuel Kesseli, MD | Aaron Williams, MD | |
| Dimitrios Moris, MD | Zachary Fitch, MD |   |
Upcoming Speakers
Date

Speaker

January 3, 2024

 

Anthony Nicholas Galanos, MA, MD
Professor of Medicine,
Associate Professor in the School of Nursing
Associate of the Duke Initiative for Science & Society,
Senior Fellow of the Center for the Study of Aging &
Human Development

January 10, 2024

Maura E. Sullivan, PhD
Professor of Clinical Surgery (Education Scholar),
Associate Dean of Simulation Education in Health Sciences,
Vice Chair of Education
 

January 31, 2024

Elliot A. Asare, MD, MS, FACS
​Assistant Professor,
Surgical Oncology in the Division of General,
Surgery at the University of Utah

 

February 7, 2024

Keith Reeves, PhD
Professor in Surgery,
Professor of Pathology,
Member of the Duke Human Vaccine Institute

February 14, 2024

Stephanie Fuller, MD
Surgical Director,
Professor of Clinical Surgery,
Philadelphia Adult Congenital Heart Center

February 28, 2024

Andres Schanzer, MD
Professor of Surgery,
Population & Quantitative Health Sciences,
Chief of the Division of Vascular & Endovascular,
Surgery in the Department of Surgery
 

 

March 6, 2024

Jennifer F. Tseng, MD, MPH
Chair, Department of Surgery,
James Utley Professor, Boston University Chobanian & Avedisian of Medicine,
Surgeon-in-Chief, Boston Medical Center

March 20, 2024

Mary L. Brandt, MD, FACS, FAAP
Distinguished Emeritus Professor of Surgery,
Pediatrics & Medical Ethics Division of Pediatric Surgery,  
Michael E. DeBakey Department of Surgery Baylor College of Medicine 

 

March 27, 2024

Jeffrey Harold Lawson, MD
Adjunct Professor in the Department of Surgery,
Core Faculty in Innovation & Entrepreneurship
RSS Global Learning Objectives
Review and discuss new advances in general surgery
Present and discuss case studies, protocols, treatment guidelines and surgical/pathology reports appropriate to General Surgery practice
Review and discuss clinical findings and other evidence from pertinent literature
RSS Accreditation
In support of improving patient care, the Duke University Health System Department of Clinical Education and Professional Development is accredited by the Accreditation Council for Continuing Medical Education (ACCME), the Accreditation Council for Pharmacy Education (ACPE), and the American Nurses Credentialing Center (ANCC) to provide continuing education for the health care team.