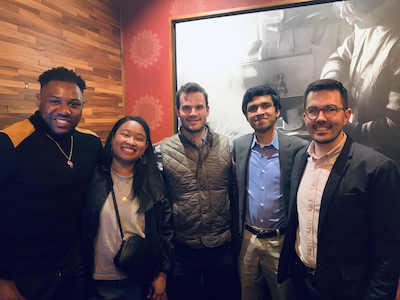 The Visiting Elective Scholarship Program (VESP) is a unique opportunity for fourth year medical students who are Underreprested in Medicine (URiM), and interested in pursuing a career in General Surgery or Surgical Oncology (Breast, Colorectal, Endocrine, Hepatobiliary, Melanoma, Pancreas, and Soft Tissue Sarcoma disease sites).
About the Elective
Awarded to one 3rd or 4th year student annually, this scholarship offers a one-month elective (earning 4 credits) in Surgical Oncology for the fall semester.  The student's clinical experience will be tailored to their interests, and they will become integrated members of the service on the wards, in the operating room, and in educational conferences. Beyond clinical exposure, however, VESP has been designed to provide longitudinal career development and mentorship from our Duke Surgery faculty and residents. To this end, the program offers the following financial support:
Up to $2,500 to assist with the cost of travel and lodging
Three years of funding for academic medical society's memberships, up to $250
An invitation to return for the Duke Surgical Technique and Review (STAR) Course, our pre-internship bootcamp
Additionally, you will be assigned a faculty mentor with whom you will meet with weekly.  You will also be assigned a resident mentor to assist with student orientation, and you will have an opportunity to interact with Duke medical students interested in Surgery.  Your faculty and resident mentors will be able to provide advice and recommendations for your residency application process, as well as continued support through residency and beyond.
While you are here, you will have one-on-one meetings with:
Chair of Surgery, Duke University
Program Director, Duke General Surgical Residency Program
Vice Chair of Education, Department of Surgery
Residents in the Department of Surgery
Eligibility
Eligible participants are:
Full-time 3rd or 4th year U.S. medical students whose identities are underrepresented in the medical profession.
Students who are committed to working with underserved populations, or working with issues related to diversity, equity, and inclusion
Students in good standing at a U.S. medical school
Application
The application process will open February 1, 2022. 
Students interested in applying for the elective should send a current CV along with a 250-word personal statement on "An important life event that is not listed on your CV" to SurgOncVESP@duke.edu.
John Migaly, MD, Vice Chair of Education
Elisabeth Tracy, MD, Director, General Surgery Residency
Kevin Shah, MD, Course Director Medical Student Surgical Sub-Internship Elective
Deadline
Applications are reviewed on a rolling basis and must be received by April 8, 2022.
Selection
Our scholarship will be awarded on the basis of a holistic review of education, career, and life experiences.
Those who are interested in a career in academic surgery and serving underserved populations are encouraged to apply.
Acceptance
Please note: Requirements for the Duke School of Medicine Clinical electives must also be met.
Because of the ongoing COVID-19 pandemic, Duke is not currently accepting applications for visiting students from medical schools outside the U.S.
Notification
Scott Campbell, Visiting Student Coordinator, will notify you regarding the status of your application.
Scott Campbell, Office of the Registrar
Room 0386, 3rd Floor Seeley G Mudd Building
8 Searle Center Drive
Box 3878 DUMC
Durham NC 27710
Tel (919) 684-8042
Main Office (919) 684-2304
Fax (919) 684-4322
scott.campbell@dm.duke.edu