The Duke Human Heart Repository began in earnest in 2008 as an investigator driven entity designed to address key questions of interest in the Milano/Bowles research program related to cardiovascular disease causes and treatments, and improvement of cardiac transplantation and mechanical circulatory support outcomes.
Our self-imposed mission statement is as follows:
To collect and store cardiac and related tissues (blood derivatives plasma/serum), urine, and clinical information on subjects undergoing ventricular assist device implantation, heart transplantation, or other cardiac surgeries where discarded cardiac tissue is available.
To make these tissues available to be used in future research studies by investigators internal and external to Duke.
Our specimens are now provided through collaborations to researchers in academia and industry all over the world in projects involving cardiovascular physiology, disease, bio-markers, and molecular targets for intervention as well as in secondary pharmacological testing of pharmaceutical agents in development.
Available Services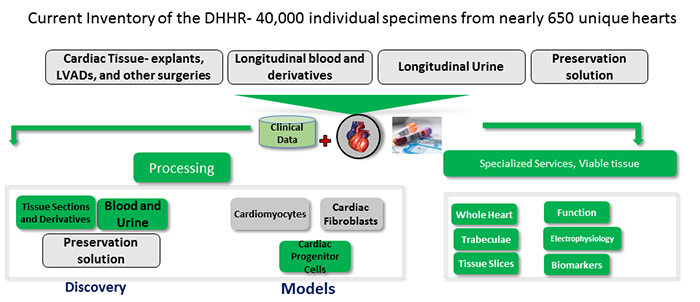 Tissues are used for discovery and models:
Flash frozen in liquid N2 and stored at -80°C.
Embedded in OCT histology media
Preserved in RNAlater
Powdered frozen tissue
Blood and urine
Preservation solution
Specialized services based on our access to viable tissue:
Primary cell isolation: cardiac fibroblasts, cardiomyocytes, cardiac progenitor cells
Molecular Biology/viral vector gene delivery
DNA/RNA isolation and purification
Working heart perfusion (Langendorff)
Isolated tissue bath
Equipment and Facilities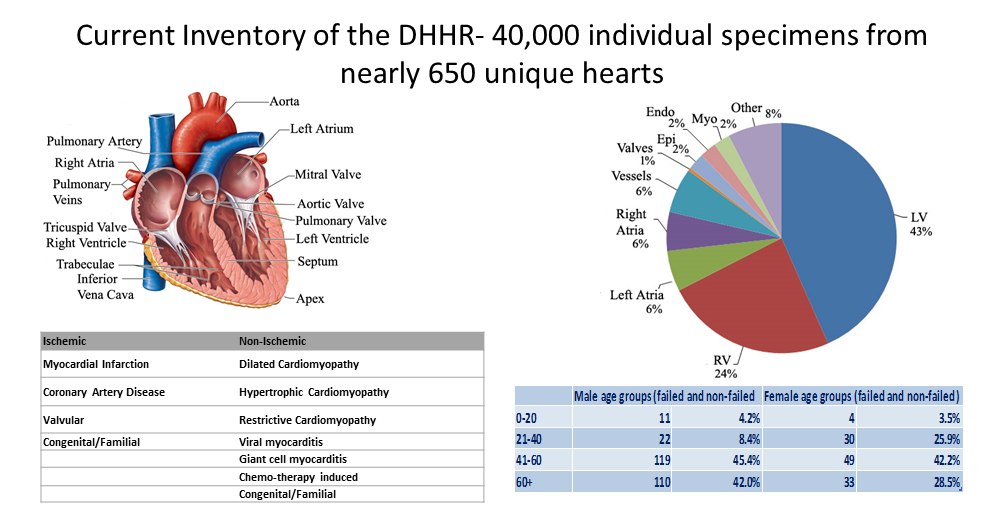 Selected Publications
Ahmad T, Wang T, O'Brien EC, Samsky MD, Pura JA, Lokhnygina Y, Rogers JG, Hernandez AF, Craig D, Bowles DE, Milano CA, Shah SH, Januzzi JL, Felker GM, Patel CB. Effects of left ventricular assist device support on biomarkers of cardiovascular stress, fibrosis, fluid homeostasis, inflammation, and renal injury. JACC Heart Fail. 2015 Jan; 3(1):30-9. PubMed PMID: 25447345.
Schechter M, Watson M, Feger B, Southerland K, Mishra R,  Dibernardo L, Kuchibhatla M,  Schroder J, Daneshmand M, Patel C, Rogers J,  Milano C, Bowles D.  Elevated Cardiac Troponin I in Preservation Solution is Associated with Primary Graft Dysfunction. Journal of Cardiac Failure. Accepted August 2015.
Pratico, E.D., Feger, B.J., Boczkowski, D., Sullenger, B., Bowles, D. E., Milano, C. and S. K. Nair. RNA-mediated reprogramming of primary adult human dermal fibroblasts into c-kit+ cardiac progenitor cells (CPCs). Stem Cells and Development. Accepted for publication July 6, 2015.
Ahmad, T., Kelly, J., McGarrah, R., Hellkamp, A., Fiuzat, M., Testani, J., Wang, T., Verma, A., Samsky, M., Donahue, M.,  Ilkayeva, O., Bowles, D., Patel, C., Milano C., Rogers, J., Felker, G. M., O'Connor, C., Shah, S., Kraus, W., Long-Chain Acylcarnitine Metabolites are Associated with Adverse Outcomes and Reversible with Mechanical Circulatory Support in Systolic Heart Failure. Journal of American College of Cardiology. Accepted.
Schechter MA, Hsieh MK, Njoroge LW, Thompson JW, Soderblom EJ, Feger BJ, Troupes CD, Hershberger KA, Ilkayeva OR, Nagel WL, Landinez GP, Shah KM, Burns VA, Santacruz L, Hirschey MD, Foster MW, Milano CA, Moseley MA, Piacentino V 3rd, Bowles DE. Phosphoproteomic profiling of human myocardial tissues distinguishes ischemic from non-ischemic end stage heart failure. PLoS One. 2014; 9(8):e104157. PubMed PMID: 25117565; PubMed Central PMCID: PMC4130503.
Schechter MA, Southerland KW, Feger BJ, Linder D Jr, Ali AA, Njoroge L, Milano CA, Bowles DE. An isolated working heart system for large animal models. J Vis Exp. 2014 Jun 11; PubMed PMID: 24962492; PubMed Central PMCID: PMC4189428.
Piacentino V 3rd, Milano CA, Bolanos M, Schroder J, Messina E, Cockrell AS, Jones E, Krol A, Bursac N, Mao L, Devi GR, Samulski RJ, Bowles DE. X-linked inhibitor of apoptosis protein-mediated attenuation of apoptosis, using a novel cardiac-enhanced adeno-associated viral vector. Hum Gene Ther. 2012 Jun; 23(6):635-46. PubMed PMID: 22339372; PubMed Central PMCID: PMC3392616.
Crow S, Chen D, Milano C, Thomas W, Joyce L, Piacentino V 3rd, Sharma R, Wu J, Arepally G, Bowles D, Rogers J, Villamizar-Ortiz N. Acquired von Willebrand syndrome in continuous-flow ventricular assist device recipients. Ann Thorac Surg. 2010 Oct; 90(4):1263-9; discussion 1269. PubMed PMID: 20868825.
Crow S, Milano C, Joyce L, Chen D, Arepally G, Bowles D, Thomas W, Ortiz NV. Comparative analysis of von Willebrand factor profiles in pulsatile and continuous left ventricular assist device recipients. ASAIO J. 2010 Sep-Oct; 56(5):441-5. PubMed PMID: 20613494.
Collaborate with Us
For additional information or for sample requests please contact:
Dawn Bowles, PhD
Assistant Professor in Surgery
dawn.bowles@duke.edu