Duke Coordinating Center Team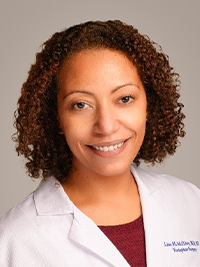 Lisa McElroy, MD, MS
Abdominal Transplant Surgeon
Assistant Professor of Surgery
Duke University Department of Surgery
lisa.mcelroy@duke.edu
Lisa McElroy, MD, MS graduated from the Michigan State University College of Human Medicine in 2009 as part of the Leadership in Medicine for the Underserved Program. She completed her general surgery residency training at the Medical College of Wisconsin. During her training, she was selected for a T32 postdoctoral research fellowship at Northwestern University, where she also earned a Master of Science in Health Services and Outcomes Research.
Dr. McElroy completed her clinical fellowship in abdominal transplant surgery at the University of Michigan and is currently an Assistant Professor of Surgery and Population Health Sciences at Duke University. Her research examines the influence of organizational characteristics on clinical outcomes of high cost, high acuity patients.
Dr. McElroy's current projects, which aim to improve equity in access to transplantation by reducing bias in processes of care, are funded by the Robert Wood Johnson Foundation and the American Surgical Association. She serves on the grants and fellowship committees of the American Society of Transplant Surgeons and is a member of the editorial boards of Clinical Transplantation and Annals of Surgery Open.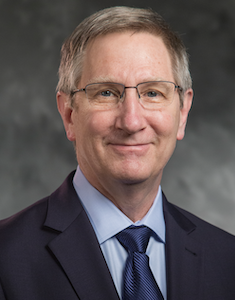 Allan D. Kirk, MD, PhD
Abdominal Transplant Surgeon
Chair, Duke University Department of Surgery
Surgeon in Chief, Duke Health
allan.kirk@duke.edu
Allan D. Kirk, MD, PhD, FACS, is chair of the Department of Surgery in the Duke University School of Medicine and Surgeon-in-Chief for Duke University Health System. He is the David C. Sabiston, Jr. Distinguished Professor of Surgery and a professor of immunology and pediatrics. Dr. Kirk received his medical degree from the Duke University School of Medicine in 1987 and a PhD in immunology at Duke in 1992. He went on to complete his general surgery residency at Duke in 1995, followed by an organ transplant fellowship at the University of Wisconsin-Madison in 1997.
Dr. Kirk directs the Laboratory of Immune Management in the Department of Surgery at Duke University School of Medicine. His research focuses on the following three interrelated areas: 1) the use of costimulation blockade therapy to prevent organ rejection in transplant recipients, 2) antibody depletion therapies to condition patient immune systems for transplant, and 3) understanding how immunosuppressive agents can affect the immune system based on immune exhaustion, memory, and senescence.
Dr. Kirk is internationally recognized for work in transplant immunology, serving as the inaugural Chief of the Transplantation Branch for the National Institute of Diabetes and Digestive and Kidney Diseases (NIDDK) and principal investigator for multiple clinical trials, including the first-in-man experience with novel immunosuppressive agents. He served as Editor-in-Chief for the American Journal of Transplantation from 2010 through 2020 and is now Editor Emeritus.
Participating Institutions