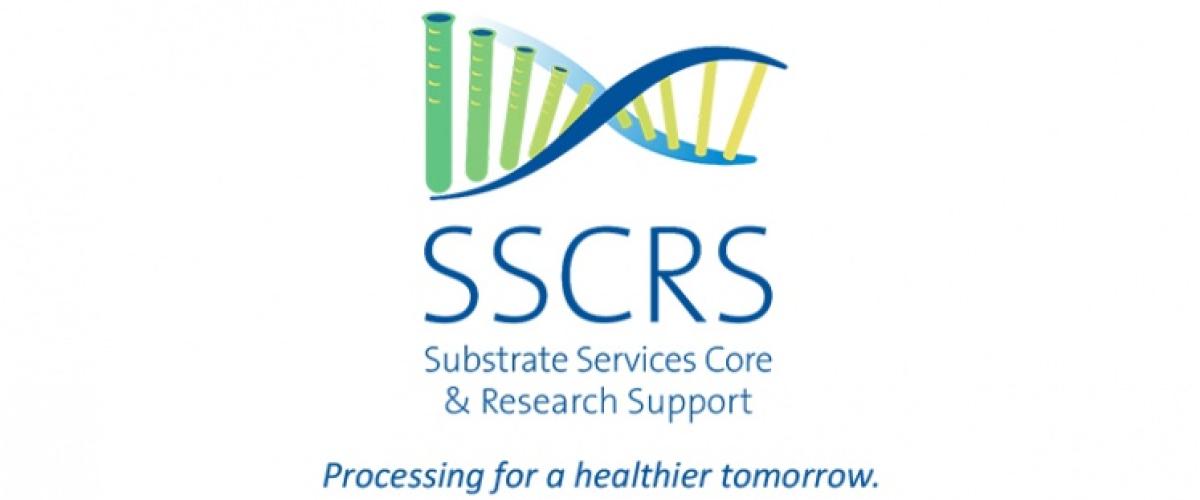 Overview
The Substrate Services Core Research Support (SSCRS) was developed in 2014 to serve as a centralized processing core and storehouse for research samples for large clinical, consortium-based collaborations and for basic, discovery science. We meet the increasing need for high-quality, well-characterized biological samples to be utilized by researchers working in clinical and translational research, ultimately enhancing the diagnosis and treatment of future patients.
The SSCRSS produces quality translational science through validated, standardized methodology and protocols that are implemented across studies, reducing non-relevant variability in results. To support this standardization, the core is in compliance with internationally recognized Good Clinical Laboratory Practice (GCLP) and 21 CFR Part 11. Reproducibility across supported research is achieved through continued monitoring of the quality system by the Quality Assurance for Duke Vaccine Immunogenicity Programs (QADVIP), an independent quality assurance unit.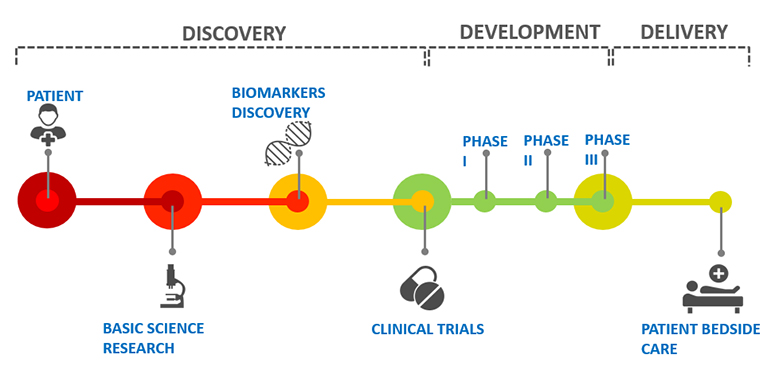 Available Services
All services provided adhere to Good Clinical Laboratory Practice (GCLP).
Collection and processing of tissue biopsies, serum, plasma, PBMCs, whole blood, urine, and various other biospecimens
On-call technician for sample processing for collections that occur outside of business hours
Isolation of DNA or RNA from cells, whole blood, or tissue
Patient/sample de-identification utilizing 2D-coded cryovial technology
Sample inventory system for reporting and rapid retrieval of samples
Secure monitored cryogenic long-term storage
Transfer, shipping, and tracking of samples
Data management
Clinical data linking
mRNA & miRNA expression
Histology services

Complete routine paraffin processing, embedding, and sectioning
Fresh tissue freezing, embedding, and sectioning
Basic histological stains, special stains, and immunohistochemical stains on paraffin and frozen sections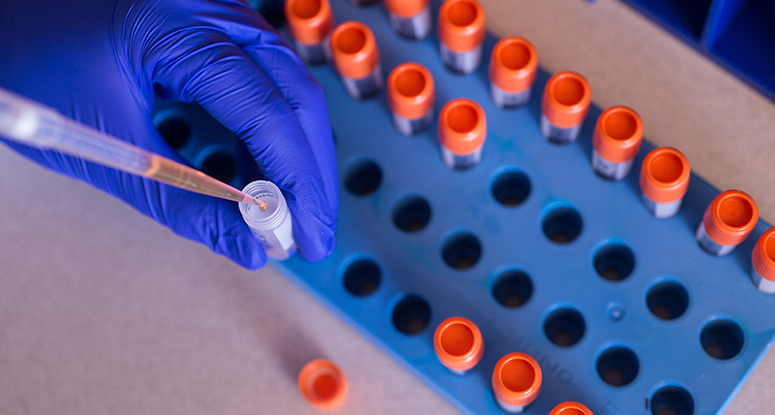 Equipment and Facilities
We are located on the 4th floor of the Medical Research Building I (MSRB1), which includes approximately 1,150 square feet of dedicated laboratory space for sample processing and analysis, and an additional 800 square feet of secured, dedicated freezer space. The laboratory is outfitted with:
10 upright -80C freezers
2 cryogenic -150C freezers
2 liquid nitrogen cryogenic freezers
1 upright -20C freezer
3 4c refrigerators for reagent storage
2 Countess II automated cell counters
2 Leica cryostats
1 TBS ATP1 Automated Tissue Processor
1 TBS Tissue Embedding Station
3 paraffin sectioning microtomes
2 tissue homogenizers
3 tissue floatation baths
3 histology staining stations
3 stage microscopes
1 fluorescent microscope
1 Leica Aperio Digital Pathology Slide Scanner
1 HTG EdgeSeq System
1 Qiagen QIAcube Workstation for automated purification of DNA, RNA, or proteins
1 BD Phoenix™ Automated Microbiology System
1 Bio-Rad Bio-Plex 200 suspension array system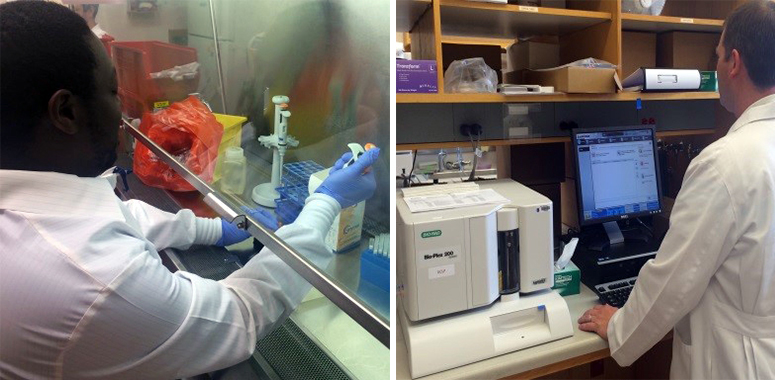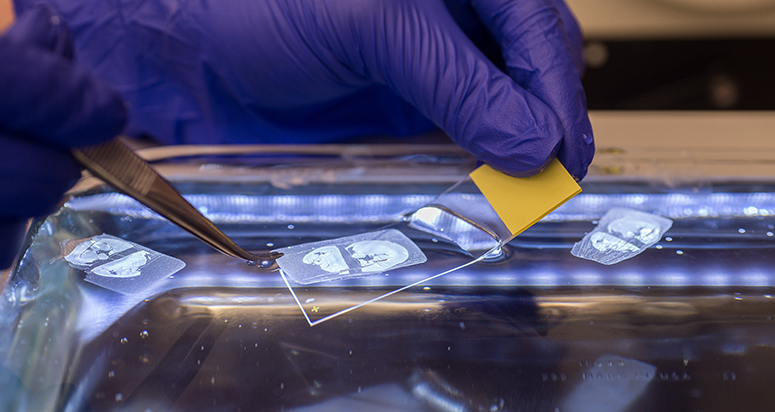 Members
Mary-Beth Joshi, MPH, Senior Director
Mary-Beth has spent more than 20 years directing complex, multi-faceted, multi-institutional, and multi-disciplinary clinical, translational, and basic science as well as clinical outcomes research projects in oncology. For more than two decades she has been instrumental in the development, implementation, and management of biospecimen and clinical data repositories and associated experimental data with the ability to transform working hypotheses into fully executable projects with defined benchmarks, goals, and measurable objectives. She has extensive experience in operations management effectively streamlining and optimizing project processes and resources to meet defined benchmarks and timelines. Mary-Beth earned her BS in Biology and Sports Medicine from Wingate College and her MPH in Public Policy from AT Still University.
Robyn Osborne, MS, Laboratory Manager
Debbi Conlon, HT, Laboratory Manager
Julie Fuller, Histology Lead
Bartley Adams, Molecular Lead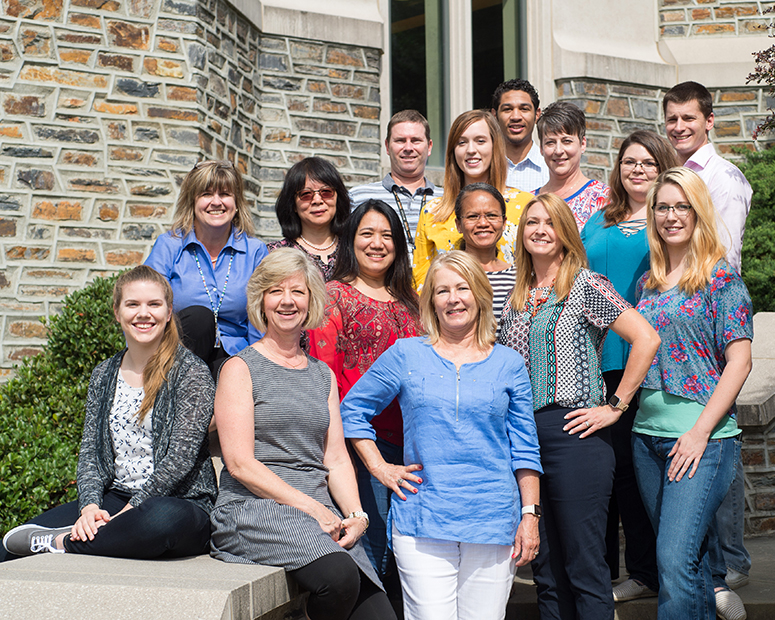 Selected Achievements

Collaborate with Us
SSCRS Kit Request Form
Biospecimens, Sample Processing and Biobanking Support
Histology and Immunohistochemical Support