The Duke Division of Cardiovascular and Thoracic Surgery provides clinical excellence in surgical treatment of diseases of the chest.
Welcome from the Chief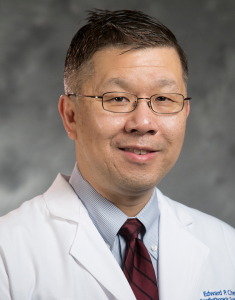 The Division of Cardiovascular and Thoracic Surgery at Duke has a long, storied history of embracing the overall academic mission: providing top notch, innovative patient care, advancement of the field through research, commitment to the specialty by service participation at the national and international level, and educating the next generation of leaders within our specialty. Our division's legacy of training extremely accomplished academic surgical leaders is unparalleled in North America.
This legacy is continued today in our current faculty, residents, midlevel providers and support staff. Our team provides efficient, high-quality and innovative care to the most complex of patients with the best possible standard which exists within cardiothoracic surgery and we are at the forefront for developing this standard. We aim to provide outstanding service to our referring physicians, both within and outside the institution. We work collaboratively to build well-functioning teams across all service lines within a culture of mutual respect and safety. We parlay this clinical care into scholarly pursuits and research activities, all while seeking to improve and develop our educational efforts and teaching for all learners in a well sought-after residency program. Our team members are tireless in the pursuit of excellence in each of these endeavors.
Thank you for your interest in the Duke Division of Cardiovascular and Thoracic Surgery.
Edward P. Chen
Chief, Duke Division of Cardiovascular and Thoracic Surgery
Exceptional Treatments
Our advanced treatments include:
Coronary bypass grafting
Heart valve repair
TAVR, TEVAR, LVAD, and ECMO
Correction of heart abnormalities in newborns
A multidisciplinary approach to the treatment of lung and esophageal cancer
Research Driving Innovative Care
All members of our division participate in or lead national and international efforts to develop new treatments for heart disease, lung disease, cancer of the lung and esophagus, transplantation of the heart and lungs, and the development of devices to replace heart function. These activities are the driving force that allows Duke to offer patients the most advanced forms of therapy available in the U.S.
Dynamic Training for Future Thoracic Surgeons
We train the nation's future thoracic surgeons by immersing them in a dynamic clinical, teaching, and research enterprise. Our training program is widely recognized as the best academic training program in the U.S., and it attracts the highest quality trainees in the land. 
Our division chief, Edward Chen, MD, joined Duke University in 2020. Previously, he served as the Section Head of Adult Cardiac Surgery and Director of Thoracic Aortic Surgery at Emory University. 
In addition to providing our outstanding care at Duke University Medical Center, the Duke Heart Center provides cardiovascular and thoracic surgery services at the following affiliate hospitals:
Duke Raleigh Hospital Thoracic Surgery Clinic
Duke Cardiovascular and Thoracic Surgery at Duke Regional Hospital
Duke Cardiovascular and Thoracic Surgery of Lumberton, NC