Duke researchers work to improve outcomes for patients who need ventricular assist devices (VADs) and heart transplants and to offer the benefits of these treatments to a wider range of patients.
VAD Research
In 2003, Duke implanted North Carolina's first VAD used as a destination therapy. Duke continues to pioneer the use of VADs, both as a bridge device before transplant and a destination therapy.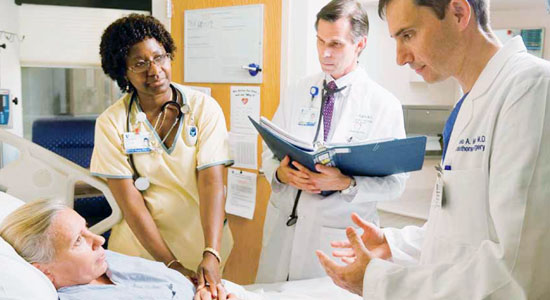 The Division of Cardiovascular and Thoracic Surgery is heavily invested in mechanical circulatory support. Duke is a national leader in terms of outcomes and volumes of durable and temporary left ventricular assist device (LVAD) implants. Multiple surgeons as well as an entire multidisciplinary team are devoted to the care of LVAD patients.  Annual volumes for the past five years are displayed below. Duke has been the leading enroller in clinical trials for new durable LVAD pump designs including the ENDURANCE Trial which studied the Medtronic HVAD LVAD and the MOMENTUM Trial which studied the HeartMate 3 LVAD. Long term destination therapy LVAD survival at Duke exceeds mean INTERMACS (National Registry) survival.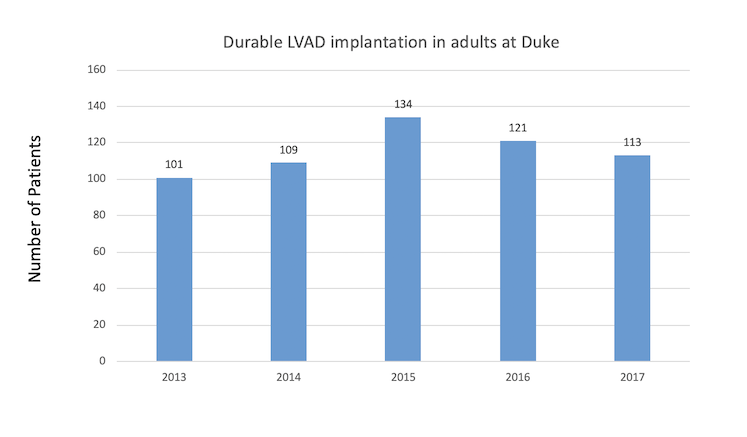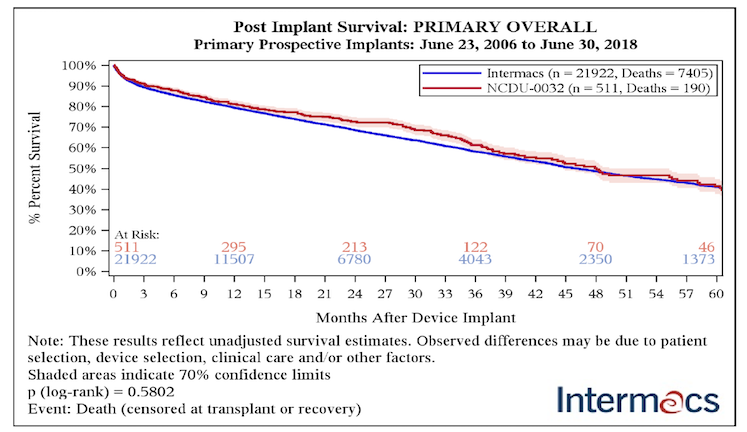 Ongoing Clinical Research
Duke is leading investigations of:
LVADs and tricuspid valve surgery
LVADs and acquired von Willebrand's disease
LVADs as bridge to transplantation
Continuous flow LVADs as permanent or destination treatment
LVADs and concomitant cardiac surgery
Heart Transplant Research
Duke is conducting pioneering NIH-funded research that aims to increase the number of suitable hearts for transplantation by examining the feasibility of recovering hearts from severely brain-injured patients who experience cardiac arrest after life support has been terminated by their families.
Organ donation following cardiac death has successfully increased the number of abdominal organs available for transplantation, but the hearts are typically discarded. Duke researchers including Carmelo A. Milano, MD, are using an ex vivo perfusion device to serially assess cardiac metabolism and function in hopes of demonstrating cardiac recovery sufficient to allow transplantation.
Extended Criteria Heart Transplant Program
Recipients who would be ineligible for transplant listing based on classic criteria are offered marginal donor organs that are otherwise not used. This work has enabled heart transplant to be offered to the elderly and to patients with other non-cardiac, organ system dysfunction. For more detail, see our publication in the Journal of Heart and Lung Transplant.