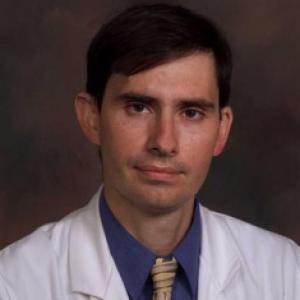 Principal Investigator
Joseph W. and Dorothy W. Beard Distinguished Professor of Experimental Surgery
Professor of Surgery

Contact Information
Office: 4532 Hosp South - Blue Zone
Campus Mail: Box 3043 Med Ctr
Phone: 919-684-3243
Fax: 919-684-8563
Email: milan002@mc.duke.edu
Overview
The principal investigator of the Cardiothoracic Surgery Translational Research Laboratory is Carmelo Milano, M.D., Professor of Surgery, adult cardiac surgeon and surgical director for cardiac transplantation and left ventricular assist device (LVAD) programs at Duke University Medical Center. The laboratory is partnered with the lab of Dr. Dawn Bowles, Assistant Professor in the Division of Surgical Sciences, a molecular virologist specializing in gene therapy. The lab investigates a number of questions relevant to cardiac surgery, heart failure, cardiac transplantation, and mechanical circulatory support.
Translational research is conducted utilizing clinical specimens obtained through the Duke Human Heart Repository and large and small animal models. The lab has expertise and experience with molecular assays, cell culture studies, tissue banking, biomarker development, viral based gene therapy and large animal models of disease states. Investigators have tested cardiovascular devices, including left ventricular assist devices, in large animal models. The mission of the lab is to gain knowledge that will directly impact the clinical practice of cardiac surgery, heart failure therapy, heart transplantation, and mechanical circulatory support. The lab welcomes undergraduates, graduate and medical students, postgraduates, and medical residents interested in research investigation in these areas.
Key Active Projects
Determination of genetic variants that predict increased rates of adverse events for patients supported with durable left ventricular assist devices
Achieve gene transfer utilizing adeno-associated viral vectors to allografts during perfusion storage in a porcine heterotopic heart transplant model
Identify biomarkers in preservation solutions for heart transplant that predict primary graft dysfunction
Study novel mechanical circulatory support devices in large animal heart failure models
Selected Achievements
Dr. Milano is one of the first investigators to show that exogenous genes expressed specifically in the myocardium of transgenic animals may induce changes in cardiac structure and function. In addition, the lab has identified troponin I levels in preservation solution utilized for heart transplant to predict post-transplant graft dysfunction. Investigators in the lab are actively examining preservation solution for other biomarkers that may predict graft dysfunction. In addition, they are acquiring samples of perfusate from ex vivo perfusion storage to determine biomarkers that predict post-transplant graft function.
The lab has shown that X-linked inhibitor of apoptosis (XIAP) can be transferred with viral vectors to myocytes in culture to reduce apoptotic responses. Investigators in the lab are now seeking to deliver such genes to allografts during perfusion storage in a swine heterotopic cardiac transplant model.
Using biospecimens from LVAD patients, they have determined ApoE genotypes and linked non-ApoE3 genotypes to increased frequency of neuro adverse events during LVAD support. These observations are being duplicated in a larger dataset and other single nucleotide polymorphisms are being studied as predictors of increased neuro events.
Contact Us
Carmelo Milano, MD
carmelo.milano@duke.edu
919-684-3243 (office)
Publications and Funded Projects
View Dr. Milano's profile to see his publications and funded projects.
Lab Members