Women, racial and ethnic minorities, underinsured, low education and income level, and geographically isolated have disproportionately low rates of organ transplant.1-2 Limited access to the organ transplant waitlists combined with the scarcity of the organ pool results in over 100,000 deaths annually in the United States.23 
Inequities in access to transplant have been long-documented. Despite efforts at reform, little progress has been made.
Lack of reliable data is a principal barrier to understanding how social determinants of health influence access to organ transplant. 
There is currently no monitoring of patients while they go through the selection process.
National data registries of transplant include few social determinants of health, with limited reliability.
National research networks that use electronic health record data lack the ability to capture patients during their transplant evaluation.
In order to effectively design interventions that improve equity in access to transplant, there is a critical need to reliably track patients through the selection process and integrate social determinants of health data along the continuum of transplant care.
Mission
The mission of the Consortium for the Holistic Assessment of Risk in Transplant (CHART) is to impart foundational change to the process of collecting, organizing, and employing data to determine patient eligibility for transplant, leading to improved equity in access to care, increased transparency in the transplant selection process and improved value for patients and clinicians.
Vision
Using multidimensional health system data, CHART will identify and characterize center and system level drivers of inequities in access to transplant. We will identify causal mechanisms between psychosocial risk and adverse clinical outcomes, and in doing so demonstrate the role of social determinants of health in success after organ transplant.
We will bring increased attention to the role of clinicians, care processes, institutional practices and systems of care in potentiating inequitable access to transplant.
We will develop targeted interventions that improve clinicians' ability to assess transplant-related risks across multiple domains and improve equity in access to transplant through inclusive and objective systems and processes of care.
Values
Scientific rigor

Data transparency

Team science
Strategic Plan
Acquire novel multidimensional multicenter data

Establish causal mechanisms between psychological and social risk and adverse clinical outcomes

Develop and validate composite, multidimensional outcomes that reflect success after transplant

Identify and make accessible metrics of risk and outcomes critical to candidacy determination

Create and implement system, center and program-level interventions that reduce patient vulnerability to systemic and institutional racism
The majority of patients with end-stage organ disease are never placed on the transplant waitlist.
Medical, surgical, social, and psychological data are collected throughout the transplant selection process to inform decision making, but is insufficiently organized for large-scale studies of inequities in access to the transplant waiting list.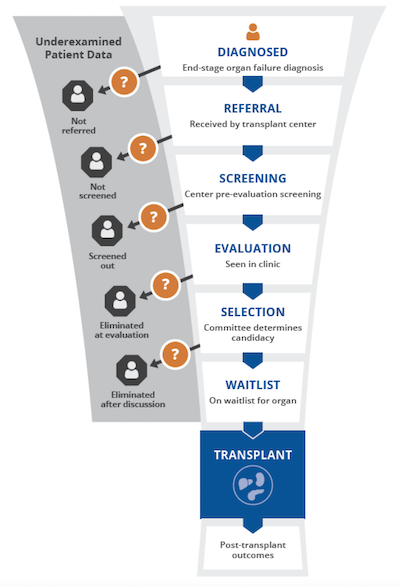 Patient Data
Multidimensional patient-level data is key to eliminating the inequities in the transplantation system. This data is currently hidden in a variety of sources from the patient's genome to their home address.
The Consortium for the Holistic Assessment of Risk in Transplant has been formed to collect and examine this data for valuable information about risks of success and failure across the entire transplant care continuum, including:
How do patients enter the transplant system?
Where do people fall off the pathway to transplant, and why?
What does it 'cost' a patient to complete the transplant selection process, and where can we reduce these costs?
How are psychological barriers to transplant predicted, mitigated, or prevented?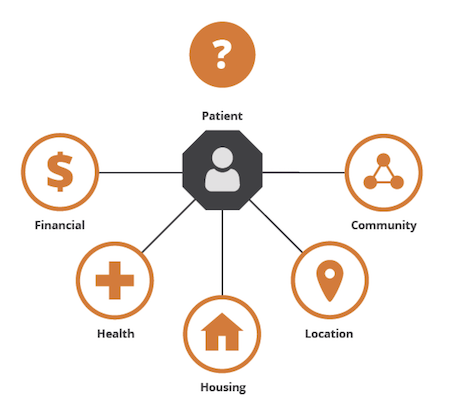 Core Demographics
Race
Ethnicity
Gender
Sex
Age
Primary language
Financial
Insurance
Debt
Annual household income
Savings
Employment
Health
Health care utilization
Access to primary care
Medical and surgical comorbidities
Housing
Household size
Access to safe housing
Location
Geographic location
Distance to transplant center
Neighborhood segregation
Community
Patient's social network
Community resources
Air and water quality