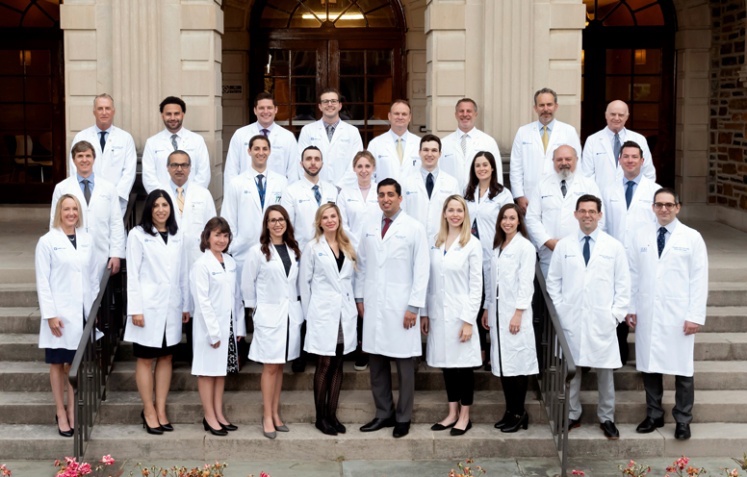 Mission
The mission of the Duke Plastic Surgery is to advance the art, science, and future of plastic surgery in all its breadth and depth, while honoring our commitment to society by leveraging our skills to improve the lives of our patients. Our training program is committed to providing the most comprehensive education and experiential training in an environment that challenges to foster personal growth, yet nurtures to cultivate integrity, professionalism, and leadership. 
Vision
Inspire and create leaders in Plastic Surgery at any level and in any environment by providing a blend of knowledge, technical skill, constant challenge, compassion, self-awareness, mentorship, and motivation.
Values
Teamwork, Dedication, Skill, Accountability, Intellect, Empathy, Creativity, Diversity in all forms.
Chief's Welcome Message
Dr. Jeffrey Marcus, Chief and Residency Program Director, Division of Plastic, Maxillofacial, and Oral Surgery, discusses the path forward for the division and residency program.
Milestones
Duke has a long history of pioneering techniques in plastic and reconstructive surgery. Some milestones:
1934 – First chief of the division of plastic surgery, Dr. Randolph Jones. He completed his training in general surgery at Duke and served as chief until he was tragically gunned down by a paranoid schizophrenic in 1941. 
1940s – Duke cleft and craniofacial team was formed in the 1940s and is one of the oldest in the country.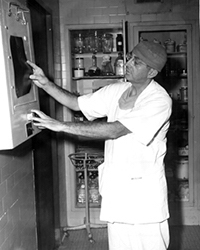 1944 – The division reorganizes and recruits Dr. Kenneth Pickrell from Johns Hopkins where he trained in surgery and developed an interest in plastic surgery after being influenced by pioneering plastic surgeon, Dr. John Staige Davis. He initially led both Neurosurgery and plastic surgery until the end of WWII when Dr. Woodall returned and regained his position in Neurosurgery. Dr. Pickrell remained in this role for 30 years and was known for his "little acts of love and kindness."
1971 – The first thumb replantation at Duke was performed by Dr. James Urbaniak. Under the leadership of Dr. Urbaniak and Dr. Levin, Duke went on to become a national digital replantation center.
1972 — Duke surgeons are the first to attach a severed thumb more than eight hours after it was amputated.
1975 – Dr. Nicholas Georgiade became chief of the division of plastic surgery. He routinely sought out innovators in all fields of plastic surgery and was known to visit them in order to learn their methods and incorporate them into his practice at Duke.  He visited Dr. Miguel Orticochea in South America and modified his pharyngeal flap technique, placing Duke at the forefront of cleft surgery.
1984 – Drs. Donald Serafin and Nicholas Georgiade publish Pediatric Plastic Surgery, which remains the leading text on the subject for many years.
1985 – During Dr. Donald Serafin's tenure as chief, microsurgery at Duke flourishes. Duke is a nationally recognized leader in the field performing the entire armamentarium of microsurgical free tissue transfer. 
1986 – Drs. Nicholas and Gregory Georgiade publish the 1st edition of Essentials of Plastic, Maxillofacial, and Reconstructive Surgery.
1995 – Dr. L. Scott Levin, dual certified in both orthopaedic and plastic surgery, develops orthoplastic surgery at Duke and pioneers the limb salvage program.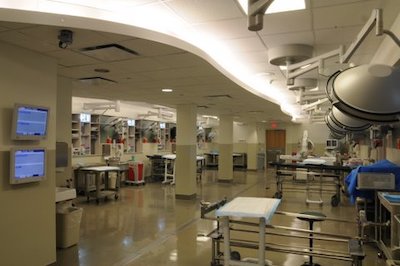 1996 – The human fresh tissue lab is established by Dr. Levin and is an incredible resource for resident training in microsurgery. Several microsurgical CME courses are held throughout the year, taught by national leaders in the field, attracting participants from around the globe.
1997 – Dr. Gregory Georgiade publishes the 3rd edition of Georgiade's Plastic, Maxillofacial, and Reconstructive Surgery.
2000 – The Duke Aesthetic Center opens. 
2002 – Dr. Jeff Marcus and Dr. Michael Zenn began the facial reanimation program at Duke. Dr. Marcus completed a fellowship in pediatric plastic surgery and craniofacial surgery at Toronto Hospital for Sick Children and brought his expertise in smile surgery to Duke. Together with Dr. Zenn, a nationally renowned microsurgeon, they began seeing patients with all forms of facial paralysis both congenital and acquired from across the region, country and even overseas.
2003 – The Duke Cleft Palate Program is reorganized under the leadership of Dr. Marcus and becomes certified by the ACPA to provide comprehensive craniofacial care. It becomes rebranded as the Duke Cleft & Craniofacial Center.
2003 – The division recruits Dr. Pedro Santiago to join the Cleft & Craniofacial Center as its craniofacial orthodontist. Having trained under Dr. Barry Grayson at the NYU Institute for Reconstructive Plastic Surgery, Dr. Santiago is an internationally respected expert on craniofacial orthodontic conditions. While at NYU, Dr. Santiago participated in the research and development of nasoalveolar molding (NAM), a presurgical orthodontic approach toward treatment of cleft lip and palate.
2009 – Dr. Gregory Georgiade, the son of previous chief Nicholas Georgiade, assumes leadership of the division of plastic surgery.  He piloted a transition in the residency program from the "independent" track to the "integrated" program which started in 2013.
2012 – Dr. Jeffrey Marcus publishes Essentials of Craniomaxillofacial Trauma.
2012 – Dr. Michael Zenn publishes Reconstructive Surgery: Anatomy, Technique, and Clinical Application, which becomes internationally renowned as a leading textbook of reconstructive surgery.
2013 – Dr. Marcus brings to market the Stryker SMARTLock hybrid mandibulomaxillary fixation system used in treatment of midfacial and mandibular fractures.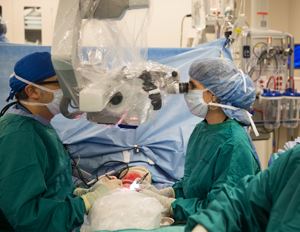 2013 – The division recruits Dr. David Powers, an experienced oral and maxillofacial surgery with internationally recognized expertise complex craniomaxillofacial trauma and ballistic and blast injuries.
2014 – The division recruits Dr. Alexander Allori to join the faculty as its second pediatric plastic and craniofacial surgeon.
2016 – The first hand transplantation in the state of North Carolina was performed at Duke by a team lead by Dr. Linda Cendales.
2017 – As president of the Plastic Surgery Research Council (PSRC), Dr. Howard Levinson hosted the PSRC's 62nd Annual Meeting in Durham.
2018 – The Division recruits Drs. Kristin Rezak and Sharon Clancy to build the Duke Plastic Surgery of Raleigh practice, foster ongoing growth of breast reconstruction and microsurgery, develop a transgender affirmation surgery program, and further enhance aesthetic training.
2019 – Drs. Marcus, Hollenbeck, and Erdmann lead the creation of the Duke Flap Course Video Atlas – a continuously growing professional HD video repository for flap dissections performed by master surgeons at the Duke Flap Course and hosted by Thieme Publishing.
2020 – In its 18th year and in the midst of the COVID19 pandemic the Duke Flap Course went fully virtual at the Direction of Drs Scott Hollenbeck and Detlev Erdmann. The event drew 1000 registrants globally and features over 20 renowned faculty with live lectures, live dissections, and HD video dissections.
2020 - The Duke Aesthetic Center undergoes a major renovation and modern transformation to further develop aesthetic surgery programs and education.
2020 – The Duke Oral Health facility co-located with the Duke Aesthetic Center opens and brings in the practice of Craniofacial Orthodontist, Dr. Pedro Santiago.
2020 – The Division recruits Dr. Benjamin Hechler, our second Oral Surgeon, to build an Oral Oncology program at Duke in collaboration with OHNS and support Oral and Maxillofacial education.
Plastic Surgery Leadership
Alumni of the division's residency program permeate all levels of leadership in plastic surgery. Past leadership positions held by alumni include:
Six presidents of the American Society of Plastic Surgeons
Two presidents of the American Association of Plastic Surgeons
Five presidents of the Plastic Surgery Educational Foundation
Two presidents of the American Society of Maxillofacial Surgeons
Two presidents of the American Society for Aesthetic Plastic Surgery
Five chairs of the American Board of Plastic Surgery
Two presidents of the American Society of Reconstructive Microsurgery
Two presidents of the Plastic Surgery Research Council
One president of the Rhinoplasty Society