What Is ACCQUIREnet?
The Allied Cleft & Craniofacial Quality-Improvement and Research Network (ACCQUIREnet) is a collaborative network of multidisciplinary teams from the United States and around the world that are dedicated to standardizing outcomes assessment in cleft care. ACCQUIREnet helps teams by streamlining comprehensive data collection, aggregation, storage, and analysis. More importantly, as a collaborative network, ACCQUIREnet fosters inter-institutional benchmarking, promotes knowledge exchange, and facilitates implementation of proven quality-improvement programs and best practices. ACCQUIREnet has been strongly inspired by Americleft, European Reference Network (ERN), EUROCRAN, ICHOM, NSQIP-Pediatric, Solutions for Patient Safety, and PCORnet.
What Does ACCQUIREnet Do?
ACCQUIREnet facilitates standardized data collection and data capture
Participating teams agree to adhere to guidelines for prospective outcomes data collection, organized according to a standardized codebook. While teams are allowed to collect data using whatever method they prefer, many teams have opted to implement the REDCap®-based "CleftCap" project template developed by Duke University. Each site may choose to store data locally (on-premises) or may choose to log-on to a private data-access group that is hosted at Duke. The CleftCap project template helps teams to get off the ground very quickly.
ACCQUIREnet simplifies multi-site data aggregation
Because each site is collecting data according to a standardized protocol and codebook, it is very straightforward to aggregate data from multiple sites into a unified repository.
ACCQUIREnet supports quality-improvement
The primary focus of ACCQUIREnet is to perform benchmarking for outcomes comparisons and to provide each participating team with an annual performance report and/or dashboard. Benchmarking allows each participating cleft team to compare its performance against network averages and to identify strengths and weaknesses. Moreover, the network supports teams by helping them to design robust quality-improvement projects, implement them, and monitor results over time.
ACCQUIREnet enables multi-site research
The second focus of ACCQUIREnet is to encourage and enable multi-site research. ACCQUIREnet is formally registered by ClinicalTrials.gov (NCT02702869) as an observational study. Data have been collected prospectively by each participating site according to a research protocol and aggregated into a central repository. Thus, this becomes a very robust dataset that may be used for observational studies that yield "real world" evidence. While presently there is no interventional arm in ACCQUIREnet, the network has potential to conduct embedded pragmatic clinical trials in the long-term.
ACCQUIREnet is a learning health network
One characteristic that differentiates ACCQUIREnet from other research collaboratives is that it is designed as a learning health network. The system itself is designed to improve and adapt over time, based upon results of prior data analysis and in response to the needs and desires of the participating teams. Modifications to the codebook may be proposed annually by participating sites or by the ACCQUIREnet Scientific Advisory Council. These proposed modifications will be appraised by a formal Stewardship Committee and then presented to the network as a whole for a period of notice-and-comment before adoption. Once approved, modifications to the codebook will be disseminated across the network under the guidance of Duke University, which serves as the coordinating center for the network.
Is ACCQUIREnet a Clinical Quality Program or Research?
While there are many similarities to a clinical quality program such as ACS NSQIP™ or Solutions for Patient Safety™, ACCQUIREnet is technically a research collaborative. ACCQUIREnet is registered with ClinicalTrials.gov (NCT02702869) as an observational study of short- and long-term outcomes related to multidisciplinary treatment of cleft lip/palate and craniofacial conditions. As such, team participation in ACCQUIREnet requires IRB approval and signed consent from the patient/parent. Teams that join the ACCQUIREnet collaborative will be added to the ClinicalTrials.gov listing during our annual update of the clinical trial registration.
What Data Are Collected by ACCQUIREnet?
Participating sites in ACCQUIREnet collect outcomes data and related variables that are prescribed by the ICHOM Standard Set for the Comprehensive Appraisal of Cleft Care (cf. journal article, web site). Extra outcome measures have been added to suit the needs and research priorities of the sites in ACCQUIREnet. A full listing of the variables collected appears in the ACCQUIREnet CleftCap codebook (.PDF) and data dictionary (.CSV). This is a limited dataset that includes protected health information (PHI). Briefly, the main categories of variables are listed in the following chart. Some outcomes are measured by clinicians; others are reported by guardians (e.g., ICS) and patients (e.g., CLEFT-Q™ and FACE-Q™).
Identifiers†

Demographics

Clinical Features

Study ID
Names
Date of birth
Encounter dates
Location (city, state, ZIP, latitude, longitude)
Optional photographs
Optional speech recordings

 

Race
Ethnicity
Adoption status
Language spoken
SES index
Parental educational level
Parental income level

Cleft diagnosis
Cleft phenotype
Craniofacial diagnosis
Comorbidities
† Identifiers such as name and date of birth are used for deduplication and record linkage. Location is used for geostatistical analyses. Photographs and speech recordings are used for blinded review of aesthetic and speech outcomes.
Outcomes

 

Domain

Instrument or Variables

Speech

Percent consonants correct (PCC)
Velopharyngeal competence (VPC)
Intelligibility in context scale (ICS)
CLEFT-Q™ Speech Functional scale
CLEFT-Q™ Speaking-Related Distress scale

Hearing

Breathing

Nasal Obstruction Survey Evaluation (NOSE)
FACE-Q™ Breathing
Obstructive sleep apnea (work-in-progress)

Eating

CLEFT-Q™ and FACE-Q™ Eating and Drinking scales

Dental

dmft and DMFT scores
Overjet measurement
Optional Goslon rating
CLEFT-Q™ and FACE-Q™ Dental scales
CLEFT-Q™ Jaws scale
COHIP-OSS scale

Appearance

CLEFT-Q™ Face scale
CLEFT-Q™ Lips scale
CLEFT-Q™ Nose scale
CLEFT-Q™ Nostril scale
CLEFT-Q™ Scar scale
FACE-Q™ Smile scale
FACE-Q™ Appearance-Related Distress scale
Photogrammetric rating (work-in-progress)

Psychosocial

CLEFT-Q™ School Life scale
CLEFT-Q™ Social Life scale
CLEFT-Q™ Feelings scale

Process metrics

No-show to clinic appointments
Loss to follow-up
Number of anesthetic events
Number and types of procedures
30-day postoperative adverse events
When Are Data Collected?
Teams are allowed to collect data at any time points they prefer – even annually or more frequently, if desired. For the purpose of benchmarking and comparing outcomes, ACCQUIREnet encourages data acquisition at ages 3yo, 5yo, 8yo, 12yo, 15yo, and at the end of treatment. Other important time points are before and after important operative procedures. The CleftCap project template makes it clear which outcomes are measured at each time point.
How are the data stored, transferred, and utilized?
The diagram below depicts how each participating team collects and stores data, how those data are transferred to the statistical support center, and how the data are analyzed.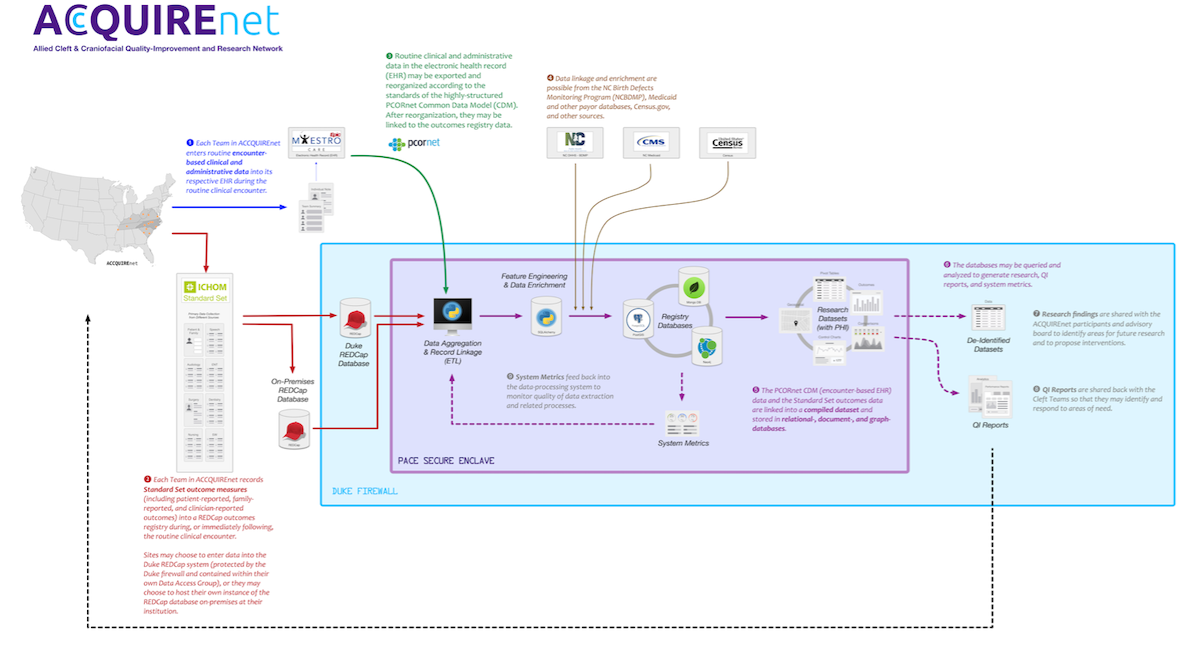 As part of the regular clinical workflow, each team takes care of the patient, documents the patient encounter in the electronic health record (EHR), and also (if the patient is due for outcome measurement) records the outcomes in the CleftCap database.
Two possibilities exist for data storage:
A participating site may copy the CleftCap project on-premises at its institution, storing its team's data on its own REDCap® server;

Alternatively, a participating site may decide to use the CleftCap project that is hosted on the Duke REDCap® server (redcap.duke.edu), logging-on to a private, protected data-access group for its team.*
These two options are identical with regard to the data collected — they only differ with regard to where, physically, the data are stored.
*Please note: Presently, ACCQUIREnet is only accepting new sites that are able to support the CleftCap project on-premises on their own institution's REDCap® server.
When it comes time for benchmarking and other analyses (i.e., annually or semi-annually), the data must be aggregated from each site. If the team opted for the on‑premises option, then it will need to export its data from REDCap® (in .CSV format) and transfer its dataset to the Duke statistical support team for analysis. Secure means of transfer will be specified in the IRB protocol and data-transfer agreement and may include secure-FTP or private cloud storage system such as Box.
Once data are received by Duke, the data will be imported into a secure enclave, which is a regulated and protected analytical computing environment for storage and analysis of datasets that contain protected health information (PHI). Importation of data into the secure enclave is easy, but exportation of data from the secure enclave is highly restricted and limited to the results of analyses and de-identified/limited datasets, as detailed by the IRB protocol. Requests for data exportation are manually screened by an impartial Honest Broker.
Within the secure enclave, the data are reformatted from the raw schema used in the CleftCap project template and transformed into a format more suitable for data analysis, using a project-specific extension to the PCORnet Common Data Model. It is in this phase that record linkage and enrichment are possible (e.g., epidemiologic surveillance data from birth-defects monitoring programs, socioeconomic data from Census.gov, payor data from CMS and insurance carriers, etc.). Currently, no data linkage is being performed with raw EHR data, although that is an aim for the long-term (e.g., linkage of a procedure done on a certain date with the operative report so that technical details may be ascertained). After these steps, the data are stored in a secure database (CleftBASE), still inside the secure enclave, which will be utilized for further steps in analysis.
The statistical team will analyze the data in CleftBASE to calculate the network benchmarks for each outcome measure. Team-specific performance reports (or quality-improvement [QI] reports) can be exported from the secure enclave after screening by the Honest Broker and will be made available to each participating team. These reports are private and confidential — each team will only see its own performance, relative to the network benchmark, and will not be able to know the performance of any other team. For now, these reports are static reports, but a longer-term aim is to create a dynamic dashboard so that teams may explore their data in different ways.
Research aims are handled similarly to QI reports: The statistical team will analyze the data in CleftBASE according to the specific aims and formal, a priori statistical analysis plan. Results of the analysis are able to be exported from the secure enclave via the Honest Broker and will be sent to the investigator. (Any participant in ACCQUIREnet may be an investigator.)
Who Controls the Data?
Each participating team is in full control of its own data. This is clearly the case if a team chooses a local, on-premises deployment of the REDCap® data-collection system (CleftCap). Even if a team chooses to log-on to a private data-access group that is hosted at Duke, there is no lock-in: every team director has the ability to export and download that site's data at any point in time.
Each participating site is allowed to analyze its own data in any way it deems fit (in accordance with the IRB protocol).
Multi-site data aggregation and analysis will only be performed by the statistical support center at Duke: For security reasons, PHI must be protected within the secure enclave and cannot be exported. Any participant in ACCQUIREnet may volunteer to be an investigator; as such, he or she would develop the specific aims and statistical analysis plan with the Duke statisticians. The statisticians would then perform the analysis and send the results to the investigator, and they would work together in the writing of the manuscript. In this manner, data security is not compromised, but every participant has the ability to work on specific areas of interest.
A long-term aim for the network is to curate a de-identified multi-site dataset that would be made available to each participating site. This "participant use file" (PUF) is modeled after the successful practice of the American College of Surgeons (ACS) National Surgical Quality-Improvement Program (NSQIP). By going this extra step and publishing a de-identified multi-site dataset, participants would be able to perform even more analyses that might exceed the capacity of the statistical support center to handle. In this manner, our long-term vision is to make the data even more accessible for every participating center. 
What About Authorship?
The core tenet of ACCQUIREnet is collaboration, not competition. Presently, we propose that any participant can propose and lead a scientific inquiry and may be first or senior author on any academic publication that results from that work. The core research team and statistical support team at Duke will also be named authors on the papers, as will any other collaborators who meet the ICMJE criteria for authorship. Certain platform papers may include all participants, listed by name wherever possible, or using the network byline "on behalf of ACCQUIREnet" where necessary according to the journal's restrictions. Each manuscript will also include boilerplate acknowledgment statements to meet the licensing requirements of REDCap®, CLEFT-Q™ and FACE-Q™, and others.
What Is the Governance Structure for ACCQUIREnet?
ACCQUIREnet is a collaborative network, and every participating site may contribute to the network's standards, guidelines/protocols, areas of focus, and priorities. Every participant may pose research questions, for which he or she may serve as first or senior author. Input from participating sites is solicited at group meetings once or twice per year (virtually via Zoom/WebEx or in-person at the annual meeting of the American Cleft Palate–Craniofacial Association).
Sustaining such a network requires dedicated effort, and Duke University is serving as the network coordinating center and as the statistical support center for data analysis. Furthermore, ACCQUIREnet has a formal advisory board to assist with network governance and stewardship of the data standards codebook.
Does It Cost Money to Participate in ACCQUIREnet?
No. Joining ACCQUIREnet is free, and presently the project team has no plans on charging for participation. A network this size does require money to be sustained, and so far this money comes from grant funding.
Which Teams Have Joined ACCQUIREnet?
As of April 2022, the following sites have joined or are in the process of joining ACCQUIREnet:
Arnold Palmer Hospital for Children — Orlando Health (Orlando, FL)
Boston Children's Hospital — Harvard University (Boston, MA)
Brenner Children's Hospital — Wake Forest University (Winston-Salem, NC)
Children's Memorial Hermann Hospital — University of Texas at Houston (Houston, TX)
Dalhousie University (Halifax, Nova Scotia, Canada)
Duke Children's Hospital — Duke University (Durham, NC)
Joe DiMaggio Children's Hospital (Hollywood, FL)
Johns Hopkins All Children's Hospital — Johns Hopkins University (St. Petersburg, FL)
Maine Medical Center (Portland, ME)
Shands Hospital — University of Florida (Gainesville, FL)
St. Louis Children's Hospital — Washington University (St. Louis, MO)
Additionally, ACCQUIREnet enjoys fruitful collaboration with other networks and sites that collect ICHOM and CLEFT-Q™/FACE-Q™ data, including McMaster University, SickKids, Erasmus, and Karolinska.
Want to Learn More?
For additional information about the network, please contact info@accquire.net. Our project team will reach out to you to discuss further and to answer any questions that you may have. The principal investigator, Alexander Allori, may be reached at alexander@accquire.net.
When typing the email addresses, please note that ACCQUIREnet has two Cs (abbreviating "cleft & craniofacial").
If your team decides to join the network, you will receive an "onboarding packet" that will guide you through necessary steps. This includes the IRB protocol, starting draft for data-transfer agreement (DTA), license information, a memorandum of understanding (MOU) for participation, the CleftCap codebook and project REDCap® template, and all other materials needed to get up-and-running.