Our division has active partnerships in Guatemala and Uganda that include capacity building, research, and service initiatives to address global surgical needs.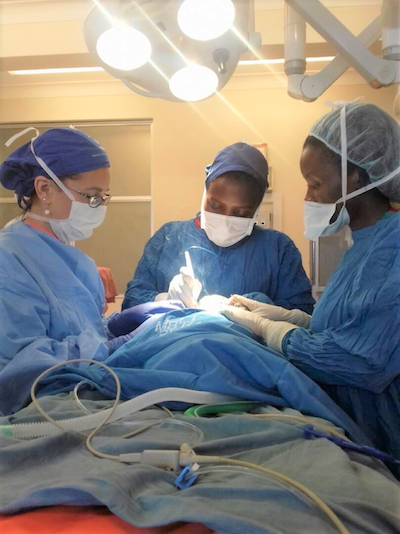 We also coordinate a semester-long seminar on Global Surgical Care through the Duke Global Health Institute. Past participants have included undergraduates, graduate students, global health students, medical students, and clinical trainees. The goal of this seminar is to address the issues surrounding surgical care in low- and middle-income countries. The seminar focuses on surgical health-care delivery and management; workforce, training, and education; economics and finance; and research.
Guatemala Partnership
Our clinical programs are based at several hospitals in Guatemala City. We have partnered with several NGOs and industry partners to fund these efforts. Our service efforts are staffed by Duke and UNC surgeons, anesthesiologists, CRNAs, nursing staff, as well as clinical trainees. All Duke staff work alongside Guatemalan providers in an exchange format, offering a training platform for local providers.
For our educational exchanges, we have developed a number of relationships with Guatemalan surgeons and universities. We include Duke clinical trainees in these programs, offering them an opportunity to understand some of the challenges in global surgery. We have begun a reciprocal exchange program for resident trainees from Guatemala in surgery and anesthesiology, and have directed a CME course in Guatemala on "Pediatric Minimally Invasive Surgery."
Our research efforts focus on the study of challenges in global pediatric surgical care, including quality improvement, barriers to surgical care, parental views of surgical care, and economic analyses. Ongoing projects include expanding our economic analyses of pediatric surgical care, burden of disease studies, and surgical quality and safety initiatives.
Uganda Partnership
We participate in a multi-institutional collaboration in Uganda to assist in capacity building in pediatric surgery. The only pediatric surgery training program in Uganda is based at Mulago Hospital and is approved through the College of Surgeons of East, Central and Southern Africa (COSECSA). Fellows in this program also participate in training at Mbarara National Referral Hospital. The fellowship training program is headed by local Ugandan pediatric surgeons, and we provide teaching and research support, along with pediatric surgeons from other programs in North America. 
We have participated in educational exchanges between our groups, with Ugandan trainees visiting Duke University for clinical rotations and training in safety and quality initiatives, and Duke residents and students participating in clinical and research experiences. Our groups have jointly co-authored several peer-reviewed publications.
Our current research focuses on surgical technology to improve operative outcomes in LMICs, mobile health applications to improve patient outcomes and the improvement of multidisciplinary pediatric oncology care in East Africa.