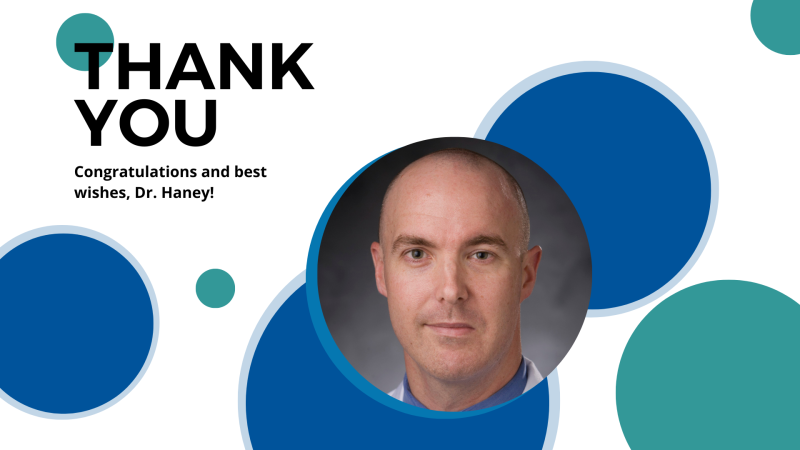 Dr. Haney is a born and bred Blue Devil. He was born at Duke University Hospital, completed his medical education at the Duke University School of Medicine, and completed both his general surgery and cardiothoracic surgery residencies in the Duke Department of Surgery.
Dr. Haney joined the Duke faculty as an assistant professor of surgery in the Division of Cardiovascular and Thoracic Surgery in 2014. He has served as program director for the Traditional Cardiothoracic Surgery and Integrated Thoracic Surgery Residency Programs since 2020, and as director of the Thoracic Surgery Transplant Fellowship Program since 2019.
"This was an incredibly difficult decision for me but I am convinced it is the right one, and I am looking forward to testing myself as a department chair and leader," says Dr. Haney.
"It is an understatement to say that Duke has been a huge part of my life. It saved my life as a preemie, it is where I met my soul mate and life partner, it provided all of my medical and surgical training, and it has given me tremendous opportunities to develop as a professional. For all of these things I will remain incredibly grateful."
As Surgical Director for the Duke Lung Transplant Program, which boasts one of the highest lung transplant volumes in the United States, Dr. Haney has been instrumental in the program's success and growth. His dedication to and passion for mentoring new surgeons, evidenced by multiple teaching awards, has helped elevate Duke's cardiothoracic training programs on the national stage.
"Jack has been at Duke his entire life (literally, he was born at Duke)," says Allan D. Kirk, MD, PhD, Chair of the Department of Surgery. "He's contributed richly as an undergraduate, medical student, resident, fellow, and attending surgeon. He's become an exceptional surgeon and superb educator and has navigated Duke's lung transplant program into the highest transplant echelons. We'll certainly miss him, but in the most fitting tribute, the team he has built is exceptional and will certainly continue providing the world-class care we have come to expect from Duke Surgery."
Please join us in congratulating Dr. Haney and wishing him well in this exciting new phase of his career.