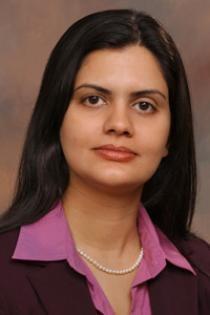 The Association for Clinical and Translational Science (ACTS) has elected Gayathri Devi, PhD, Associate Professor in Surgery, Division of Surgical Sciences, to its Board of Directors. ACTS supports the Clinical and Translational Science Awards (CTSA) Program by advancing research, public policy, and education in clinical and translational science. ACTS members include leaders, investigators, and trainees from academic medical centers, government, industry, and philanthropy. The Board of Directors oversees all business and affairs of the association.
Dr. Devi leads several multidisciplinary, translational research efforts at Duke, directing the Cell Death Laboratory in the Department of Surgery and the Duke Consortium for Inflammatory Breast Cancer (DCIBC) supported by the Duke University School of Medicine and the Duke Cancer Institute. The DCIBC aims to enhance interactions between basic, translational, and clinical researchers. To this end, the consortium provides a springboard for multi-PI program project applications and collaborations with national and international investigators, community advocates, and health practitioners.
Additionally, Dr. Devi serves as Associate Director for Research Education in the Department of Surgery, Committee Member in the Department of Pathology PhD Program, and Director of Duke MERITS, an educational initiative that promotes collaboration between basic science and clinical faculty and fosters the next generation of translational research scientists.
Congratulations to Dr. Devi on this distinguished honor!