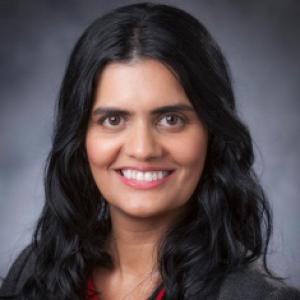 Principal Investigator
Professor in Surgery
Professor in Pathology
Member of the Duke Cancer Institute

Contact Information
Office: 421 Medical Sciences Building Research Drive, Room 477 Durham, NC 27710
Phone: 919-684-8633
Email: gayathri.devi@duke.edu
Overview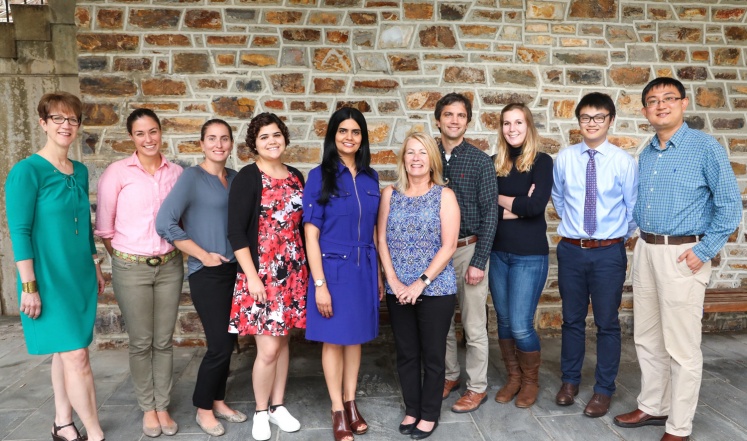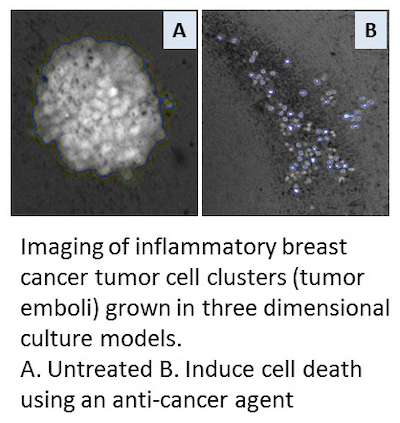 The research group, under the direction of Dr. Gayathri Devi, focuses on translational and clinical applications of programmed cell death signaling. Cell death is a critical process in tissue sculpting, adult cell homeostasis, for destruction of damaged cells and in pathobiology. We are, in particular, interested in elucidating molecular mechanisms of stress-induced cell survival/death signaling in normal and cancer cells and how this process regulates immune response.
Our work has identified the dominant role of a class of anti-cell death proteins called Inhibitor of Apoptosis Proteins (IAPs) in cancer cell survival and during development of acquired resistance to extrinsic and intrinsic death signals. Current funded research projects in the lab focus on innovative approaches toward immunosuppressive minimization, in vitro and in vivo tumor biology models, novel approaches toward islet xenotransplantation, and innovative preclinical models and strategies to modulate this anti-cell death.
Dr. Devi has also established a special research program to study inflammatory breast cancer (IBC), designated a rare and distinct type of breast cancer and a cancer health disparity by the National Cancer Institute (NCI).
Dr. Devi is an American Cancer Society Research Scholar Grant Awardee from Duke University. Prior to joining Duke, she received training in both academic research in the area of growth factor receptor signaling at Oregon Health and Sciences University, and in the biotechnology sector at AVI BioPharma, Inc. in the area of genomics-based anti-cancer drug development.
Key Projects Underway
XIAP-NFκB tumor cell signaling in evasion of immune-mediated cell death
Development of novel preclinical models/assays to study tumor emboli, dermal invasion, and lymphatic dissemination
Understanding stromal tumor cell tropism and the development of nanotheranostics for inflammatory breast cancer therapy
Molecular mechanisms of health disparities in inflammatory breast cancer; screening strategies and repurposing drugs to improve standard of care of locally advanced breast cancer
Characterization of ToxCast environmental chemical library in anti-cancer therapeutic resistance
Elucidating cell death mechanisms limiting xenotransplantation and defining strategies to improve islet survival
Development of a program in multidisciplinary education and research in translational sciences (Duke MERITS)
Selected Achievements
Recent research highlights include the development of a novel redox modulation approach for breast cancer therapy. We have identified an adaptive stress-response signaling pathway (characterized by NFkB transcriptional signature) in locally advanced tumors, including inflammatory breast cancer. This finding has led to the discovery of the use of the FDA-approved drug disulfiram (DSF) when combined with copper to target pNFkB, cancer stem-like cells, and to increase tumor cell kill. These results were published in the Molecular Oncology Journal, 2015 (PMID: 25769405). The current goal of the collaborative team is to extend this to breast cancer clinical trials.
Our body of work has identified the central role of the X-linked inhibitor of apoptosis protein (XIAP) in adaptive stress-response signaling, which leads to both de novo and acquired resistance to cell death stimuli. In recently completed studies published in the Cell Death and Disease Journal (PMID: 26821068), we have discovered that XIAP expression can cause immunosuppression and is a critical modulator of responses to antibody-dependent cellular cytotoxity in cancer cells. We are developing strategies to target the effects of XIAP on the activation of caspases and pNFkB and the suppression of reactive oxygen species to enhance the activity of immunotherapy, chemotherapy, and EGFR/HER2-targeted drugs.
Press Coverage
Advanced Training
Research opportunities available for undergrads, med students, PhD candidates, etc.
Contact Us
Gayathri Devi, PhD
gayathri.devi@duke.edu
Gail Morrah
gail.morrah@dm.duke.edu
Publications and Funded Projects
View Dr. Devi's profile to see her publications and funded projects.
Lab Members
Trainees and Staff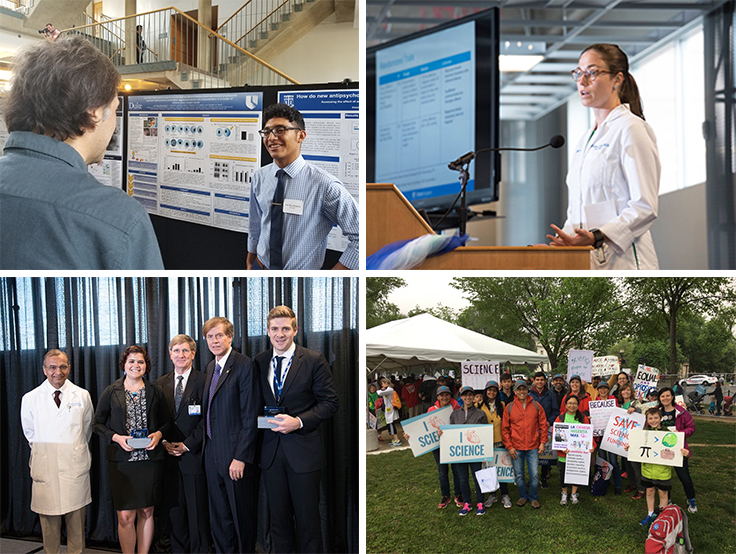 Postdoctoral Fellows
XuhuiXuhui Bao, MD, PhD 
Whitney Lane, MD
Visiting Fellow
Collaborating Fellows
Michael Brown, PhD (Duke Neurosurgery)
Helen O. Oladapo née Onabanjo, MS, PhD  (NCCU BRITE)
Predoctoral Trainee
Medical Students
Qimeng Gao (co-mentored with Dr. Kirk)
Keith Vandusen (co-mentored with Dr. Brown)
Undergraduate students
Samantha Bouchal
Ulises Nino-Espino (Duke BSURF student)
Jenna McMains (ECU student)
Pranalee Patel
Moises Tacam Jr
Research and Program Staff
Mariana Ribeiro, MS 
Holly Hough, PhD 
Donna Crabtree, PhD
Amanda McMillan (CTSI)
Gail Morrah
Faculty Collaborators
Tumor cell signaling and immune response
Novel preclinical models/assays to study tumor emboli, dermal invasion, and lymphatic dissemination
Nanotheranostics
IBC health disparities, biomarkers, clinical, repurposing drugs, chemical screening
John Stewart, MD
Donald McDonald, PhD
Kevin Williams (NCCU)
Imran Shah (EPA)
Islet biology and Xenotransplantation
Educational Programs
Stephanie Freel, PhD
Laura Fish, PhD, MPH
Anh N. Tran, PhD, MPH
Nadine Barrett, Duke Cancer Institute Office of Health Equity
Rochelle Schwartz-Bloom, PhD, Duke Pharmacology and Cancer Biology
News and Highlights
November 2017
Dr. Devi and graduate student Risa Gearhart present an abstract titled, "Low Dose Exposure to an Environmental Chemical Mixture Increases Breast Cancer Cell Growth and Survival" at the 12th Annual Breast Cancer and the Environment Research Program (BCERP) Meeting, November 16-17, 2017 in Monrovia, CA.
Undergraduate student Ulises Nino-Espino presents his summer research at the State of North Carolina Undergraduate Research & Creativity Symposium (SNCURCS) on November 4, 2017 at Campbell University.
October 2017
Dr. Gayathri Devi invited as the Martin and Winifred Ehlers Visiting Professor at Mayo Clinic in Rochester, MN. During this visit, she will present her research related to modulation of programmed cell death pathways for clinical applications and engage in discussions with the students and faculty in the Department of Biochemistry and Molecular Biology about developing educational training initiatives in translational sciences.
Graduate student Risa Gearhart presents a poster at DCI Annual Retreat (October 27) in the area of Superfund-derived chemical mixture in breast cancer risk and progression, a collaborative work with Dr. Rich Di Giulio at the Nicholas School of the Environment.
The Inflammatory Breast Cancer Research efforts featured in Duke Cancer Institute Breakthroughs Magazine.
July 2017
The Association for Clinical and Translational Science (ACTS) has elected Gayathri Devi, PhD, Associate Professor in Surgery, Division of Surgical Sciences, to its Board of Directors. ACTS supports the Clinical and Translational Science Awards (CTSA) Program by advancing research, public policy, and education in clinical and translational science. ACTS members include leaders, investigators, and trainees from academic medical centers, government, industry, and philanthropy. The Board of Directors oversees all business and affairs of the association. Read the announcement
April 2017
Risa Gearhart receives a Basic Science Award at the Duke Surgery Annual Research Day for her abstract titled "Low-dose Exposure to a Polycyclic Aromatic Hydrocarbon (PAH) Mixture Promotes Breast Cancer Cell Proliferation: A Model Using Creosote-Contaminated Sediment from a Superfund Site"
Gayathri Devi, PhD, presented an abstract related to the development and goals of the Duke MERITS Education program for the Advancement of Translational Sciences at the 2017 Association for Clinical and Translational Sciences (ACTS) Meeting April 19-21, 2017 in Washington, DC.
June 2016
Dr. Devi was invited as a visiting scientist at Saint Augustine Hospital and the University of Antwerp and served as an external examiner for the PhD defense of Melike Marsan at the University of Leuven.
Dr. Devi – seminar speaker at University of Ghent, VIB Inflammation Research Center
July 2016
Dr. Devi was an invited speaker at the 5th International Inflammatory Breast Cancer meeting hosted by Harvard University, Boston.
April 2016
Shelley Hwang, Chief of Breast Surgery, Named One of TIME's 100 Most Influential People for 2016
Ronnie Shammas – 3rd Medical Student, Distinguished Poster Award and Section Winner, Duke Surgical Sciences Day
Scott Sauer – Post doctoral fellow, Distinguished Poster Award, Duke Surgical Sciences Day
Myron Evans, graduate student selected for late breaking abstract presentation at the AACR Annual Meeting, New Orleans. X-linked Inhibitor of Apoptosis Protein Induction by MAPK-eIF4G1 Pathway Drives NFκB Activation in Inflammatory Breast Cancer Growth and Therapeutic Resistance
February 2016
Dr. Devi was an invited speaker at MD Anderson Morgan Welch IBC Center, Houston, Feb 26 2016
August 2015
The Academic Minute: Gayathri Devi, Duke University – Breast Cancer Treatments (listen to audio)
July 2015
Dr. Devi, seminar speaker at Astrazeneca, Cambridge, London, July 22, 2015
June 2015
Duke study targets rare, inflammatory breast cancer treatment. WRAL News, June 6, 2015 (read the article)
May 2014
Scott Sauer – Presidential Poster Award Winner, Selected to present at Endocrine Disrupting Chemicals Press Conference and radio interviews with WUNC (NC PBS affiliate) and NC Health News Daily – International ENDO Conference, Chicago, IL
Scott Sauer – T32 Viral Oncology Training Grant Awardee
New jobs from previous trainees
Myron Evans (PhD 2016)– Postdoctoral Researcher at St. Jude's Children's Hospital
Jennifer Allensworth (PhD 2014) – Clinical Research Coordinator at MD Anderson
Amy Stefanowicz – Researcher at Humacyte
Awards from previous trainees
Katherine Aird, Department of Defense Breast Cancer Research Program Pre-doctoral grant award, 2008
Gayathri Devi, PhD, Chair (2007- present), Mentoring Committee, Women in Endocrinology, Endocrine Society
Katherine Aird, 2006 DCCC Annual Meeting Abstract Winner
Xiuyun Ding, PhD, and Katherine Aird, late-breaking abstract Presentations at AACR 2007
Aris Baras won the Thomas J. Bardos AACR Science Education Award (2006)
Aris Baras, 2005 Duke Undergraduate Research Award, Independent study project
Gayathri Devi, PhD, awarded the Quest Diagnostic Young Investigator Award, Endocrine Society, 2005
Gayathri Devi, PhD, Editorial Board Member (2005- present) Current Pharmaceutical Biotechnology Journal