Image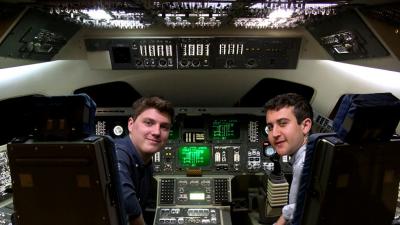 Staying Healthy in Space
Let's say you're on a weekend trip to outer space when you suddenly experience stabbing pains in your abdomen. What would you do?
Or what if you were on a three-year trip to Mars and developed a throat ulcer that wouldn't heal? What if a decaying tooth started throbbing? What if you broke a bone?
Dominic Tanzillo and Nick Saba, who both earned their bachelor's degrees from Duke in 2021, are fascinated by questions like these. And, to judge by the popularity of a space medicine course they designed last year and continue to teach, they are not the only ones. 
In the fall of 2020, Tanzillo and Saba developed a Duke house course about space medicine with the mentorship of faculty members Ronen Plesser, PhD, Professor of Physics, and Daniel Buckland, MD, PhD, Assistant Professor of Surgery, Division of Emergency Medicine.
Read the full article here on the Duke School of Medicine website.
Give to Duke Surgery
A gift to the Department of Surgery is a gift of knowledge, discovery, and life.