Image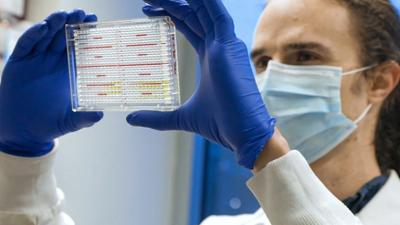 Newly Identified Antibody Can Be Targeted by HIV Vaccines
A newly identified group of antibodies that binds to a coating of sugars on the outer shell of HIV is effective in neutralizing the virus and points to a novel vaccine approach that could also potentially be used against SARS-CoV-2 and fungal pathogens, researchers at the Duke Human Vaccine Institute report.
In a study appearing online May 20, 2021, in the journal Cell, the researchers describe an immune cell found in both monkeys and humans that produces a unique type of anti-glycan antibody. This newly described antibody has the ability to attach to the outer layer of HIV at a patch of glycans -- the chain-like structures of sugars that are on the surfaces of cells, including the outer shells of viruses. 
Give to Duke Surgery
A gift to the Department of Surgery is a gift of knowledge, discovery, and life.