Image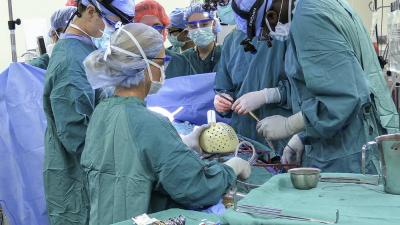 Duke Surgical Team Successfully Implants New Generation Artificial Heart in Patient, First in U.S.
Photo above: A Duke University Hospital surgical team implants an artificial heart in a 39-year-old patient.
Duke is now the first medical center in the United States to implant a new generation of an artificial heart in a patient. 
On July 12, 2021, a surgical team at Duke University Hospital, led by Assistant Professor of Surgery Jacob Schroder, MD, and Professor of Surgery Carmelo Milano, MD, implanted the artificial heart in a 39-year-old man with heart failure. The procedure demonstrated that the device can act as a successful bridge to transplant before patients receive a full heart transplant.
Give to Duke Surgery
A gift to the Department of Surgery is a gift of knowledge, discovery, and life.