Image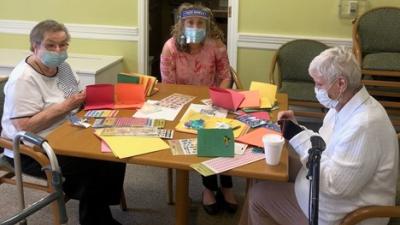 Community Gives Back
Photo above: Group of Sunset Village residents creating cards for healthcare professionals.
Volunteers often dedicate their time and skills to brightening the days of others with no expectation of a return, but sometimes the communities they serve decide to give back. This is the case with the Sunset Village retirement community in Sylvania, Ohio.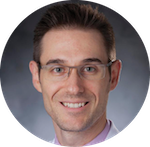 Paul Schroder, MD, PhD, Duke General Surgery Chief Resident, is a classically trained pianist who enjoys composing and learning new pieces for his repertoire. While attending the University of Toledo College of Medicine, he was a member of Docappella, the medical school's men's a cappella choir, and worked closely with Sunset Village to perform at seasonal concerts.
When the activities director for the community asked if any other performers would be interested in providing entertainment for their residents, he gladly offered his services as a pianist.
"I performed twice a year with piano solo recital and twice a year with our a cappella groups," said Dr. Schroder. "It was a way for me to continue to develop as a musician and artist as well as provide a service to the community."
It also offered him the unique opportunity to perform the compositions he had been working on for an enthusiastic audience, who could provide feedback but not be too critical. "The residents of Sunset Village were an eclectic mix of personalities who were fun to interact with after the shows."
When the COVID-19 pandemic hit, the residents of Sunset Village hadn't forgotten this act of kindness. The residents handcrafted cards to thank and provide encouragement for healthcare professionals during this challenging time, and they sent some to Duke Surgery in appreciation of Dr. Schroder's past performances.
Dr. Schroder was touched by this kind gesture, and said it brought back fond memories of performing both as a pianist and singer as part of Docappella. "It was a nice surprise amid the gloom of the pandemic to know the Sunset Village residents still remember me and spent time to send cards to our residency thanking us for our work."
Give to Duke Surgery
A gift to the Department of Surgery is a gift of knowledge, discovery, and life.