Image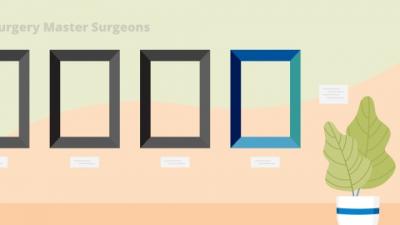 A Portrait of Change: Duke Surgery's Pledge for a More Inclusive Future
In the Section of Surgical Disciplines administrative suite hangs a gallery of portraits, displayed under bold, silver lettering reading "Duke Surgery Master Surgeons." These four words denote the highest honor bestowed upon faculty members, past or present, within the section.
Established in 2015, the Master Surgeon title "establishes a living memory of an individual who has exemplified the ideals of Duke Surgery, with the expectation that reflection on this illustrious career will serve as a guidepost for those aspiring to a life in the art and science of surgery." 
The achievements of Duke Surgery's Master Surgeons are unparalleled, and each individual receiving the honor is undoubtedly worthy of the title. Each year, the master surgeon is chosen via committee nominations from full rank faculty. The selection pool includes surgeons from the section's history as well as those still in practice today.
Reflecting on the Past
The chronicle of Duke surgeons who rose to prominence signifies the core values of the section, but also represents the lack of equal opportunity in the history of surgery and medicine. Until now, the gallery of Duke Master Surgeons was all male, and all white.  
In mid-2020, amidst the dawning of the international recognition of deeply rooted systemic racial inequity, a cohort of 15 Section of Surgical Disciplines faculty members began a coordinated effort to evaluate how the Master Surgeon designation could be more inclusive of women and other underrepresented minorities in surgery.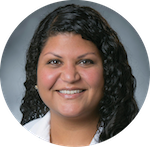 The committee decided that the creation of a pledge was needed—one that would represent this moment in time as one of reflection on Duke Surgery's past and a movement toward a more inclusive future.
"As a female faculty member, I felt strongly when Georgia [Beasley] approached me about this," Dr. Jain-Spangler says. "In looking at a wall of white men, there is a feeling that I don't belong, that I'm not represented here. Why not?"
Kunoor Jain-Spangler, MD, Assistant Professor of Surgery in the Division of Metabolic and Weight Loss Surgery and faculty chair of the section's Diversity and Inclusion Committee, was a member of this initial process.
Looking to the Future
Dr. Jain-Spangler says that having in writing what underrepresented people of color and women feel on a daily basis will educate and highlight concerns, hopefully making others care enough to support adopting change.  
"I can't speak enough about how influential leadership positions are in creating a culture of diversity, inclusion, and equity at an institution," Dr. Jain-Spangler says. "I knew how important it was to get Dr. Allan Kirk on board with this initiative. When we shared the pledge, he was immediately on the same page with us. He got back with us the same day in order to push forward with it." 
The pledge created by the committee members is presented here:
"We celebrate the distinguished history of Duke Surgery and the outstanding accomplishments of these individuals on this wall. We also recognize that racism, sexism, and underlying inequities have been part of the history of this department, and all of medicine. These forms of unjust discrimination have precluded many from the opportunity to become or be acknowledged as Duke Master Surgeons despite having reached the heights of mastery worthy of such designation.

This frame represents the recognition of that history and of our collective resolve to create a future for Duke Surgery that embraces transparency, diversity, equity, inclusion, and justice. All trainees and faculty regardless of gender, race, ethnicity, sexual orientation, or identity should look upon this wall and know that they too can be recognized as a Master Surgeon."
More than Words
The pledge serves as an important first step, and will be displayed prominently in an art display near the Master Surgeons gallery. The Section's communications team will work with a person of color from the local Durham art community to collaborate on the project and create the piece.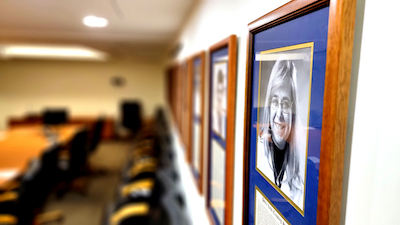 "We're at a turning point," says Dr. Jain-Spangler. "We have leadership who cares about these issues. We have faculty and staff who are invested in it. That is the first time in a long time that there has been this much buy-in to combating the systemic injustices that we've seen." 
The desire for a more inclusive representation of Duke Surgery community is more than a pledge—it's starting to become a reality. Debra L. Sudan, MD, Professor and Chief, Division of Abdominal Transplant Surgery, was named the first female master surgeon in March 2021.
Dr. Jain-Spangler says, frankly, "It's been a long time coming."
Read more about the Master Surgeon Award and Dr. Sudan's accomplishments
Give to Duke Surgery
A gift to the Department of Surgery is a gift of knowledge, discovery, and life.