Image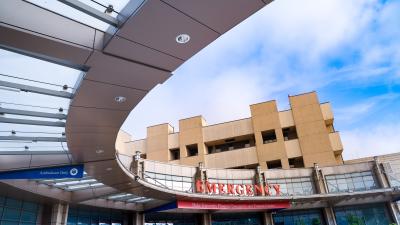 A Box of Chocolates: Insights from a Trauma, Acute, and Critical Care Surgeon
The job of a trauma and critical care surgeon is not an easy one, and is one that requires quick problem-solving, a keen ability to focus on the task at hand, and an understanding that anything can change on a dime.
So how does someone find themselves wanting to enter this complex, uncertain world of trauma, acute, and critical care surgery, and remain there?
Finding a Home at Duke

Amy Alger, MD, Assistant Professor of Surgery, was unsure of what specialty to pursue when nearing the end of her general surgery residency at Waterbury Hospital in Connecticut.
"I hadn't had a specialty picked out just yet," says Dr. Alger, "but because of all the experience I gained and the traumas that would come in on my calls, I just naturally gravitated toward that."
After completing her residency in 2007, Dr. Alger continued her training as part of the first class of the Surgical Critical Care Fellowship at Brigham and Women's Hospital in Boston, MA. She completed her fellowship training in 2011, and ventured to the University of North Carolina at Chapel Hill (UNC) to begin the next phase of her career.
Then, in 2015, Dr. Alger found herself being recruited to Duke by past trainees of hers.
"I was working at UNC at the time, and some of the residents I had trained were working at Duke and recruited me from there," she says.
Dr. Alger was drawn to the "total package" that Duke had to offer. Being a Level 1 Trauma Center, the volume and variety of patients that come through Duke's doors provides exceptional opportunity for physicians like Dr. Alger to employ their broad and valued skill sets in order to efficiently and effectively treat myriad ailments and issues.
"It's hard enough taking care of the patient population that we have," says Dr. Alger. "So, we want to know, 'how easy is a place going to make it so that I can do my job?' And Duke really fit that well."
Defining Acute Care Surgery
When asked to describe what a 'typical day' looks like for her, Dr. Alger almost laughs.
Referencing the 1994 film Forrest Gump, Dr. Alger says, "It's like a box of chocolates. I don't always know what I'm going to get."
Acute care surgery, or ACS, as the field is now generally known and referred to, actually consists of three facets: trauma surgery, emergency general surgery, and critical care surgery. This distinction between the three facets is important when determining attendings' schedules and service shifts.
"Of all the places I've worked at, this is the most supportive division I've been a part of."
-Dr. Amy Alger, Assistant Professor of Surgery
When on call for emergency general surgery, for example, Dr. Alger and the ACS division might perform what are typically non-elective procedures for cases that present to the emergency department, such as appendicitis, acute cholecystitis (inflammation of the gallbladder), and exploratory laparotomies for issues like bowel obstructions or perforations.
"We usually have somebody on service for emergency general surgery for the week, someone covering trauma surgery, and then another person covering the intensive care unit (ICU) for the week," explains Dr. Alger. "If I'm on call for ACS, generally that means I'm covering all three. Though at Duke, because of the high acuity of patients in our ICUs, we have a dedicated intensivist covering 24/7."
Collaborating to Prioritize Efficient Patient Care
Having a specialty and division that is equipped to both treat emergent and trauma cases and care for outpatients or patients in intensive care is only one piece of the puzzle. Duke ACS surgeons are not siloed in their responsibilities. Because patients can present with a host of vast medical issues, ACS collaborates regularly with teams from different surgical specialties, and other departments.
Perhaps the most apparent and frequent of these collaborations is between ACS and the Department of Emergency Medicine, where patients and cases are triaged to determine a course of treatment.
Dr. Alger also emphasizes that the ACS team works closely with nearly every surgical division and other medical specialties, from anesthesia and cardiology to nephrology and neurology.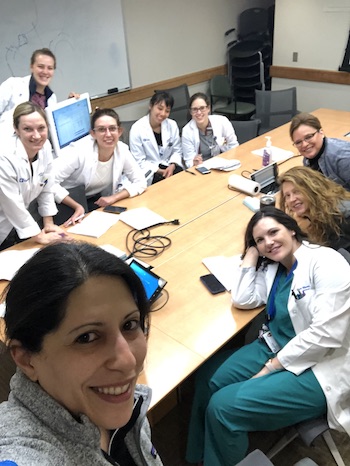 "We all coexist with each other across all of these divisions," says Dr. Alger.
This coexistence allows physicians and faculty across Duke and the Department of Surgery to prioritize excellence in patient care above all else through establishing a sense of community, engagement in one another's work, and the opportunity to share ideas and enlist outside expertise. 
In 2022, Duke Surgery announced the establishment of the new Division of Minimally Invasive Surgery (MIS), which integrated faculty from the former Division of Weight Loss Surgery and other disciplines across the department, including some who had previously been faculty members in the Division of Trauma, Acute, and Critical Care Surgery.
While Dr. Alger remained in the trauma division, she recognizes the benefit that this organizational re-structure and re-distribution of resources contributes to being able to provide more efficient care for patients requiring minimally invasive and acute procedures.
"Both the MIS and trauma divisions are fairly closely related, and some of the cases we take care of on our service can get backed up very quickly with some of the more non-emergent needs," says Dr. Alger. "For cases that, for example, could wait maybe a few days, we could work closely with the MIS division to make sure that those patients are seen and cared for sooner, which is beneficial for both us and the patients."
The Importance of Community in a Trying Profession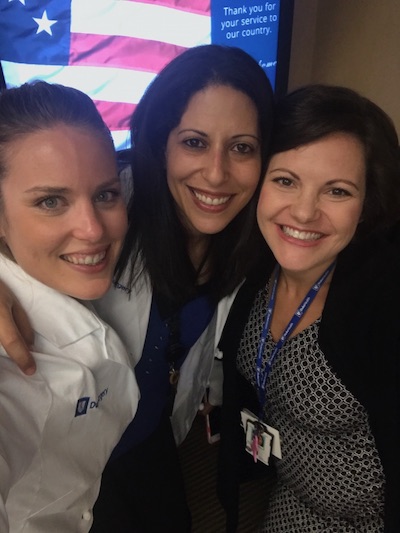 The nature of the job is a taxing one. "The patients we care for tend to be higher acuity and it can take an emotional toll on you," Dr. Alger describes.
"We try to give each other some down time to kind of recover, because usually it's a very intense week seeing a lot of patients in a short period of time. We usually operate all day, every day for the week that we're on service."
Managing the emotional toll is made easier with the support that the division provides to its faculty, trainees and staff. Members of the trauma division are given the space, physically and figuratively, to encourage each other, discuss challenges they face, and support each other through periods of difficulty.
"Of all the places I've worked at, this is the most supportive division I've been a part of," says Dr. Alger.
Even during the onset and height of the COVID-19 pandemic, at which time people were physically isolated from each other, Dr. Alger has never felt isolated or alone.
Finding Value
While some days are certainly harder than others, a lesson that Dr. Alger learned early on and strives to impart on new surgeons training in surgical critical care is that the value of the profession comes from being able to leave a positive lasting impact on patients and their loved ones.
Recently, Dr. Alger was reminded of a patient she had treated over a decade ago.
"How can you not love your job...hearing that you have such an impact on somebody and their lives?"
-Dr. Amy Alger, Assistant Professor of Surgery
A colleague at Duke told Dr. Alger of a neighbor he had, who asked the colleague if he knew a Dr. Rezak, as Dr. Alger was still known before she was married, and not to be confused with Dr. Kristen Rezak, Dr. Alger's twin sister, who is also a surgeon at Duke in the Division of Plastic, Maxillofacial, and Oral Surgery.
The neighbor told Dr. Alger's colleague, "She took care of my wife and saved her life. Just let her know how grateful we are."
"How can you not love your job when you hear stories like that and hearing that you have such an impact on somebody and their lives?" Dr. Alger asks. "That's why I do this. That keeps me moving forward and doing this every day."
Learn more about the Duke Division of Trauma, Acute, and Critical Care Surgery.