Image
Protection Against Future Variants: Developing the Pan-Coronavirus Vaccine
When the COVID-19 pandemic began in 2020, faculty members in Duke Surgery's Division of Surgical Sciences quickly joined the efforts to develop a vaccine against SARS-CoV-2. As time went on, SARS-CoV-2 kept evolving and developed new strains, including, most notably, Beta, Delta, and Omicron.
The vaccines developed in response to the COVID-19 pandemic can protect the public from these strains, but the question remains: Can the current vaccine protect the people against future variants of coronaviruses?   
A Proactive Approach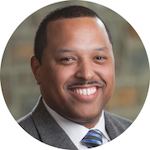 Kevin Saunders, PhD, Associate Professor in Surgery in the Division of Surgical Sciences, took inspiration from that thought and worked together with Barton Haynes, MD, Director of the Duke Human Vaccine Institute (DHVI), in developing a pan-coronavirus vaccine.
"As the coronavirus started to spread from country to country, we thought that rather than watching from the sidelines, we could jump in and use the techniques we were already using from our previous studies to develop a vaccine against SARS-CoV-2 and eventually against other coronaviruses," says Dr. Saunders.
The purpose of the pan-coronavirus vaccine is to provide immunity against future coronaviruses as well as protection against the current one. Through his research, Dr. Saunders noticed that over the last 20 years, there have been outbreaks of coronaviruses such as SARS-CoV-1, MERS-CoV, and most recently SARS-CoV-2.
Approximately every seven-to-nine years, outbreaks of a coronavirus that causes death occur and Dr. Saunders believes that focusing on a single coronavirus would not be ideal. Thus, he changed his strategy to look ahead beyond SARS-CoV-2.
"As we started to study the immune system and how it responds to SARS-CoV-2, it led us to this idea that you could generate antibodies that could be broadly effective against many different coronaviruses, as opposed to just focusing on SARS-CoV-2," says Dr. Saunders. "We decided to make a vaccine that could do that and that is what this vaccine showed when we tested it in our animal model systems here at Duke."
Partnering with DHVI
Along with being a faculty member for Duke Surgery, Dr. Saunders has a role in the DHVI as the Associate Director of DHVI and has been a part of the Institute since 2014. For the past nine years, the labs of Dr. Saunders and DHVI Director Dr. Haynes have worked seamlessly together on vaccine designs and animal studies. It was only natural that the two would team up in efforts to develop the pan-coronavirus vaccine.
Under Dr. Haynes's leadership, the DHVI has supported Dr. Saunders's pan-coronavirus vaccine research by providing financial support along with a series of core facilities and outstanding faculty collaborators to rapidly evaluate animal vaccination studies and implement state-of-the-art evaluations of vaccine-induced immune responses.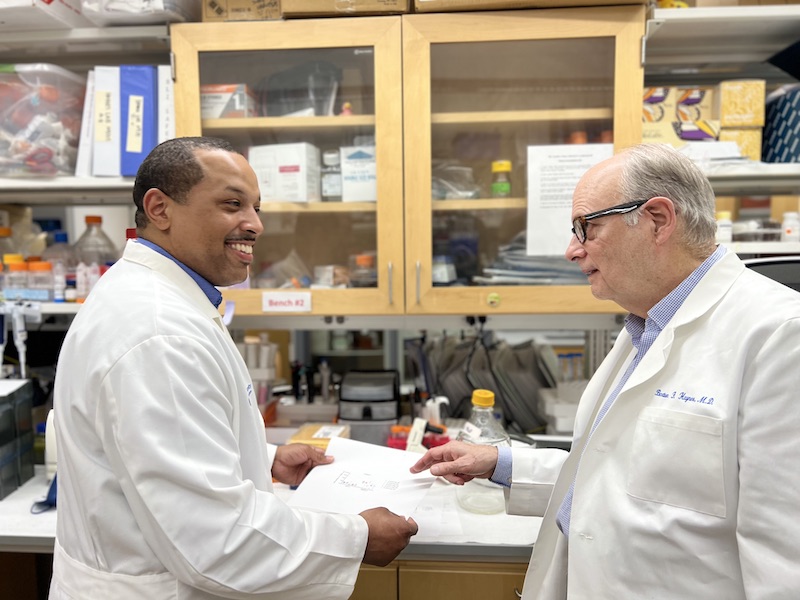 Techniques From HIV Research
Before developing the pan-coronavirus vaccine, Dr. Saunders's lab primarily focused on HIV antibody-based vaccine research. Dr. Saunders worked with Dr. Haynes on the monoclonal antibody work for HIV, which became the template for the pan-coronavirus vaccine's design.
"Dr. Saunders learned early in the pandemic the importance of seeing what he had done for HIV vaccine research and to 'frameshift' that achievement to a new use," says Dr. Haynes. "This was done in a matter of weeks and was the key to a very rapid response of a new vaccine, culminating with the first paper to publish a broadly reactive pan-coronavirus vaccine in Nature in 2021."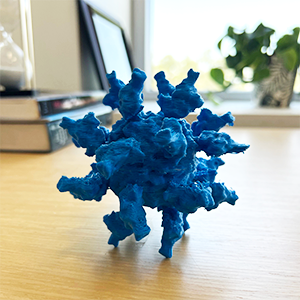 Using techniques from their HIV research, Dr. Saunders came up with an idea in which focusing on certain antibodies that effectively target a specific part of the coronavirus could develop a potent vaccine. When describing how the immune system would respond to this technique, Dr. Saunders used the structure of a soccer ball to paint the picture.
"If you've ever envisioned a soccer ball, you know that it's made of little hexagon shapes that each come together to make the ball," says Dr. Saunders. "So, what we do is we attach a small piece of the virus to each of those hexagons. When those hexagons come together to make the soccer ball, they bring with them all of those little pieces of the virus that you want the immune system to see to home in on that site and respond to it."
In comparison to the mRNA COVID-19 vaccines made by Moderna and BioNTech-Pfizer in which the entire coronavirus Spike protein genetic information is used to enact an immune response, Dr. Saunders's approach was for the immune system to only focus on a key part of the virus to generate antibodies, called the receptor binding domain.
Through this technique, Drs. Saunders and Haynes were able to generate a lot of the antibodies that targeted the desired sites active against SARS-CoV-1 and SARS-CoV-2, showing promising results for the pan-coronavirus vaccine.
Launching the Clinical Trial
The research behind the pan-coronavirus vaccine has demonstrated protection against a wide array of coronaviruses and SARS-CoV-2 variants, attracting national attention. Dr. Saunders and the DHVI were awarded a federal contract from the National Institute of Health's (NIH) National Institute of Allergy and Infectious Diseases (NIAID): a $21.5 million grant to manufacture the pan-coronavirus vaccine that can be tested in a phase 1 clinical trial.
The NIH grant has shifted Dr. Saunders's research project over into the clinical research realm where they are now able to translate their findings into clinical trials to evaluate the efficacy of this new method.
"I feel really confident about the data that we've seen in animals, but we don't know how that will actually translate to humans," says Dr. Saunders. "This is going to be our first chance to see if the amazing data we saw following monkey immunizations is predictive of what we can see in humans."
He continues, "It will also be a chance for us to get our first insights into this type of vaccine platform that we're using here at Duke to make the vaccine."
Leading the first phase of clinical trials is Emmanuel Walter, MD, MPH, DHVI Chief Medical Officer and Director of Duke Vaccine and Trials Unit (DVTU). Drs. Walter and Saunders will work together to develop and implement a clinical trial in humans designed to test the novel pan-coronavirus vaccine at DHVI.
"Without the NIH contract, we wouldn't be able to see this research project translate into what could actually have a meaningful effect on human health. This clinical trial is really the major first step in moving us forward into something that could be a vaccine that's available to people in general use."
– Kevin Saunders, PhD, Associate Professor in Surgery
When entering clinical trials, the study undergoes three phases to determine the efficacy and safety of the vaccine. The duration of these clinical trials can vary, but Dr. Walter predicts that the entire first phase of the clinical trial for the pan-coronavirus vaccine can last for about two years.
Dr. Walter's DVTU research team has been heavily involved in the evaluation and testing of COVID-19 vaccines and treatment studies for COVID-19. With the team's expertise, they will evaluate different dosage levels of the vaccine based on information from pre-clinical animal studies.
"Different doses of the vaccine will be evaluated in study participants to make sure that they prompt the body to make a potentially protective immune response and that the vaccine is safe at each dose level tested," says Dr. Walter. "The vaccine is tested at the lowest dose first and will increase only when it is determined that it is safe and well tolerated at the lower dose level."
Once Dr. Walter's team can show that the pan-coronavirus vaccine is safe and is generating immune responses, the clinical trials can then move on to the second phase. Phase 2 will include a larger trial evaluating the safety and level of protection afforded by the vaccine in a larger number of study participants. When the results of the study meet certain requirements, a request for approval can be submitted to the U.S. Food and Drug Administration (FDA).
Promising Path Ahead
With clinical trials for Dr. Saunders's research soon to be underway, the journey to a fully developed pan-coronavirus vaccine for the public has just started. While it is likely that people will continue to require some kind of protection against coronaviruses in the future, the establishment of the pan-coronavirus vaccine will make that process safer.
"Without the NIH contract, we wouldn't be able to see this research project translate into what could actually have a meaningful effect on human health," says Dr. Saunders. "This clinical trial is really the major first step in moving us forward into something that could be a vaccine that's available to people in general use."
---
Cover photo: Duke surgical scientist and Assistant Professor in Surgery Kevin Saunders, PhD, in the Duke Human Vaccine Institute (DHVI) lab with Barton Haynes, MD, Director of DHVI.
Photo by Kelly Wright | DHVI Communications Office