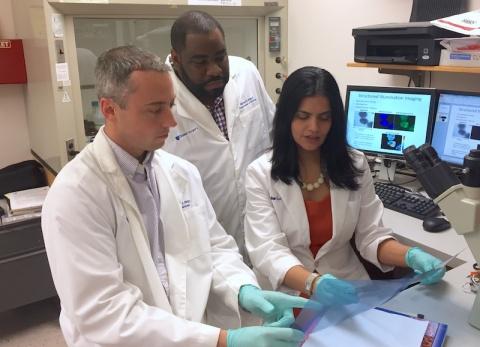 Gayathri Devi, PhD, Associate Professor of Surgery and Pathology, and Member of the Women's Cancer Program at the Duke Cancer Institute, has received a Breakthrough Award from the Department of Defense Breast Cancer Research Program (CDMP-BCRP) in the amount of $1,192,441. Level 2 Breakthrough Awards fund projects that are already supported by preliminary data with the potential to make significant advancements in clinical translation. Dr. Devi's project, "Characterization of the tumor immunobiological factors that promote lymphovascular invasion and dissemination in locally advanced breast cancer," is one of six in this category to receive funding.
Dr. Devi's research focuses on elucidating the signaling pathways that regulate the ability of cells to adapt and survive during cellular stress. Previous studies in the Devi laboratory have identified the role of an adaptive stress response signature in advanced breast cancer patients dominated by anti-apoptotic signaling and NFkB transcriptional activity, which correlated with clonal outgrowth of cell death–resistant cancer cells and suppressed anti-cancer immune responses.
Dr. Devi has received multiple funding awards from DoD prostate and breast cancer panels and was featured in a CDMRP Era of Hope highlight video for her work in the development of genomic-based strategies to target immune regulatory cells. In a recent article in Oncotarget, in collaboration with Duke Inflammatory Breast Cancer Consortium investigators, Dr. Devi's team reported the development of a novel high-content, high-throughput assay to study tumor spheroids/emboli and the identification of an alcohol abuse drug for its ability to target NFkB activity and inhibit tumor emboli formation. This DoD Breakthrough Award will allow Dr. Devi to build on these works and uncover tumor immune mechanisms associated with lymphovascular invasion and dissemination in patients with locally advanced breast cancer (LABC) and inflammatory breast cancer (IBC). This integrated strategy of "bedside to bench and back" is expected to identify prognostic, predictive, and therapeutically actionable targets for patients with these aggressive tumors.
Dr. Devi's team will collaborate with clinical colleagues Dr. Shelley Hwang, Chief of Breast Surgery, Division of Advanced Oncologic and Gastrointestinal Surgery, and Dr. Shannon McCall, Department of Pathology, for patient biospecimen collection and with Dr. Michael Morse, Department of Medicine, to develop novel co-culture assays to study tumor immunobiological factors. Other collaborators include Drs. Mark Dewhirst and Greg Palmer as part of the DCI Optical Molecular Imaging and Analysis Core and Dr. Kent Weinhold, Chief of Surgical Sciences, at the Duke Immune Profiling Core. Additionally, Ms. Patricia Spears at the Alliance for Clinical Trials in Oncology will collaborate on patient advocacy and outreach.
In addition, Dr. Devi serves as an Associate Director for Research Education and leads the Duke MERITS education initiative in the Department of Surgery. This highly translational project along with ongoing funded efforts in Devi's lab in cancer health disparity (NCI-P20 Cancer Disparities Translational Research Partnership) and in development of bioengineered lymphovascular models (Department of Surgery Gardner Award) will allow for a multidisciplinary research training environment for undergraduate, graduate and medical students, postdoctoral fellows, and physician scientists.