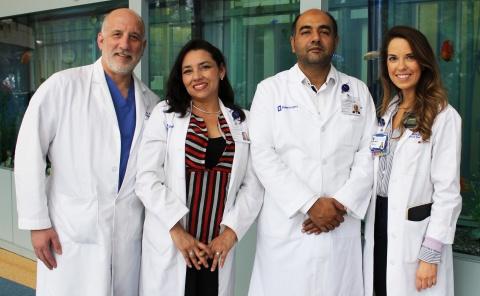 Photo: (From left) Henry Rice, Astrid Tello, Sohail Dogar, and Bria Johnston. Tello, from Guatemala, and Dogar, from Pakistan, were patient safety fellows at Duke this spring.
It's a given that medical providers think about patient safety, but as Duke pediatric surgeon Henry Rice, MD, has discovered through his international research, many healthcare facilities fail to establish a safety culture—leading to preventable medical errors, complications, and poor patient outcomes.
Building a safety culture delivers incredible impact for both patients and providers, Rice says. That's why he's so passionate about facilitating this work in low-resource settings, where instituting a safety culture is often either not prioritized or riddled with barriers, such as cost and cultural, social, and political constraints. 
But what exactly is a safety culture? It goes well beyond measures like sterilizing equipment and ensuring providers wash their hands before seeing patients. It's an environment that encourages communication, collaboration, quality, and safety. "A safety culture involves all sorts of decisions about how you organize your teams, time, authority structures, and programs," said Rice, professor of surgery and global health. "But at its core, it's about teaching a common language, culture, and set of beliefs, and providing a set of tools that will transform the care of the patients."
Bria Johnston, a clinical research coordinator in the Department of Surgery, added, "It's a collective mindfulness of safety and quality, from the small things to the big things, from the nurses' decisions to administrative decisions."
The development of safety cultures in healthcare facilities across the world has the potential to affect billions of lives. As Johnston puts it, "Safety culture spans every medical discipline and every level of healthcare from local facilities to national policy, and it touches every role within a healthcare organization." Furthermore, even small, low-cost, easy-to-implement changes can lead to major improvements in patient outcomes and staff communication and satisfaction. 
Duke University and Duke Health have invested substantially in creating a safety culture, building teams committed to this initiative and engaging with experts in other healthcare systems to continually improve the culture. And now, a group of Duke faculty and staff—including Rice, Johnston, and patient safety officer Judy Milne—are applying their expertise to encourage hospitals in low-resource settings to embrace the concept and establish their own safety cultures.
Rice says that one of the foundations of a safety culture is the recognition that errors are inevitable in healthcare and should be viewed as opportunities to learn and improve systems that may have played a role in the errors. "Errors are rarely one person's fault," he said. "More often than not, they result from a systems issue, or a combination of events that led to a negative outcome." However, providers and hospital leadership in many places around the world favor a punitive approach against a single provider when errors occur. Changing this mindset, Rice says, has the potential to vastly improve healthcare delivery.
Rice has focused his efforts in Guatemala, where he's been collaborating with local partners on various clinical, research, and capacity-building initiatives since 2010. In a recent study, Rice and his colleagues measured the safety culture at a pediatric nephrology unit in Guatemala and used the data to develop targeted safety initiatives. They assessed staff views toward 13 health climate and engagement domains, such as personal burnout, local leadership, teamwork, and work-life balance.
"[A safety culture] is about teaching a common language, culture, and set of beliefs, and providing a set of tools that will transform the care of the patients."

-Henry Rice, MD, Chief of Pediatric General Surgery
The researchers identified a few key safety-related challenges among the staff: burnout, lack of work-life balance, and self-care practices, and frequent communication breakdowns. To address these challenges, they implemented several low-cost interventions. To help counter burnout, for example, they set up a designated area for staff breaks and established break times. In response to the self-care concerns, they tapped into a nutritionist who works with the patients to provide nutrition education and access to healthy foods for the staff. And to address communication challenges, they initiated a daily 10-minute morning briefing, where the entire unit staff gathers to discuss the day's activities. They also set up a formal patient "handoff" protocol for shift changes.
Rice says the unit began seeing improvement in the culture within a few months of putting the interventions in place. The researchers also anticipate a longer-term effect on clinical and organizational performance, which they're in the process of assessing. "The initial signs are that we'll probably see a decrease in complications and medical errors, as well as less turnover, better financial performance and less stress on the system at large," he said. "Those outcomes sometimes take years to see impact. This is a long-term investment."
The researchers—including Johnston, Anthony Saxton MS'16, and assistant research professor Joy Noel Baumgartner—hope this study can serve as a "how-to" guide to help providers in low- and middle-income countries (LMICs) use a health culture survey to promote a safety culture in their organization.
In addition to conducting research on this topic, Rice and his colleagues are training healthcare providers from LMICs on how to implement this approach in their local healthcare setting. In 2016, the Department of Surgery established a patient safety fellowship program, hosting two fellows for three weeks each spring to learn about safety culture principles and observe them in action on the floors of Duke hospitals. In previous years, the program included only Guatemalan fellows. This year, one fellow is from Guatemala and the other is from Pakistan.
Rice is also exploring ways to expand the reach of this work in Guatemala and beyond. He's currently in discussions with officials from the Ministry of Health to deliver a patient safety symposium in Guatemala, geared toward hospitals leaders from across the country.
While Rice and his colleagues are making headway, he laments the lack of funding for this type of work. To close the gap between health outcomes for high-income and low-income countries, he says, we must shift our focus from addressing specific diseases to strengthening health systems, and prioritizing patient safety is a key part of this evolution. 
"If I had one wish for the next five to 10 years, it would be that sufficient resources are available for international training, engagement in and implementation of these core principles more broadly," he said. "We have the knowledge and tools that can lead to transformational outcomes, but so far, this powerful potential hasn't been sufficiently emphasized."
This article was originally published by the Duke Global Health Institute, and has been republished with permission.
Read the study in BMJ Global Health, an open-access journal.