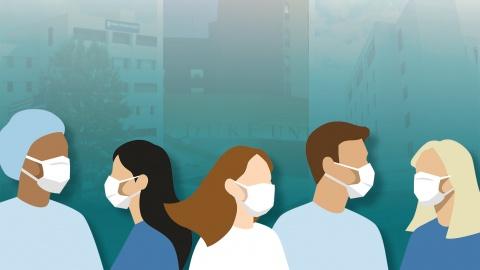 The early stage of COVID-19 offers a critical window of opportunity to prevent the progression of the disease to the acute state, when patients require supportive care. By targeting the SARS-CoV-2 virus early on, a therapeutic can help to quickly eliminate the virus from the body while the patient's symptoms are mild.
Led by Professor of Surgery Dr. Peter Smith, a team of clinicians across Duke Health are working diligently in a collaborative effort to enroll patients in a randomized, controlled trial, testing a novel antibody treatment for COVID-19.
"Everyone is working 24/7, and it is incredibly heartening to see these selfless contributions by so many people."

– Dr. Peter Smith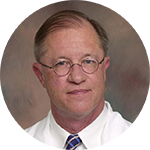 The ACTIV-3 trial tests the efficacy of a monoclonal antibody as a method of treatment, developed from the blood sample of a recovered COVID-19 patient. Duke is currently the lead enroller in this international trial, with 42 out of 151 total patients enrolled in the United States and Europe thus far.
"This trial crosses so many different boundaries," says Dr. Smith. "We are grateful to the Department of Surgery's infrastructure, and we have hospitalists and critical care physicians involved. We are not just working at Duke University Hospital, but also at Duke Raleigh and Duke Regional. Everyone is pulling more than their weight, working 24/7, and it is incredibly heartening to see these selfless contributions by so many people."
The team's early success in the trial was recognized with a personal letter of gratitude from Francis Collins, MD, PhD, Director of the National Institutes of Health (NIH), and Janet Woodcock, MD, of Operation Warp Speed.
"Given the ongoing COVID-19 pandemic that is taking many lives, the ACTIV-3 trial is now more important than ever and is critical to progressing our understanding of safety and effectiveness of different monoclonal antibodies in treating COVID-19 in people who have been hospitalized with the infection," the letter reads. "Rapid implementation and completion of this trial represents a very high priority for NIH and Operation Warp Speed. Your site was the second one opened, and has enrolled 27 [now 42] patients in 28 days, a truly remarkable performance."  
Dr. Smith credits the recognition from the U.S. Department of Health & Human Services to the exceptional collaboration happening across Duke, including research coordinators Beth Hollister and Kathleen Lane, as well as clinical staff at all three hospitals. 
"The compassion, diligence, and tireless hard work contributed by each and every member of the team to advance the science of COVID-19 treatment is unparalleled. I am privileged to be a part of such a remarkable team."

– Dr. Christina Barkauskas, Duke Pulmonary / Critical Care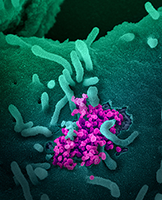 With the trial enrolling patients at all three hospitals in the Duke system, each campus has a dedicated team lead. Dr. Tatyana Der, trial lead at Duke Raleigh Hospital, is grateful for hospital medicine leadership and her colleagues who have made it possible for her to play a critical role in this effort.  
"These are unprecedented times," says Dr. Der, "calling upon scientists to work together in an effort to find efficacious therapeutics for patients suffering from COVID-19. I feel honored to be a member of Peter's team in that effort."
At Duke Regional Hospital, Dr. Emily Ray Ko leads the charge in enrolling patients and shares similar sentiments.  
"It is wonderful that we have been able to bring COVID-19 clinical trials to Duke Regional and offer our patient's access to cutting-edge therapies," Dr. Ko says. "Thanks to our COVID-19 nurses, pharmacy, laboratory, and phlebotomy teams for quickly learning new processes and making trials successful at Duke Regional Hospital."
"This team is a remarkable collaboration between thoracic surgery, hospital medicine, pulmonary/critical care, and infectious diseases. The urgency of the COVID-19 pandemic necessitated that a team be built quickly, and it is a testament to all of the individuals involved, including Peter Smith's tireless research group, that such a successful multidisciplinary group has been assembled and is leading the world in enrolling this critically important trial."

– Thomas Holland, Duke Hospitalist and Infectious Disease
Though the trial is in its early stages, it is progressing rapidly, and Dr. Smith believes the pathway has been cleared to get a definitive answer on the effectiveness of the monoclonal antibody treatment option for patients with COVID-19.
"We're going to need to enroll 1,000 patients in this trial," says Dr. Smith. "But there are going to be more than 100 sites worldwide. We're hoping to complete enrollment by the end of October. Under the best case, I would hope that this treatment could be available by early 2021."
Members of ACTIV-3 Clinical Team
Read more about the team's work on the ACTIV-3 trial

"Duke Researchers Testing Novel Therapeutics for Early and Acute Stages of COVID-19"