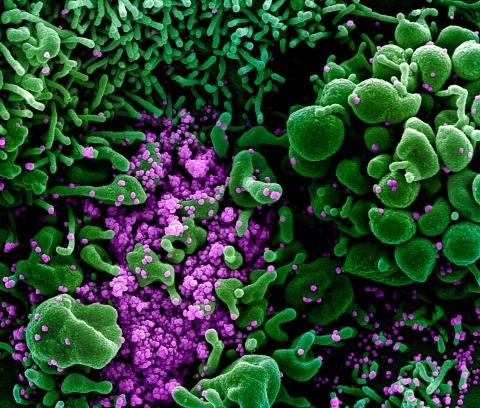 Photo above: Colorized scanning electron micrograph of an apoptotic cell (green) heavily infected with SARS-COV-2 virus particles (purple), isolated from a patient sample. Image captured and color-enhanced at the NIAID Integrated Research Facility (IRF) in Fort Detrick, Maryland Credit: NIAID
Mitigating the COVID-19 Cytokine Storm
During the acute stage of COVID-19, the immune system mounts an overwhelming inflammatory response to the SARS-CoV-2 virus. This influx of proinflammatory proteins, known as the "cytokine storm," causes damage to lung tissue and results in acute respiratory distress syndrome (ARDS).
According to the Centers for Disease Control and Prevention (CDC), ARDS manifests in 3–17% of all patients with COVID-19, in 20–42% of hospitalized patients, and in 67–85% of patients admitted to the intensive care unit (ICU). Patients with ARDS typically require a ventilator to help them breathe and in critical cases, patients may need extracorporeal membrane oxygenation (ECMO) as a last resort.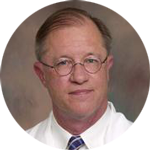 "The problem with COVID-19 ARDS is that the virus damages the lung tissue itself, but the body's response to try to defeat the virus also causes injury," says Dr. Peter K. Smith, Division Chief of Cardiovascular and Thoracic Surgery. "It's a hyperimmune type of response. A number of patients who acquire COVID-19 have this problem occur somewhat late in their disease course. Eventually, they have to be put on a mechanical ventilator to get enough oxygen."
In collaboration with Christina Barkauskas, MD, Department of Medicine, Dr. Smith is leading a new placebo-controlled, double blind, randomized trial to test mesenchymal stem cells (MSCs) as a treatment for COVID-19. Typically found in the bone marrow, MSCs have been found to have anti-inflammatory properties and aid in tissue repair.
For this trial, MSCs will be administered to patients with COVID-19 to prevent or modify the cytokine storm generated by the body as an overactive response to the virus. Under an emergency compassionate use protocol, patients with COVID-19 ARDS in New York exhibited a positive response to the MSC treatment.
"When they're given intravenously, these cells preferentially go to the lung but they are found in all organs," says Dr. Smith. "The cells are not strictly antiviral, but they are there to assist in ensuring that the patient's immune response doesn't cause more harm than good."
"We're excited that this is one of the very few treatments available for people at this stage of the disease." 

-Dr. Peter K. Smith, Division Chief of Cardiovascular and Thoracic Surgery
The study aims to enroll up to 300 patients with acute COVID-19 who are admitted to the ICU and who require mechanical ventilation. The study will assess 30-day mortality and the number of days patients are off of ventilator support. Once safety and efficacy have been established, the treatment will undergo FDA evaluation for approval. So far, Duke has enrolled 16 patients with COVID-19 for this study out of 109 nationwide.
"We're excited that this is one of the very few treatments available for people at this stage of the disease," says Dr. Peter Smith.
Halting the Progression of COVID-19
The early stage of COVID-19 offers a critical window of opportunity to prevent the progression of the disease to the acute state when patients require supportive care. By targeting the SARS-CoV-2 virus early on, a therapeutic can help to quickly eliminate the virus from the body while the patient's symptoms are mild.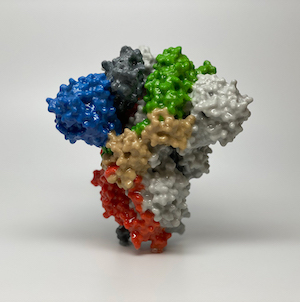 Dr. Smith leads a second randomized, controlled trial to test a monoclonal antibody (mAb) as a treatment for mild to moderate COVID-19. Derived from a SARS-CoV-2–infected patient, this neutralizing antibody binds to the receptor-binding domain (RBD) of the spike protein of the virus.
"These monoclonal antibodies are designed to stop viral replication," says Dr. Smith. "The monoclonal antibody should prevent the virus from entering the cells by binding to the receptor domain on the spike protein of the virus."
As one of four clinical trials in the National Institutes of Health (NIH)'s "Accelerating COVID-19 Therapeutic Interventions and Vaccines (ACTIV)" program, the ACTIV-3 trial will utilize the framework of existing clinical trial networks, including the Cardiothoracic Surgical Trials Network (CTSN), which Dr. Smith leads as the principal investigator for this study.
The study aims to enroll 300 patients who have been hospitalized with mild to moderate COVID-19. Patients will be randomly assigned to receive either an intravenous infusion of the monoclonal antibody or a saline placebo infusion. The study also provides both study arms with the antiviral remdesivir, which is currently a standard-of-care treatment for COVID-19. The study will assess patient symptoms and their need for supplemental oxygen and mechanical ventilation.
Once the treatment's safety and efficacy are established, the trial will enroll 700 more patients, including patients with acute- and critical-stage disease. The primary endpoint of the trial is sustained recovery for 14 days after the patients are released from the hospital.
Duke has a major role in this trial, which is the first national effort to assess a new, specific targeted COVID-19 therapy. As the second site initiated, Duke is currently the lead enroller in this international trial, with 42 out of 151 total patients enrolled in the United States and Europe thus far. This trial is an incredible team effort led by key physicians at all three Health System hospitals, including Dr. Christina Barkauskas of Duke Pulmonary and Critical Care; Duke hospitalists and ID specialists Drs. Thomas Holland, John Franzone, and Noel Ivey; and Drs. Emily Ko and Tatyana Der for Duke Regional and Duke Raleigh, respectively.
"We're going to need to enroll 1,000 patients in this trial," says Dr. Smith. "But there are going to be more than 100 sites worldwide. We're hoping to complete enrollment by the end of October. Under the best case, I would hope that this treatment could be available by early 2021."
Read more about the team's work on the ACTIV-3 trial

"Duke Tests Novel COVID-19 Therapy, Is Lead Enroller in International Trial"
Give to Duke Surgery
A gift to the Department of Surgery is a gift of knowledge, discovery, and life.