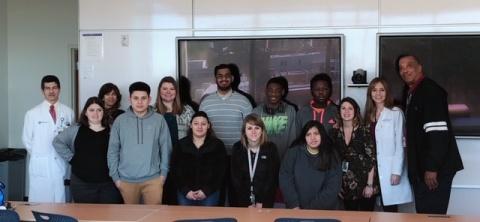 Duke Surgery's Academic Success Through Surgical Education and Training (ASSET) program recently hosted a hands-on surgical skills activity for deaf and hard-of-hearing students from Athens Drive Magnet High School and for visually impaired members of the Durham community.
The inaugural activity for students with disabilities was held on Monday, December 17, at the Surgical Education and Activities Lab (SEAL) where the participants and four interpreters joined different workstations led by Department of Surgery faculty and staff. Each group met with leaders who taught them skills related to emergency medicine and general surgery.
Special thanks to David Gordon, MD, Division of Emergency Medicine, Paul Mosca, MD, PhD, MBA, Division of Surgical Oncology, Linda Cendales, MD, Division of Plastic, Maxillofacial, and Oral Surgery, Layla Triplet, Jennifer Cheeseman, and Harpreet Walia for their team work, commitment, and time to provide the students an irreplaceable experience.
We look forward to our next activity!