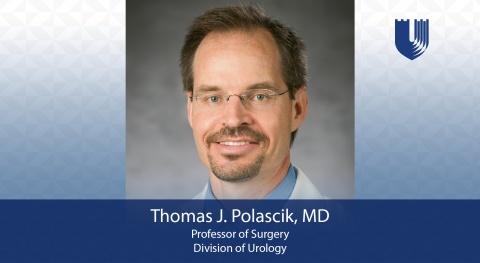 The Duke Intellectual Community Planning Grant initiative has announced the eight recipients of its 2018 awards, including a group led by Duke Urology's Thomas Polascik, MD, Professor of Surgery. Dr. Polascik and his colleagues will receive funds to begin monthly interactive work sessions focusing on the use of prostate multi-parametric MRI, an advanced imaging process that allows for more informed treatment decisions.
Multi-parametric MRIs improve traditional ultrasound imaging by merging several MR sequences, allowing for better detection of tumors and lesions and more effective tissue evaluation. The process has not been standardized clinically due to the need for more scientific evidence.
"Multi-parametric MRI evaluation of prostate tumors, image-guided biopsy, and targeted ablation are a truly multi-disciplinary effort," Dr. Polascik says. "The process requires expert tumor detection and localization by radiology, accurate targeting and tissue destruction by urology, tissue and biological assessment by pathology, and performance enhancements by biomedical engineering."
With the new grant, Dr. Polascik and his cross-disciplinary team will meet monthly to design new research projects centering on the use of multi-parametric MRIs. Meetings will be open to all interested researchers.
"Our goal is to optimize performance of this diagnostic and therapeutic platform and make Duke a destination center for patients who want to benefit from these advanced technologies," Dr. Polascik says. "In addition to seeking external funding for new projects, we aim to develop state-of-the-art training on how to best achieve the goals of accurate radio histopathology and targeted treatments."
The research project, titled "Duke Cancer Institute Prostate Multi-parametric MRI & Targeted Biopsy Working Group," includes faculty from several departments:
Thomas J. Polascik, Department Surgery
Rajan T. Gupta, Departments of Radiology and Surgery
Jiaoti Huang, Departments of Pathology, Pharmacology & Cancer Biology
Kathy Nightingale, Department of Biomedical Engineering
Mark L. Palmeri, Departments of Biomedical Engineering and Anesthesiology        
Visit DukeToday to learn more about the other recipients of the Intellectual Community Planning Grants.