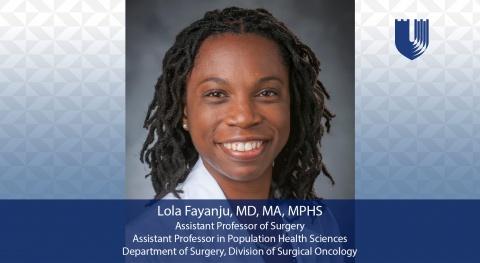 Lola Fayanju, MD, Assistant Professor of Surgery, Division of Surgical Oncology, recently received a K08 award from the National Institutes of Health for her proposal "Using Modifiable Risk Factors to Predict Inferior Care and Survival After Breast Cancer Diagnosis: A Novel Approach to Addressing Health Disparities." With this grant, Dr. Fayanju and her team will develop a prediction model to identify women with mutable risk factors for compromised breast cancer care, providing a novel approach to addressing disparities in oncologic care.
"Dr. Fayanju continues to be a promising scholar and leader in understanding and systematically addressing barriers to delivering optimal care to disadvantaged women in our society, and I anticipate substantial contributions in her future," says Dr. Charles D. Scales Jr, Director, Duke Surgical Center for Outcomes Research (SCORES).
Dr. Fayanju was also recently named to the Board of Directors of the Surgical Outcomes Club. In this role, she will help elevate Duke Surgery in health outcomes research nationally. Check out their website and consider applying for the Zinner HSR Fellowship.
Additionally, Dr. Fayanju was named the 2020 Selwyn M. Vickers Visiting Professor. This professorship provides an opportunity for members of the Society of Black Academic Surgeons (SBAS) to serve as a visiting Grand Rounds professor for the Department of Surgery at the University of Alabama at Birmingham.
Congratulations, Dr. Fayanju!