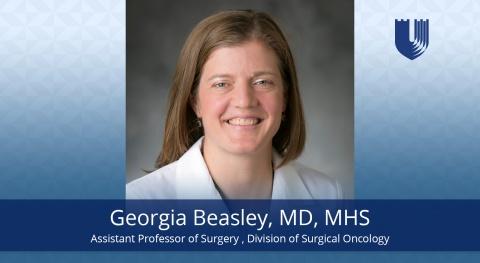 Georgia Beasley, MD, MHS, Assistant Professor of Surgery in the Division of Surgical Oncology, has received a 2019 award from the Duke Cancer Institute (DCI) for her pilot research project, "Oncolytic Poliovirus in Melanoma."
Using an oncolytic poliovirus has already been tested at Duke as a treatment for recurrent glioblastoma, and in Dr. Beasley's current research, the therapy will be used for treatment refractory melanoma, or melanoma that has not responded to other treatments. 
"The grant is related to the translational science work as part of a Phase 1 clinical trial to conduct blood and tumor analysis related to immune response to the treatment," Dr. Beasley says. "Some of the work that we are doing is collecting blood samples and tumor biopsies before and after treatment, to see the impact of the poliovirus in the blood and tumor. This grant will help us run that analysis and give us an understanding of how the treatment is working."
The research has been conducted in the lab of Smita Nair, PhD, Professor of Surgery, Pathology, and Neurosurgery. Dr. Nair has served as mentor for Dr. Beasley. 
The trial is currently open, and the team has been able to conduct some of the analysis. Final analysis is pending, and the research will conclude in the next few months.