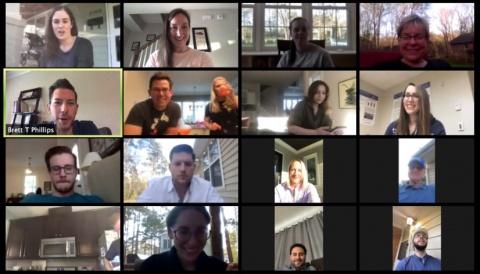 To care for patients, healthcare providers must stay healthy themselves. During the initial weeks of the COVID-19 pandemic, Duke's surgical residency programs faced a serious challenge: how to keep their residents safe, healthy, and available, while still meeting the needs of patients in a rapidly changing global landscape.
Jeffrey Marcus, MD, Division Chief of Plastic, Maxillofacial, and Oral Surgery, acted swiftly as the threat of COVID-19 increased and patient testing remained limited with long waits for results.
"This is exactly why it was so critical to have testing," says Dr. Marcus. "Without broad testing access, an exposure or presence of symptoms could result in a 14-day quarantine. Take a single unit, a division or a department, any group of people involved in an activity. In our case, that group is our 18 residents. You put all these residents intermingling together, in their normal workflow. If one person gets infected, they've potentially come into contact with all 17 others. The disaster scenario is that if someone comes into contact with the virus, an entire service could get wiped out of the hospital."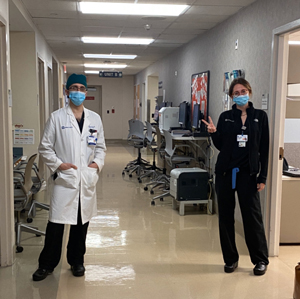 As global case numbers increased, so too did the likelihood of such a catastrophic outcome. Fortunately, some innovative thinking on how to restructure the Integrated Plastic and Reconstructive Surgery Residency Program provided a solution. Shifting to a platoon system, residents were placed in 3 separate groups with a 7-day on, 14-day off schedule. The choice of a 14-day off period was an early strategic decision based on the idea of creating "process-based quarantine." Each platoon is formed by 6 residents, one from each year of the 6-year program. Similar systems are now in place in the other surgical residency programs at Duke.
The platoon system offers several crucial benefits: (1) contact between residents of different platoons ceases, limiting potential transmission of the virus; (2) a 14-day leave from the hospital allows for a proper quarantine period; and (3) with patient and resident health and safety a priority, morale remains high.
Time away from the clinics has been utilized effectively. Chief resident Anna Carlson, MD, says the time in quarantine has allowed for growth in many other areas.
"The division has made this a great opportunity for professional growth," says Dr. Carlson. "There are a ton of educational opportunities through our societies, and there are a lot of important lectures and topics being presented at a national level and within the division itself to ramp up our soft skills curriculum. We're doing more teamwork and leadership learning, so it's just a different team dynamic that we're all learning to work within."
Residents assist with patient care remotely through telehealth, joining faculty and patients in virtual clinics. In March and April 2020, Duke processed more than 60,000 telehealth visits.
In his fourth year in the residency program, Jared Blau, MD, says the platoon system has worked effectively and efficiently, promoting well-being by reinforcing that residents are an integral part of the health system.
"I was happy to hear about the platoon system," Dr. Blau says. "Residents can sometimes feel like a small part of a big system, easy to slip under the radar. This has not been my experience with this crisis. The faculty care about us, and the whole idea was to put safety as the highest priority, which is really responsible."
Dr. Marcus says the platoon system reinforces the program's commitment to its residents. "The message that the residents received was that we care about them, and we did this because we care about our team, and we care about our team unity. They know that we rely on them, and appreciate them. That message is a part of our culture."
Each platoon has become its own support group, Dr. Blau says. Socially, the residents in the program have kept up with each other with teleconferencing meetings, texts, and phone calls. When will the residents be able to reconvene in person? That is dictated by the spread of COVID-19.
"The plan," Dr. Carlson says, "is to be flexible."
Give to Duke Plastic, Maxillofacial, and Oral Surgery
The Duke Division of Plastic, Maxillofacial, and Oral Surgery relies on individual gifts and philanthropic partnerships to help support our clinical, research, and educational missions and to secure funds for the future.