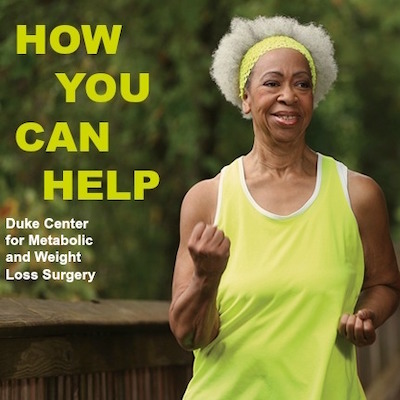 Rosallene Massey underwent weight loss surgery to control her type 2 diabetes and other health problems. Two weeks after surgery, she was able to stop her diabetes medication. Now, four years out, she eats a healthy diet and exercises regularly. 
Your gift to the Duke Center for Metabolic and Weight Loss Surgery can make a difference in the lives of patients like Rosallene. Gifts large and small will provide an important source of unrestricted support for research, education, and patient care. You can also direct your gift to the surgeon of your choice to support his or her research efforts. 
Your charitable contribution can improve the lives of people in our community and beyond---as Duke innovations in weight loss surgery extend across our country and around the world. 
How to Give
Online: Please visit the Department of Surgery's Giving page to make a contribution to the Duke Center for Metabolic and Weight Loss Surgery Gift Fund. 
 
By phone or mail: Print and complete a donation form for the Duke Center for Metabolic and Weight Loss Surgery Gift Fund, and return it with your gift to:
Jessica Baga May
Senior Director of Development
Department of Surgery
300 W. Morgan Street
Suite 1200
Durham, NC 27701
919-385-3199 office
jessica.baga.may@duke.edu