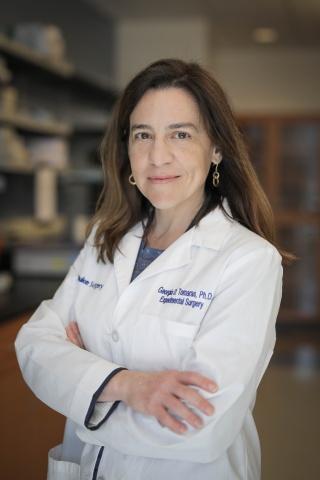 "We're focused on this intricate beautiful part of our body called the Immune System and how it's working to protect us against disease, and there is so much to learn about that."

-Dr. Georgia Tomaras, Professor in Surgery, Division of Surgical Sciences
As vaccines are now at the forefront of the fight against the pandemic, Georgia Tomaras, PhD, is still just as passionate about her work in immunology and preventative vaccines as she was when she joined Duke in 1998. 
Dr. Tomaras currently ranks third nationally among principal investigators (PIs) in departments of surgery receiving funding from the National Institutes of Health (NIH).
We recently sat down with Dr. Tomaras to discuss her history with Duke and the current research being conducted in the Immunological Sciences laboratory of the Center for Human Systems Immunology, and the new Duke Research and Discovery @RTP campus.
The Daily Mission
Q: How would you describe what you do on a day-to-day basis?
Georgia Tomaras, PhD: We're leading a laboratory program to evaluate immune mechanisms of protection. How do we understand what's happening to get protective immune response to improve human health; how do we evaluate these responses in clinical and pre-clinical trials, to get answers that will really advance the field? That's our day-to-day mission and everything that we do is geared toward that.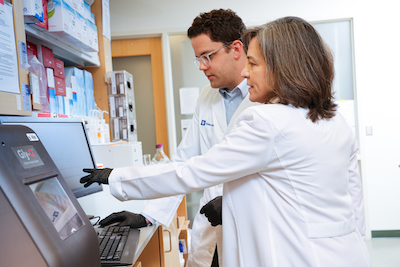 Q: How did you become interested in studying immunology and infectious disease?
When I was an undergrad, I worked [as a work-study student as a microbiologist] in a lab in the Department of Surgery at the University of Michigan [adjacent to the operating room]. There were a lot of research fellows working on immunology questions that I would talk with about their projects, so I was in a great research environment where I was also doing experiments that were directly informing clinical care.
As you start studying immunology, you realize all the mysteries and the complexities of the immune response [and the immune system]. There is so much that's being discovered.
Q: What research are you currently working on within your lab?
We've really been fascinated with the idea of how variable the immune response is between individuals, even given the same vaccine or intervention, and trying to understand that fundamental difference, I think, will help us gain insights across other pathogens and improve vaccines or immunoprophylaxis regimens in general.
Q: How do you aim to develop the scientists that work in your laboratory?
[We see] where their curiosity leads them. To see what they're most curious about investigating, and continuing to support them in their work and support their interests and their growth as scientists, allows that cohesion among everyone.
"The highlight [of mentoring] is hearing peoples' perspectives, with a new piece of data, a new finding, or even an idea; how people approach that differently is really interesting to see and I think it really helps shape the way forward."
Research for the Future
In June of 2021, 14 faculty members in the Division of Surgical Sciences moved into their labs at Duke Research and Discovery @RTP, a new research hub for Duke University School of Medicine Scientists. The new 273,000-square-foot facility serves as a base for researchers to focus on transmission and prevention of infectious diseases like SARS-CoV-2, influenza, HIV, and more.
"[Duke and the Department] value interdisciplinary collaboration, which is essentially what RTP is as multiple departments, multiple institutes and centers, that are all together in one place to work on a common goal."
Q: How did you come to be involved with the RTP campus?
Our colleagues [who submitted the proposal to the NIH] approached us for working on a component of a global influenza vaccine program, which is to develop standardized methods to evaluate the immune system. We had built a program from HIV and other pathogens where we are standardizing, qualifying, and validating immune assays that we can use in clinical trials. So when [the grant] was awarded, it was clear that we would need new support for it and the School of Medicine fortunately supported new lab space and equipment.
We had just moved our laboratory into the Carmichael space in downtown Durham just before the pandemic hit in 2020. There wasn't extra space at Carmichael or on main campus, so the solution was to have new space out at RTP with everybody able to expand their work. Localizing with others [across Departments, Centers, Institutes] working on the same program is really key.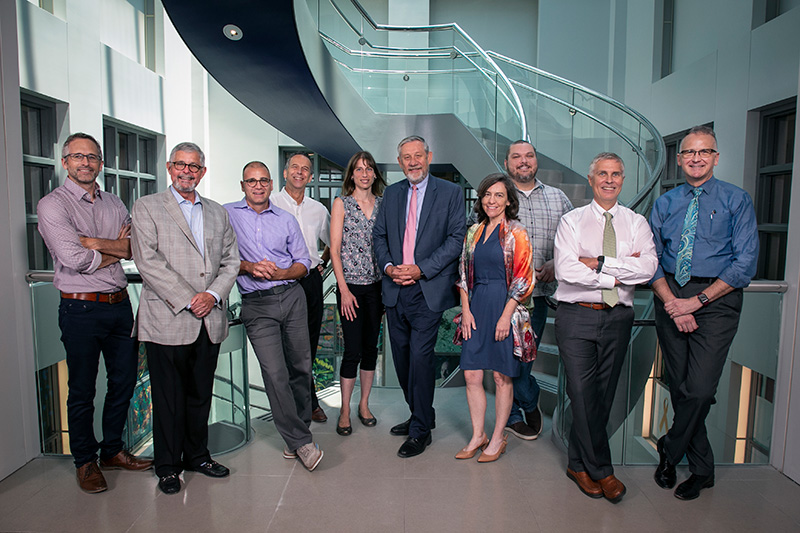 Q: What one word would you use to describe the RTP campus?
'Opportunity.' We've just started there and there is a lot of opportunity for scientists to continue their research programs and to have an impact on the field.
Q: Do you currently have any students or trainees working in the labs?
In the RTP space there are students and post-docs that are working across the different laboratories and we have hosted Immunology rotation students.
"We want to remove the barriers to students getting involved in research, especially at the RTP campus. We want to make sure that there aren't road blocks in their way…to make it as easy as possible to focus on the scientific research and collaboration."

Rapid Fire
We closed the interview by asking Dr. Tomaras a series of fun, rapid fire questions.
Q: Would you rather have the ability to see ten minutes or ten years into the future?
Neither. I want to live moment by moment as it comes.
Q: If you could have one superpower, what would it be?
To swim great distances and depths in the ocean!
Q: Eastern or western barbecue?
Both.
Q: If you weren't a scientist or researcher, what would you be?
An environmental activist.
Q: Would you be a T cell or a B cell?
A T cell.
---
Georgia Tomaras, PhD, joined Duke in 1998 as a postdoctoral fellow in the Center for AIDS Research to investigate T cells as they relate to human immunodeficiency virus (HIV) immunity. She received her doctor of philosophy degree from the State University of New York Upstate (SUNY-Upstate) Medical University. Today, Dr. Tomaras holds joint faculty appointments in the Duke Departments of Surgery, Immunology, and Molecular Genetics and Microbiology, and is Director of the Duke Center for Human Systems Immunology, Immunological Sciences and recently became the Director of the Duke Center for AIDS Research.
Editor's Note: The initial publication of this story incorrectly omitted 'departments of surgery' from the statement regarding Dr. Tomaras's NIH funding acknowledgement.