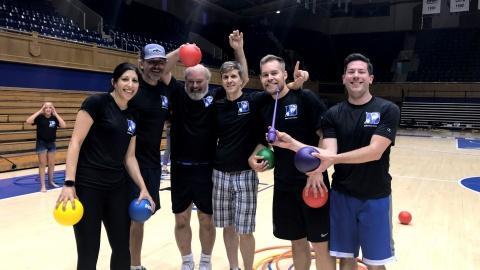 Photo: Plastic Surgery faculty and residents participate in field day, an event to build camaraderie through team-based sports and activities.
In their years of training, surgical residents acquire a broad spectrum of technical skills; however, textbook knowledge and muscle memory alone are insufficient to guarantee a successful career in surgery. Even residents with strong clinical talent may fall short in providing the highest-quality care, unless they cultivate ancillary abilities—often not explicitly taught—in teamwork, communication, resilience, and accountability.
Recently, Duke's Plastic and Reconstructive Surgery Residency Program has pioneered a formal "soft skills" curriculum that aggressively expands professional development and training that is broadly applicable outside the OR and clinic.
A Track Record of Leadership
The Plastic Surgery residency program at Duke began in the 1940s. In its first decades, the program produced a great number of leaders in national and international plastic surgery organizations. Jeffrey Marcus, MD, Professor of Surgery and Chief of the Division of Plastic, Maxillofacial, and Oral Surgery, hopes to honor this legacy of success by giving residents the tools they need to become influential leaders in today's healthcare landscape.
"There's this history, a track record of producing leaders," Dr. Marcus says, speaking of the first decades of Duke's Plastic Surgery residency. "My question is, what's the secret sauce? There was something in the program in that time that made that happen. It's important to our legacy that we continue to produce great leaders, and great leaders need to be great team members, and great team members need to have certain skills."
What Skills Create Great Leaders?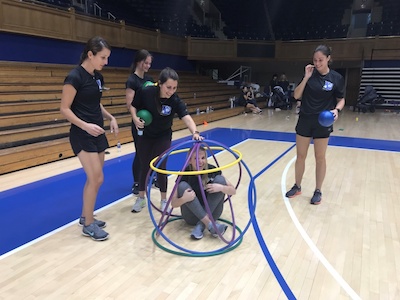 What are these skills that create leaders, and how can they be taught to residents? Alexander Allori, MD, MPH, Assistant Professor of Surgery and director of the soft skills curriculum, describes how the division seized the opportunity of a planned change to launch the soft skills program. Historically, plastic surgery training was an "independent" residency program, comprised of plastic surgical training following a general surgical residency program, or similar. In 2013, the residency began the transition to an "integrated" model, six years of plastic surgical training directly following medical school. In 2018, Dr. Allori thought the time was ripe to redefine the program's vision.
"The first integrated residents had ascended the ranks and were now chief residents," says Dr. Allori. "It seemed like a momentous occasion to do something grand." Focus groups convened to get a feel for problem areas, then built cohesion about the mission, guiding principles, and shared values as well as codifying the vision for the program. "Then we devised a strategy map for how to achieve that vision," Dr. Allori continues. "The biggest challenge was to actually foster genuine, lasting culture change."
Dynamic Rather Than Didactic Learning
Soft skills are often best learned through experience, so the team planned a curriculum of interactive workshops and flipped classrooms. Residents receive resources and readings to learn skills required in collaborative teamwork, crucial conversations, and conflict resolution. This academic training is complemented by timely feedback and debriefings related to current happenings in the residency program, clinical services, and the division.
One long-term initiative, dubbed the "Know Thyself Project," builds resident self-awareness through 360° reviews, learning-style surveys, personal assessments, resiliency training, and goal-setting. A weekly newsletter supports all of these efforts by featuring inspirational messages from Dr. Marcus, listing accolades for exemplary performance by housestaff and faculty, and a "Soft Skills Soundbites" section that recommends additional readings, publications, or podcasts of interest.
"The goal here is that we are giving residents a greater opportunity for personal success. When that happens, our division, and the residency group as a whole, will succeed. We keep in mind that that's why we wanted to make this change. That was our intention."

-Jeffrey Marcus, MD, Professor and Chief of the Division of Plastic, Maxillofacial, and Oral Surgery
Cultural Impact
Former chief resident Kate Krucoff, MD, graduated from the program in 2019 and speaks to the positive impact the new cultural focus had during her final year of residency.
"We are taught that as surgeons we are the leaders in the operating room, yet we never get formal leadership training," says Dr. Krucoff. "We are placed in high stakes situations while getting little sleep and having little personal time, yet we are expected to communicate fluidly at all times." Dr. Allori's work, she says, helps residents get training in leadership and communication, as well as dealing with their own and others' weaknesses. "We learned about feedback, dependability, mentorship, and team building. By taking the time to identify and then commit to a shared set of beliefs and goals, our sense of team became more real, and the sense of pride we had for our residency swelled."
The success and quality of the program can be judged based on the success of its graduates—not only their skill, but their strength of character. For Drs. Marcus and Allori, this is the difference between great surgical technicians and great surgical leaders. "The goal here is that we are giving residents a greater opportunity for personal success," says Dr. Marcus. "When that happens, our division, and the residency group as a whole, will succeed. We keep in mind that that's why we wanted to make this change. That was our intention."