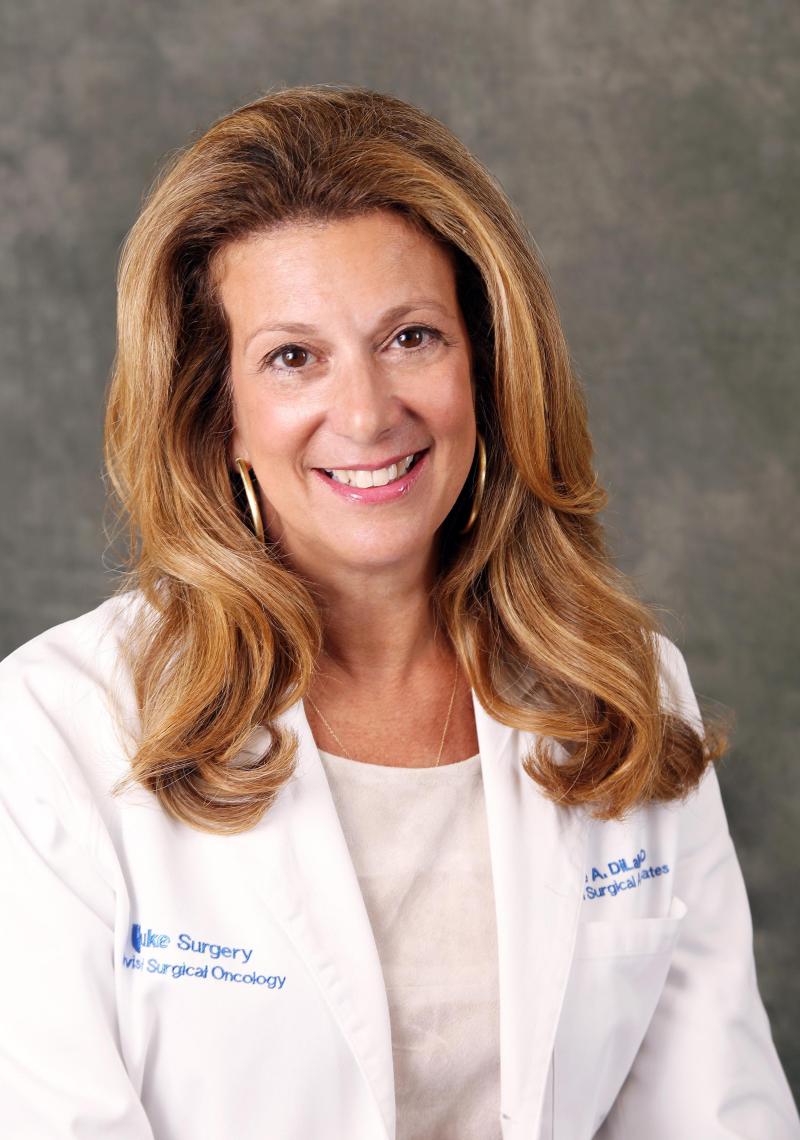 The Duke University Department of Surgery is pleased to announce that Gayle DiLalla, MD, Assistant Professor of Surgery, has been appointed the department's first Vice Chair of Equity, Diversity, and Inclusion (EDI).
As Vice Chair of EDI, Dr. DiLalla will be responsible for identifying challenges and implementing solutions focusing on departmental goals for advancing equity, diversity, and inclusive excellence. Furthermore, the Vice Chair is charged with ensuring all faculty, staff, and trainees adopt best practices for promoting an equitable and inclusive culture and climate.
Dr. DiLalla obtained her Doctor of Medicine degree from the University of Missouri-Kansas City and completed her general surgery residency at the University of Florida Health Science Center-Jacksonville in 1992. She joined the faculty at Duke Surgery as a clinical associate in 2011, and was promoted to Assistant Professor of Surgery in 2016.
Dr. DiLalla is currently on the faculty in the Division of Surgical Oncology and the Section of Breast Surgery, and is a member of the Duke Cancer Institute. She is active in training Duke Surgery residents and fellows in the General Surgery Resident Program, the Breast Surgical Oncology Fellowship, and the Complex General Surgical Oncology Fellowship, and is a volunteer attending for the Duke Surgical Technique and Review (STAR) Course.
"I am honored and excited to serve as Duke Surgery's first Vice Chair of EDI," says Dr. DiLalla. "While our department has taken long strides to advance equity and inclusion in recent years, the development of this position represents an important step forward in ensuring a more diverse, equitable, and inclusive Duke Surgery. I am looking forward to this important work with our leadership, faculty, staff, and trainees to continue advancing the mission of the department."
Dr. DiLalla's work with EDI initiatives has been most recently demonstrated by her involvement on the Steering Committee for the department's Sustaining Equity, Elevating Diversity in Surgery (SEEDS) initiative. Within SEEDS, Dr. DiLalla serves as a lead for the Leadership Area of Focus. She has also served as program coordinator for the annual Association for Women Surgeons (AWS) Grand Rounds event and has been involved with the ASSET Program. She is the Faculty Lead for both the Duke AWS Medical Student chapter and the Duke AWS Institutional Membership.
Dr. DiLalla serves on the NC Chapter of the American College of Surgeons Board, the Executive Council of the Association of Women Surgeons, and is a committee member for the American Society of Breast Surgeons.
"This new role is crucial to the future of Duke's Department of Surgery," says Allan D. Kirk, MD, PhD, Chair of the Department of Surgery. "Dr. DiLalla is not only an excellent surgeon and dedicated patient advocate, but she is also a trusted colleague with an emerging track record for leadership, demonstrated skill in achieving consensus, and a thoughtful and mature approach to complex social issues. Her experience in EDI issues has been integral to the department's recent equity efforts. I am thrilled that she has accepted the role and am excited for her to build a team to grow the department's EDI initiatives."
Dr. DiLalla will begin her new role as VCEDI on November 1, 2022.