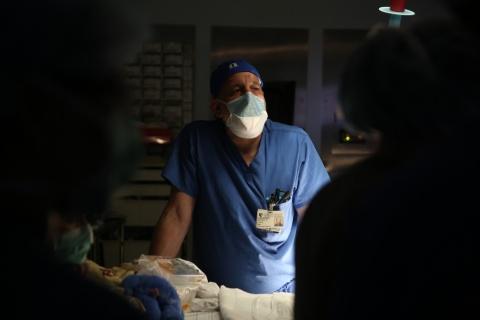 Under the leadership of Dr. Henry Rice, Duke Surgery will participate in two global health studies to improve surgical outcomes in patients during the COVID-19 pandemic.
CovidSurg is a global health study centered in the United Kingdom that will examine outcomes of patients with COVID-19 who undergo surgery. The goal of the study is to rapidly collect data and disseminate outcomes during the pandemic to mitigate the perioperative morbidity of COVID-19. Within two weeks of its launch, the study already has participants from over 100 countries.
CovidSurg-Cancer is an international cohort study that will evaluate the safety of surgery for patients with all types of cancer during the COVID-19 pandemic. The study will analyze the impact of the pandemic on diagnostic delays and treatment pathways, determining whether surgery is delayed due to resource constraints and whether mortality and COVID-19 infection rates increase after surgery in patients with cancer.
"These two studies will help us understand optimal care, outcomes, and management strategies for patients requiring surgical care during the COVID-19 pandemic. The goal is to quickly develop a large dataset, partner with a global collaboration, and translate the results into practical and evidence-based guidance for our teams."

-Dr. Henry Rice, Professor and Chief of Pediatric General Surgery
The team welcomes collaboration from interested Duke surgical faculty. Please reach out to Dr. Henry Rice with any questions about the master protocol or to Dr. Shelley Hwang about cancer-related studies. 
For those interested in the project, visit the COVIDSurg website.
Twitter: @CovidSurg @GlobalSurg