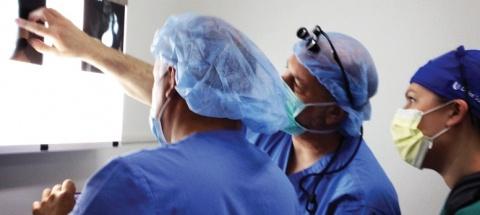 Congratulations to Dr. Henry Rice, Chief, Division of Pediatric General Surgery, for his recent publication in PLOS ONE. Dr. Rice's research titled "Economic Analysis of Children's Surgical Care in Low- and Middle-Income Countries: A Systematic Review and Analysis," scans a 19-year period from 1996 to 2015 and sheds light on the economic value of pediatric surgery in low- and middle-income countries (LMICs). The article was co-written by Anthony T. Saxton, senior clinical trials assistant in the Department of Surgery, and Emily R. Smith, research scholar at the Duke Global Health Institute and Department of Global Neurosurgery and Neuroscience.
Dr. Rice and colleagues found that children's surgical care in LMICs is not only cost-effective but also provides substantial social benefits. When ignored, conditions that are relatively simple to treat in children can lead to debilitating pain or disability, and in some cases death. While more research needs to be conducted to better understand the economic value of surgical care, the article states that six procedures deemed optional in many LMICs should in fact be considered essential to children's health care: inguinal hernia repair, trichiasis surgery, cleft lip and palate repair, circumcision, congenital heart surgery, and orthopedic procedures. These procedures offer the highest economic value, although more research would likely reveal other similarly effective procedures.
Dr. Rice, Saxton, and Smith also recently collaborated on a commentary regarding children's surgical care on a global scale, offering a compelling argument that surgery should play a vital role in global health. While the authors admit that surgical care can often be expensive, requiring specialized facilities and educated surgeons, they suggest that on a societal level, surgery is extremely cost-effective and more research will strengthen the demand for proper surgical care to all people, including children, living in LMICs. The commentary is posted on the Duke Global Health Institute website, and can be read by clicking the link below.
"Investing in Pediatric Surgery Makes Economic Sense"
A commentary by Anthony Saxton, Emily Smith, and Henry Rice