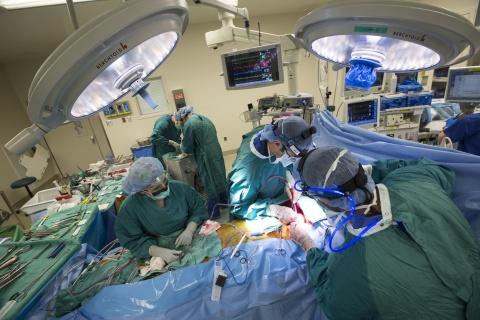 In 2019, the Duke heart, lung, liver, and kidney transplant programs experienced unprecedented volume growth: more than 20% for most programs. With 521 total transplants performed in 2019, Duke Health now ranks 8th among U.S. transplant programs.
2019 Transplant Volume by U.S. Institution (through November 30)
Miami: 684
UCLA: 665
UCSF: 594
Mayo Rochester: 583
Cleveland Clinic: 558
Barnes: 539
Tampa General: 531
Duke: 521
According to Dr. Stuart Knechtle, Executive Director of the Duke Transplant Center, this ranking could not have been achieved without the outstanding team of clinicians, researchers, educators, and administrators at Duke.
"We would like to congratulate all of our transplant team members on outstanding teamwork that has helped more patients live a longer and healthier life than ever before in the history of our institution," says Dr. Knechtle. "We have a huge impact on North Carolina and the Southeast region, and now attract patients nationally for organ transplantation."
2019 Duke Transplant Milestones
The Duke Transplant Center met several important milestones over the past year.
Performed the first donation after cardiac death (DCD) heart transplant in the United States using a cardiac perfusion device
Surpassed 2,000 total lung transplants
Transplanted the first paired-exchange kidneys at Duke University Hospital
Performed many combined thoracic–abdominal transplants (one of Duke's specialties)
Cultivated an Organ Donor Center to centralize organ procurement practices
Recognized by the United Network for Organ Sharing (UNOS) for best practice in pediatric liver transplantation regarding organ and offer acceptance practice
Received an outstanding overall transplant program review by the Centers for Medicare and Medicaid Services (CMS)
"Naturally, Duke aspires to grow further and accomplish more for our patients," says Dr. Knechtle. "We have much to celebrate and reflect on as the year end approaches. Most of all, we are grateful for outstanding individuals who make up our teams and for the courage and trust of our patients."
Organ Transplants at Duke
Duke has been a pioneer in solid organ transplantation since we established one of the nation's first kidney transplant programs in 1965. Today, our reputation as one of the nation's top transplant centers derives from our delivery of expert care to hundreds of adults and children each year. Our survival rates among organ transplant recipients consistently rank among the best in the United States.